Introducing the New Fumbi Advanced Portfolios
We are excited to announce the launch of our new product – Fumbi Advanced Portfolios, which allows clients to create their own diversified investment portfolios consisting of new and exciting cryptocurrencies. The purpose of this product is to give our clients greater freedom in selecting and purchasing the cryptoassets that align with their own preferences and investment strategies.
With Fumbi Advanced Portfolios, clients will have the ability to construct portfolios with variable asset weights and have access to templates created by the Fumbi team. These templates focus on different areas and ecosystems within the world of cryptocurrencies, providing our clients with a range of options to choose from.
New product Fumbi Advanced Portfolios is a significant step forward in our development as a company, and we believe it has the potential to attract a large number of new investors. We can't wait for you to try it out and see the benefits it brings to your own investment journey.
Despite the "Advanced" moniker, we've maintained one of our core principles and made Fumbi Advanced portfolios user-friendly and easy to navigate. You won't have any difficulty creating your own portfolio.
Create Your Own Portfolios
Creating your own investment portfolio has several benefits. First, it allows you to tailor your investments to your own preferences. For example, you can choose to invest in potentially high-growth assets if you're looking for maximum returns, or in more conservative assets if you're looking for stability.
Additionally, creating your own portfolio allows you to diversify your investments across different types of cryptocurrencies, sectors and industries they represent, which can help to spread risk and manage volatility.
In Fumbi Advanced portfolios, you will be able to choose from roughly 50 cryptocurrencies. From those, you can set up a variety of portfolios and choose shares for each cryptocurrency.
Conditions for Creating Your Own Portfolios:
Minimum investment amount: €50
Minimum number of assets in the portfolio: 2
Maximum number of assets in the portfolio: 10
Initially, it will be possible to invest in Fumbi Advanced Portfolios only via Fumbi Credits.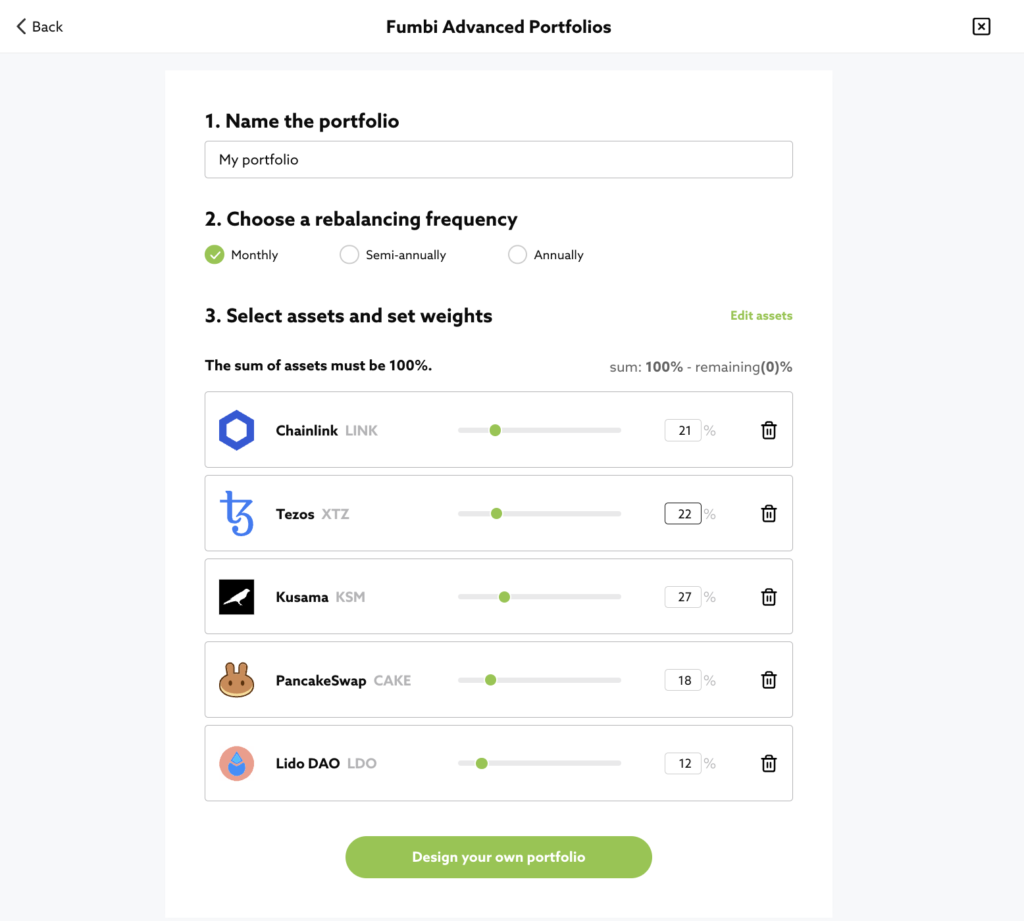 For clients who can't decide what to invest in, our Fumbi experts have created five diversified portfolios focused on different areas of the crypto ecosystem:
Risk-Averse Portfolio
Layer One Portfolio
DeFi Portfolio
NFT & Metaverse Portfolio
Adventurous Portfolio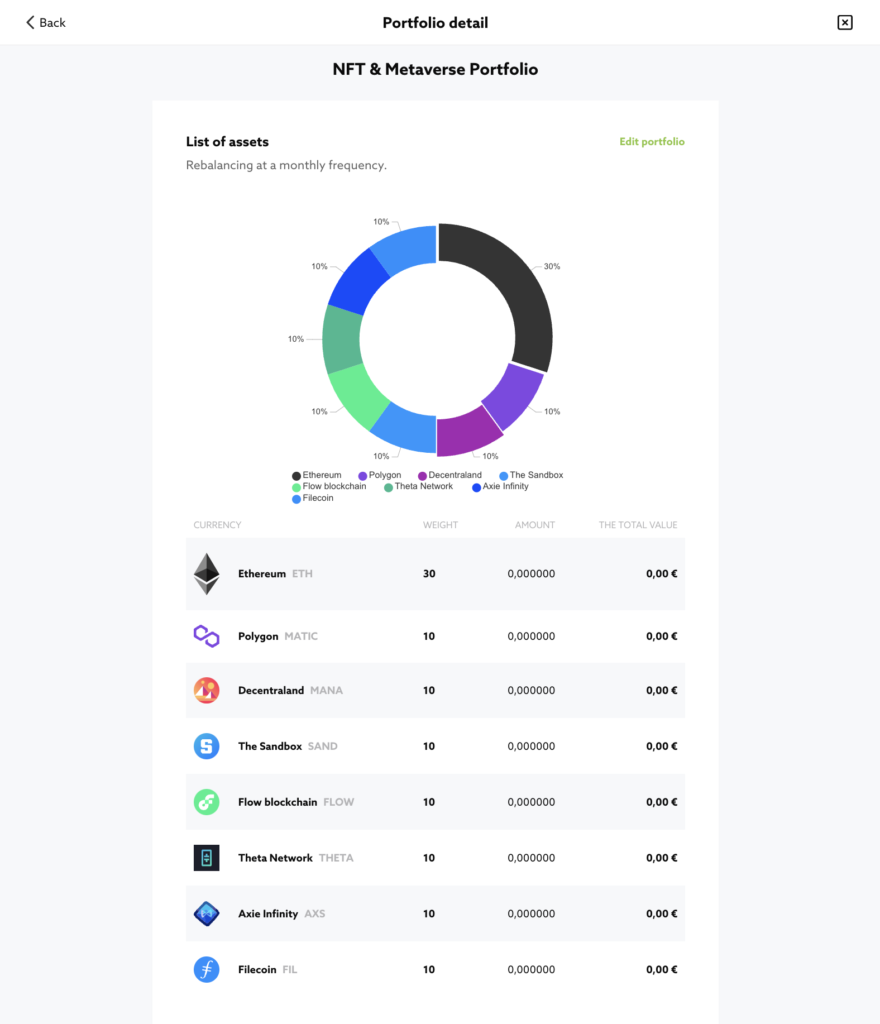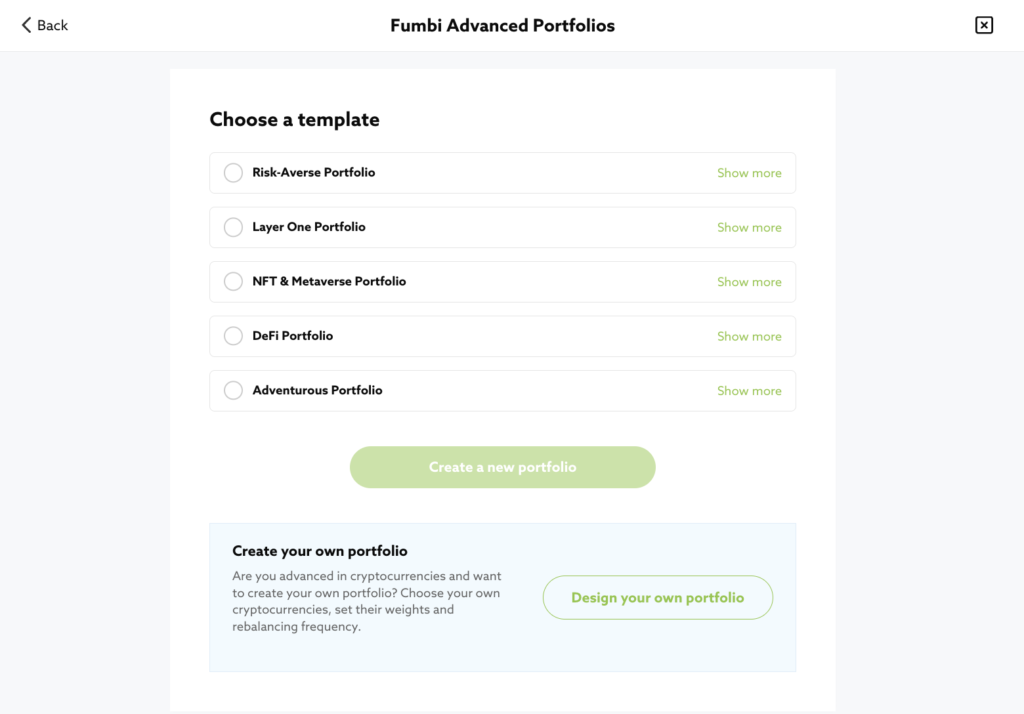 You can find more information about investment portfolios in your user profile.
With Great Power Comes Great Responsibility
With the new option to invest in new and emerging cryptocurrencies comes the great responsibility of researching, understanding and managing the risks. As a savvy investor, it is crucial to be careful in creating your own portfolios.
New Cryptocurrencies in Fumbi but the Same Safety Rules
For the classification of assets into the Fumbi Advanced Portfolios and the construction of individual sample portfolios, the following formal criteria are taken into account in addition to fundamental analysis:
Each asset must be in the TOP 100 in terms of market capitalization
Minimum daily trading volume – $5 million
The asset must be traded on at least two of the three leading exchanges – Kraken, Binance or Kucoin
The minimum daily trading volume of an asset on a leading exchange must exceed $2 million.

Our experts have diligently analyzed all the assets in the TOP 100 according to our formal criteria to bring you only the best of the crypto market. You can find a list of available assets in your user profile and our website. Check them out.
Fumbi Keeps an Eye on All Crypto
Fumbi will conduct a review of available assets as well as investment templates every three months in order to eliminate any risk associated with the available assets in our Fumbi Advanced Portfolios. If necessary, the Fumbi team will delist assets that no longer meet our formal criteria. Quarterly updates will also include a listing of new assets that meet our formal criteria at the time of the update.
FUMBI reserves the right, in the event of the occurrence of extraordinary adverse circumstances that may affect the value of the cryptoassets contained in the Fumbi Advanced Portfolios, to delist the cryptoassets exposed to such risk, redeem them and distribute the realized value pro rata among the other assets in the portfolio.

The creation of advanced portfolios is a response to the growing demand from clients for the ability to create their own diversified portfolios. We hope you will enjoy this new opportunity.
The product will be available at the beginning of February 2023.
If you have any questions, please contact our customer service.
Odporúčame
More articles

with Fumbi