Three Reasons Why It Is Worth Investing in the Current Situation
The global macroeconomic situation and the situation in various financial markets have not been easy in recent months. The rising prices of food, commodities and energy significantly affect households' consumption and consumer preferences. The central bankers are trying to respond to this situation by increasing interest rates to suppress historically high inflation values.
The cryptocurrency market has experienced turbulent times in recent months, which could be scary, especially for newcomers to the world of cryptocurrencies. However, history has shown us that the long-term trend in investing, whether in the stock market or the cryptocurrency market, is one of growth.
We have prepared for you three reasons why it is worth investing in the current market situation.
Inflation Is Reducing the Purchasing Power of Your Money
Although many people may not realize it, inflation directly reduces the purchasing power of money over time. It doesn't mean that your €50 banknote changes its numerical value stamped on it. Inflation manifests by the growth of the price level in the economy, i.e. the growth of the prices of individual goods and services.
Let's look at an example. If one yoghurt in the grocery store cost €1 last year and its current price is €1.10, the year-on-year inflation rate is 10%. One of the best-known examples of inflation's impact is the milk price measurement in the United States. In 1913, a gallon of milk cost about 36 cents a gallon. One hundred years later, in 2013, a gallon of milk cost $3.53—almost ten times that.
Inflation in Slovakia grew year-on-year in June for the seventeenth month in a row. While its value in January 2022 was at 8.4%, in June, it reached a new 22-year high of 13.2%. According to the Statistical Office of the Slovak Republic, the month-on-month growth in prices reached 1.6% in June.
Chart: inflation rate in Slovakia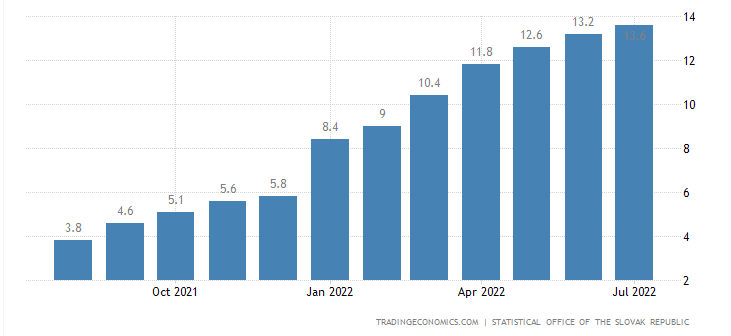 If you keep your cash in a bank account or under a pillow, it depreciates under the influence of inflation. The best way to protect your money from inflation is by investing.
Cryptocurrencies are certainly the most progressive asset class in terms of technology and investment. Investors who invested in cryptocurrencies five or ten years ago were able to effectively protect their funds from inflation and, at the same time, beautifully increase their value. This is how:
If someone invested in Bitcoin ten years ago, they were able to generate up to 242 thousand percent return on their investment. At the end of July 2012, one bitcoin was trading at $9.88, whereas its current value is almost $24,000.

If someone invested in Bitcoin five years ago, they were able to earn up to 736% on their investment. At the end of July 2017, one Bitcoin was trading for around $2,868, while its current value is almost $24,000.

Even an investor who entered the cryptocurrency market at the end of July 2020 could easily protect their funds from inflation. At the end of July 2020, Bitcoin was trading at almost $11,000, which represents a return of up to 118% at the current price level.
Even though you may have entered the cryptocurrency market later and your investment is currently at a loss, consider that five or ten years from now, you may find yourself in a similar situation to investors who jumped on the cryptocurrency bandwagon at the start.
Many Cryptoassets Have Fallen by Tens of Percent From Their Peaks
Drops in the cryptocurrency market are an ideal way to average investment costs. If you bought cryptocurrencies at the top of the market cycle and are currently at a loss, now is the perfect time to average your investments.
Since November 2021, when Bitcoin and several altcoins reached their all-time high (ATH), several cryptocurrencies have fallen from their peaks by several tens of percent. It is realistic to assume that many of these cryptocurrencies will again reach their new record highs in the coming months or years, which in some cases may be several times higher than their previous ones.
However, it is also true that some of these cryptocurrencies will fail and may never reach their record values. Fumbi has prepared for you an overview of the selected top cryptocurrencies and their development from the price peak to today's prices. Asset prices are quoted in US dollars on 8/2/2022.
| Asset | ATH | Price on 15.8.2022 | Decline from the ATH | Appreciation potential in case of reaching ATH again |
| --- | --- | --- | --- | --- |
| | | | | |
| Bitcoin | 69,044.77 $ | 24,102.15 $ | -65.04 % | 186.46 % (1.86x) |
| Ethereum | 4,878.26 $ | 1,913.71 $ | -60.84 % | 154.91 % (1.54x) |
| Cardano | 3.09 $ | 0.556 $ | -82.04 % | 455.75 % (4.55x) |
| Solana | 259.96 $ | 44.14 $ | -83.00 % | 488.94 % (4.88x) |
| Polkadot | 54.98 $ | 8.81 $ | -83.96 % | 524.06 % (5.24x) |
| Polygon | 2.92 $ | 0.969 $ | -66.66 % | 201.34 % (2.01x) |
| Avalanche | 144.96 $ | 27.70 $ | -80.91 % | 423.32 % (4.23x) |
| Uniswap | 44.92 $ | 8.76 $ | -80.52 % | 412.78 % (4.12x) |
| Litecoin | 410.26 $ | 61.63 $ | -84.97 % | 565.68 % (5.65x) |
| Chainlink | 52.70 $ | 8.62 $ | -83.68 % | 511.36 % (5.11x) |
Source: Own Elaboration
As you can see, the top cryptocurrencies on the market have fallen by 60-90% from their ATHs. These massive drops present an excellent opportunity for investors to buy these cryptocurrencies at an enormous discount. If the same prices as in November 2021 are reached again, investors can easily multiply their investments several times over.
One of the main advantages of investing through Fumbi is that Fumbi does one of the most important and time-consuming activities for you. Our experts monitor developments and news from the cryptocurrency market on a daily basis and then carry out a regular quarterly update of our flagship product Fumbi Index Portfolio to provide clients with a portfolio made up of the top cryptocurrencies on the market with the highest technological and growth potential. Thanks to this, your portfolio in Fumbi copies current trends from the world of cryptocurrencies.
Start Saving for a Better Future
Moreover, drops in the cryptocurrency market are a great opportunity for everyone to think it through and start saving for their future. Your future depends on the investments you make today. The most important thing to remember is that the earlier you start investing, the more money you will accumulate over the years.
When you put your money into a regular savings account, you earn interest only at a very low rate that doesn't even cover the inflation rate. In the long run, it is much more efficient to diversify your investments into different asset classes, such as bonds, stocks or cryptocurrencies. However, it all depends on how much risk you are willing to take.
Risk tolerance means how much you can withstand and bear in terms of asset price fluctuations when investing. If you cannot tolerate a high level of risk, our dynamic product, Fumbi Bitcoin and Gold*, is perfect for you. It combines two popular assets – gold from the commodity market and Bitcoin from the cryptocurrency market.
If you want to take a higher risk to potentially achieve higher returns, our Fumbi Index Portfolio, made up of the best cryptocurrencies on the market, is the ideal solution for you.
When investing, two basic principles are essential – regularity and discipline. The best way to prepare for your future is to set your investment goal and invest regularly. Investment discipline should not be forgotten either. Stick to your strategy and don't sell your assets under the influence of emotions at a loss.
With Fumbi, you can invest quickly, easily, and efficiently from just €50.
START INVESTING
*Fumbi Bitcoin and Gold is currently available only in Slovakia.
Odporúčame
More articles

with Fumbi