Analitycy prognozują: Inwestorzy instytucjonalni hamują inflację kupując Bitcoiny
Międzynarodowi inwestorzy instytucjonalni coraz częściej postrzegają Bitcoina jako interesujące narzędzie zabezpieczające gospodarki przed postępującą inflacją. W ocenie analityków, trend ten wydaję się być coraz bardziej widoczny na globalnym rynku, m. in. z uwagi na ponad 300% wzrost liczby otwartych pozycji związanych z kryptowalutami na giełdzie w Chicago w stosunku do 2019 roku.
Trend ten zdaje się także potwierdzać rosnący popyt na Bitcoina ze strony dużych inwestorów. Analitycy z Bloomberg przewidują, że Bitcoin w tym roku może ponownie zbliżyć się do poziomu poprzedniego ATH (historycznie najwyższą wartość) która w 2017 roku wyniosła 20.000 USD. Analitycy Bloomberga dostrzegli liczne podobieństwa w obecnej dynamice zmian cen Bitcoina do wahań zarejestrowanych po ATH z grudnia 2013 r. i po rewizji ATH w grudniu 2017 r. Po osiągnięciu wartości szczytowych, w obu przypadkach kurs Bitcoina w charakterystyczny sposób spadł do poziomu 75% wartości ATH, by następnie ponownie wzrosnąć.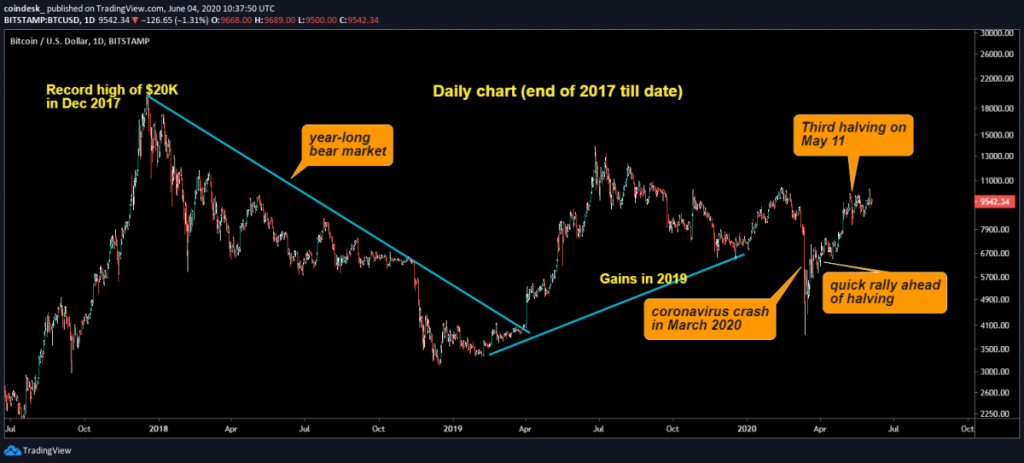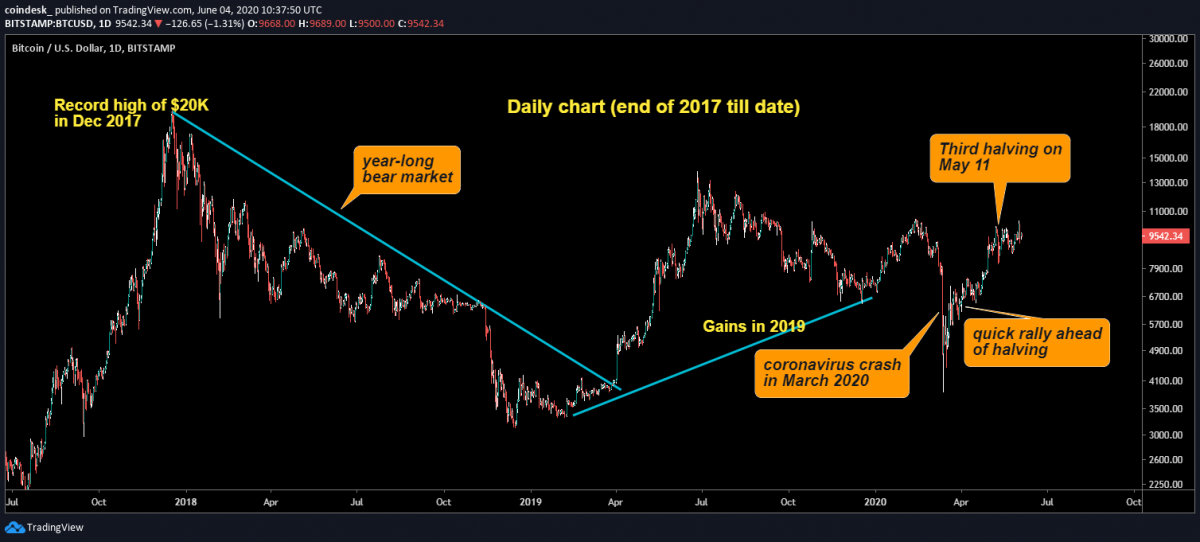 Przeprowadzona przez Bloomberg analiza techniczna nie jest jedynym powodem, na podstawie którego można wnioskować, że cena Bitcoina może gwałtownie wzrosnąć w nadchodzących miesiącach. Jednym z głównych wskaźników popytu instytucjonalnego na Bitcoina są otwarte pozycje na opcje i futures na giełdzie w Chicago (CME). Spółka Skew, będąca firmą, która zajmuje się badaniem kryptowalut wylicza, iż w tym roku liczba otwartych pozycji związanych z rynkiem kryptowalut wzrosła o ponad 300%.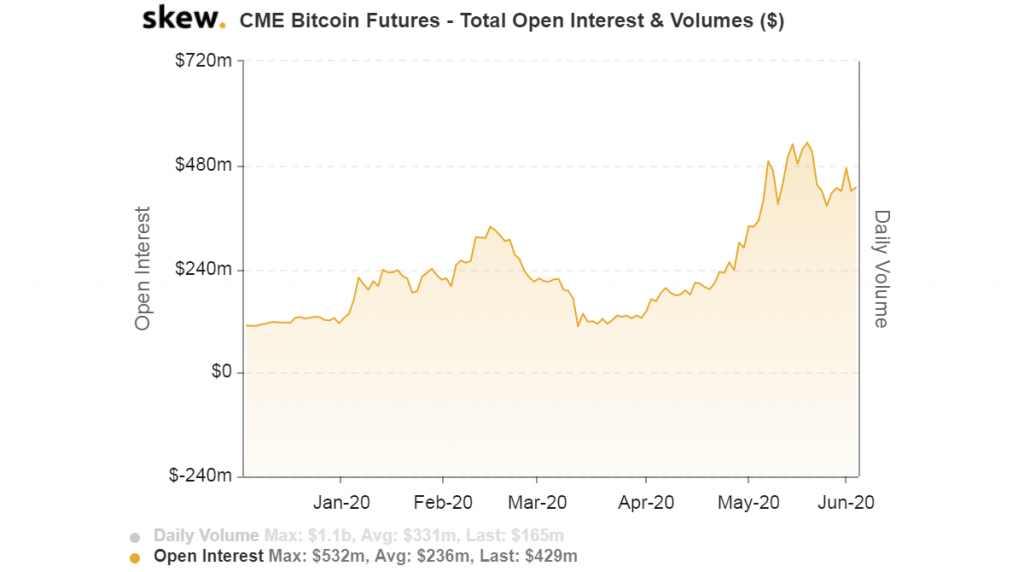 KLUCZOWE FUNDUSZE ZWIĘKSZAJĄ POZIOM SWOICH INWESTYCJI W BTC
Podobne wnioski wyciągnęli także inni kluczowi gracze na rynku finansowym m. in. gigant finansowy Fidelity, który także zanotował w swoich analizach gwałtowny wzrost zainteresowania inwestorów instytucjonalnych aktywami cyfrowymi, takimi jak Bitcoin.
Interesujące informacje płyną także ze strony Grayscale Investments – jednej z najbardziej wiarygodnych instytucji inwestujących w walutę cyfrową (zarządza aktywami o wartości ponad 3,8 miliarda USD). Od połowy maja, kiedy dokonany został halving Bitcoina, Grayscale znacząco zwiększyła wolumen zakupów Bitcoina za pomocą swojego głównego narzędzia inwestycyjnego, Grayscale Bitcoin Trust. W rezultacie Grayscale w ostatnich tygodniach kupiło na rynku więcej Bitcoinów, niż zostało wypuszczonych na rynek po halvingu.
Zwiększony apetyt spółki Grayscale na bitcoiny odzwierciedla rosnący popyt ze strony jej inwestorów – zwłaszcza instytucji takich jak fundusze emerytalne czy fundusze hedgingowe.
Co ciekawe, inne fundusze kryptograficzne wg. praportu Grayscale odnotowały podobny wzrost popytu – ich średnia tygodniowa inwestycja wzrosła o 800% w ubiegłym roku; wolumen dokonanych transakcji wzrósł z poziomu 3,2 mln USD tygodniowo w 2019 r. do prawie 30 mln USD tygodniowo w 2020 r.
ŚMIAŁE PROGNOZY ANALITYKÓW – DO 2030 ROKU CENA BTC OSIĄGNIE 400.000 DOLARÓW
Niektórzy analitycy w prognozach dot. zmian cen bitcoinów w nadchodzących latach posunęli się o krok dalej. Niedawno opublikowany raport Crypto Research przewiduje, że cena bitcoinów może wzrosnąć do prawie 400 000 USD do 2030 r. Analitycy prognozują tę wartość w oparciu o rosnącą popularność BTC na rynkach finansowych.
Według ich raportu bitcoiny i kryptowaluty mogą rozwijać się w oparciu o kilka scenariuszy ich użytkowania. Wśród najczęstszych wymienia się m. in. mikropłatności, kredyty konsumenckie, transfery bezpośrednie, gry, przechowywanie wartości, a nawet hazard online. Łącznie – wszystkie te sfery są wyceniane na około 212 miliardów dolarów, a raport z badań przewiduje, że kryptowaluty mogłyby przeniknąć do 10% z nich. Taki rozwój powinien prowadzić nie tylko do wzrostu ceny bitcoina, ale także do wzrostu wartości innych kryptowalut.

Podczas gdy entuzjaści kryptowaluty od dawna zdają sobie sprawę z tego potencjału, aktorzy instytucjonalni zaczęli doceniać potencjał kryptowalut stosunkowo niedawno. Bitcoin zaczyna pojawiać się także w portfelach tradycyjnych / konserwatywnych inwestorów, co tylko wzmacnia pozytywne nastroje na rynku. Bitcoin tym samym coraz częściej postrzegany jest jako twardy pieniądz i repozytorium przyszłej wartości. Takie postrzeganie BTC zostało ostatnio wzmocnione przez programy łagodzenia ilościowego zastosowane przez niemal wszystkie główne banki centralne, co w efekcie może wpłynąć na osłabienie walut narodowych.
ZARZĄDCY FUNDUSZY HEDGINGOWYCH POZYTYWNIE O DYNAMICE ROZWOJU
Paul Tudor Jones, miliarder i zarządca funduszami hedgingowymi w Tudor Investment Corporation (obecnie zarządza aktywami o wartości 22 miliardów dolarów) niedawno wyraził poparcie dla BTC w liście do swoich inwestorów:
Najlepszą strategią maksymalizacji zysków jest posiadanie najszybszego konia. Gdybym musiał prognozować, to założę się, że będzie to Bitcoin.
Wzrost liczby kryptowalut jest konieczny i coraz więcej graczy rynkowych chce uczestniczyć w możliwościach wzrostu, które oferuje ta nowa klasa aktywów. Wzrost popytu znalazł odzwierciedlenie nie tylko w przypadku inwestorów instytucjonalnych, ale także w handlu detalicznym. Tak było ostatnio w przypadku spółki Paypal, która ogłosiła zmianę swojej strategii w zakresie kryptowaluty. Jeden z najbardziej znanych globalnych systemów płatności powinien w najbliższej przyszłości zacząć oferować kupno i sprzedaż kryptowalut. Taki krok nie tylko legitymizuje kryptowaluty jeszcze bardziej, ale co najważniejsze, zbliża je do 300 milionów użytkowników.
Jeśli zastanawiasz się nad inwestowaniem w kryptowaluty, Fumbi jest właśnie dla ciebie!
Nasz portfel zarządzany algorytmem dokładnie śledzi zmiany cen na rynku kryptowalut. Fumbi jest pierwszą tego rodzaju firmą, która oferuje kryptowaluty ogółowi społeczeństwa, nawet przy niewielkich depozytach. Inwestowanie w kryptowaluty za pośrednictwem spółki Fumbi minimalizuje ryzyko INWESTYCYJNE. Ponadto proces ten podlega prawu słowackiemu i przebiega bez korzystania z inwestycji zbiorowych. Klienci Fumbi pozostają bezpośrednimi i wyłącznymi właścicielami swoich kryptowalut.
Wpłata już od 230 PLN.
Recommended
More articles

with Fumbi