Bitcoin v 2020: už +50%
Február prináša opätovný nárast Bitcoinu na pozície zo septembra 2019. Nárast od začiatku roka 2020 je už takmer 50%. Začínajú sa do cien premietať očakávania cenového nárastu po "halvingu bitcoinu" v máji tohto roku? Je to možné, skôr si však myslíme, že zásoba predávajúcich, ktorí držali Bitcoiny ako krátkodobú špelkuláciu je jednoducho vyčerpaná. Očakávania halvingu sa budú pravdepodobne materializovať na trhu len postupne, môžu však priniesť oveľa masívnejší rast.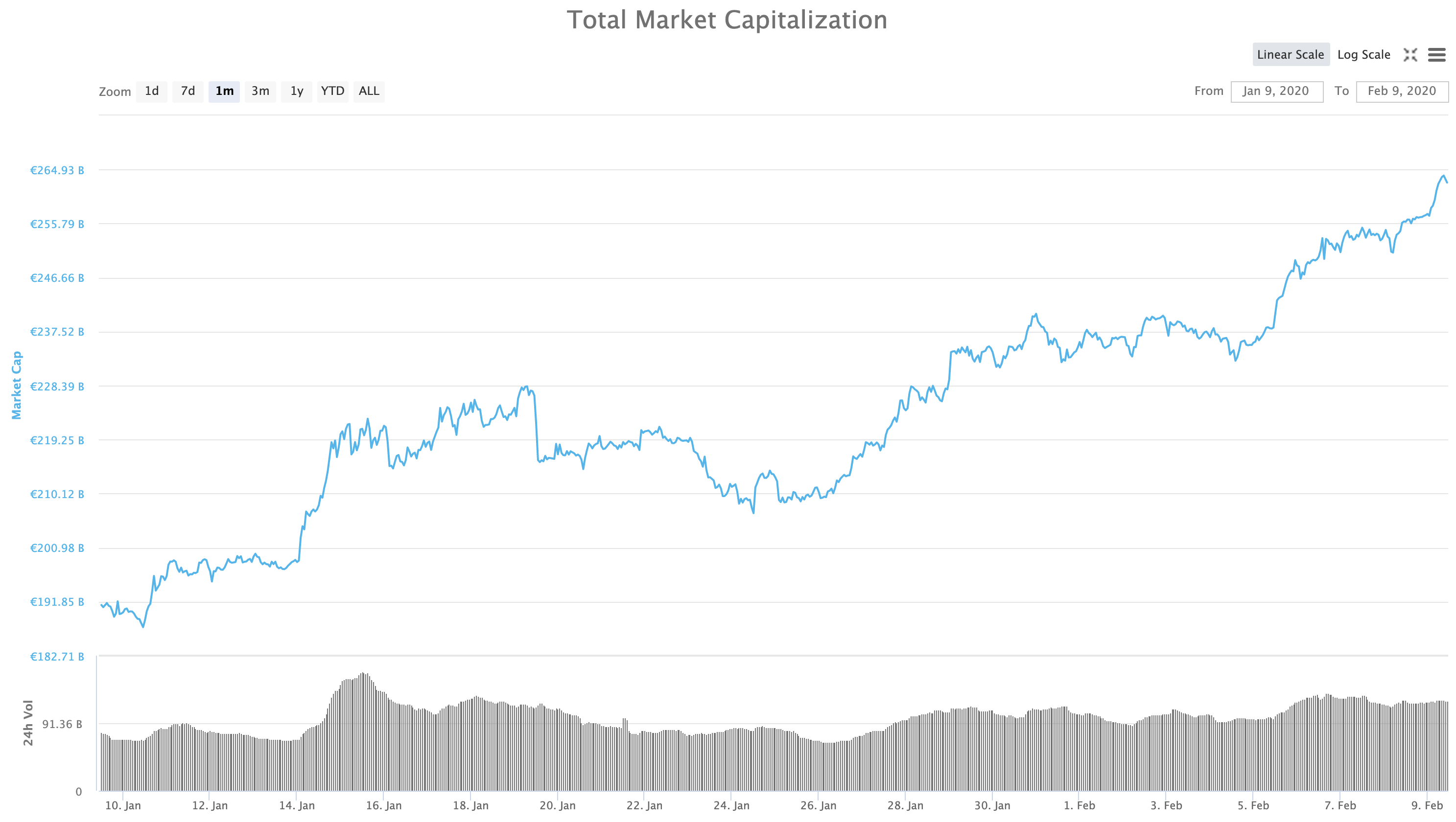 Kto dnes predáva a kto kupuje Bitcoin
Existujú verejne dostupné dáta, ktoré potvrdzujú, že väčšina Bitcoinov je dnes držaná v dlhodobo spiacich peňaženkách. (napr. https://coingape.com/60-bitcoin-btc-dormant-addresses-since-dec-2018/). Cyklus krátkodobej špekulácie sa vyčerpal a Bitcoiny sa presunuli do silných rúk.
Preto sa dá povedať, že funkcia Bitcoinu ako digitálneho zlata začína byť dominatná. Dlhodobí držitelia budú predávať len vo veľmi malej miere a veľká časť predajných príkazov na burzách bude pochádzať od ťažiarov. To sú však ideálne podmienky na naštartovanie dlhodobého rastového cyklu.
Prichádza Halving
V máji 2020 príde k okamihu, keď odmena ťažiarov za nový blok validovaných transakcií v bitcoinovej sieti klesne z 12.5 na 6.25 nového Bitcoinu. Veľa analytikov očakáva rast ceny bitcoinu počas nasledovných 6-12 mesiacov až do pásma 50,000 – 100,000 EUR za Bitcoin. Ostatné kryptomeny budú veľmi pravdepodobne rásť približne rovnakým tempom ako samotný Bitcoin, môžu ho však i prekonať.
Nezabúdajte na riziko
Na trhu kryptomien je hlavné riziko to, ktoré nepoznáme. Jedná sa stále o úplne novú oblasť, ktorej regulačné aspekty nie sú vyjasnené. Preto je potrebné pri úvahách o investovaní postupovať veľmi obozretne. Ideálnym spôsobom na obmedzenie rizika je vyčlenenie takej sumy peňazí pre investíciu, ktorá Vás nemôže významne ohroziť v prípade väčšej straty.
Recommended
Ďalšie články

with Fumbi