Bitcoin láme historické maximá – týždenný prehľad trhu
V tomto týždni presiahla celková trhová kapitalizácia 1,16 bilióna EUR. Rast v 7-dňovom horizonte predstavuje viac ako 24 %. Samotný Bitcoin vzrástol v priebehu týždňa o takmer 30 % na aktuálnu hodnotu vyše 38 500 EUR. Dominancia Bitcoinu predstavuje 61,5 %.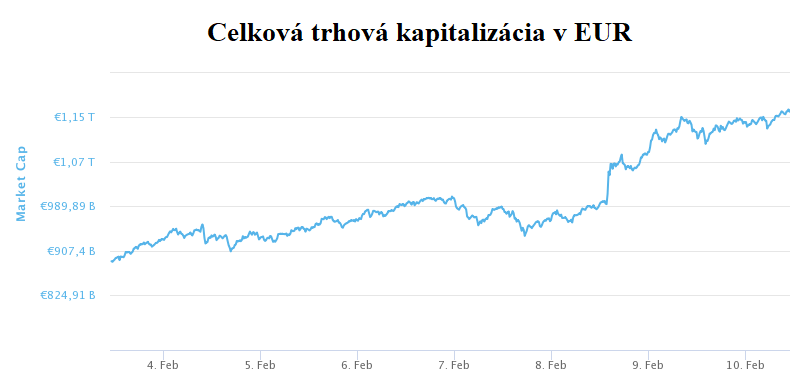 Zdroj: Coinmarketcap
Bitcoin tesne pod hranicou 40 000 EUR
Spoločnosť Tesla v pondelok šokovala celý finančný sektor po tom, čo Americká komisia pre cenné papiere a burzy (SEC) potvrdila investíciu spoločnosti Tesla do Bitcoinu vo výške 1,5 miliardy USD. V priebehu pár hodín po zverejnení tejto novinky sa cena Bitcoinu vyšplhala na svoje nové maximum – 39 613 EUR. V súvislosti s touto informáciou sa Bitcoinu podarilo prekonať ešte jeden míľnik – trhová kapitalizácia Bitcoinu sa po prvýkrát v histórií dostala nad 700 miliárd EUR. Zdroj
Cardano testuje integráciu smart kontraktov
Kryptomena Cardano testuje integráciu smart kontraktov do svojej siete, aby sa mohla stať súčasťou DeFi priestoru. Ak bude testovanie úspešné a Cardano zavedie smart kontrakty na hlavnú sieť, stane sa platformou, na ktorej budú môcť fungovať decentralizované aplikácie. V sieti Cardano je v súčasnosti uzamknutých viac než 22,6 miliardy tokenov (v stakingu), čo predstavuje až 72 % celkovej ponuky tokenov. Cena tejto kryptomeny vzrástla v priebehu posledného týždňa o viac než 100 %. Zdroj
Siam Commercial Bank vytvorila vlastný blockchainový fond
Najstaršia thajská banka Siam Commercial Bank sa rozhodla vytvoriť fond vo výške 50 miliónov USD na podporu investícií do blockchainu, kryptomien a decentralizovaných financií. Tento fond bude zameraný na globálne startupy orientované na rozvoj poskytovania finančných služieb prostredníctvom blockchainu. Siam Commercial Bank už v minulosti investovala do viacerých projektov pochádzajúcich z prostredia kryptomien ako napríklad Ripple, BlockFi a prednedávnom aj do spoločnosti Alpha Finance. Zdroj
CME Group spustilo obchodovanie Ethereum futures
Spoločnosť CME Group spustila v pondelok obchodovanie Ethereum futures na svojej platforme. Už v prvý obchodný deň sa zobchodovali kontrakty v hodnote viac než 30 miliónov USD. Ide o prvý regulovaný Ethereum futures produkt na svete a podľa odborníkov môže zvýšiť záujem inštitucionálnych investorov o Ethereum. Od decembra 2020, kedy spoločnosť CME oznámila, že plánuje spustiť obchodovanie Ethereum futures, sa cena Etherea viac než strojnásobila. Zdroj
Trh decentralizovaných financií prekonal 40 miliárd USD
TVL (Total value locked = celková uzamknutá hodnota) na trhu decentralizovaných financií dosiahla svoje nové maximum – 40 miliárd USD. Začiatkom roku 2020 bola celková TVL na trhu s decentralizovanými financiami len 15,45 miliárd USD. To predstavuje kumulatívny nárast viac než 155 % objemu uzamknutých aktív v priebehu posledných 70 dní.
Svojím spôsobom sa o to pričinila aj decentralizovaná burza Curve Finance, ktorá v posledných dňoch predbehla v ukazovateli celkovej uzamknutej hodnoty decentralizované on-chain protokoly Uniswap a SushiSwap. Zdroj
Investujte s Fumbi už dnes
Ak uvažujete o investovaní do kryptomien, Fumbi je tu práve pre vás. Naše algoritmom spravované portfólio presne sleduje pohyb cien na trhu s kryptomenami.
Spoločnosť Fumbi je prvá svojho druhu, pretože ponúka kryptomeny širokej verejnosti, a to aj pri malom vklade. Investovanie do kryptomien prostredníctvom spoločnosti Fumbi je veľmi jednoduché a minimalizuje riziká.
Môžete začať vkladom už od 50 €.
Recommended
More articles

with Fumbi