Dodaliśmy następne kryptowaluty Cardano i Polkadot do Fumbi Własny Wybór
Poszerzyliśmy Fumbi Własny Wybór o dodatkowe kryptowaluty. Oprócz dostępnych do tej pory kryptowalut Bitcoin i Ethereum dodaliśmy do naszego portfolio Cardano i Polkadot.
Produkt Fumbi Własny Wybór jest dostępny dla każdego użytkownika, który chce wybrać własne kryptowaluty do inwestycji. Produkt daje swobodę wyboru, a inwestowanie pozostaje proste, bezpieczne i wygodne.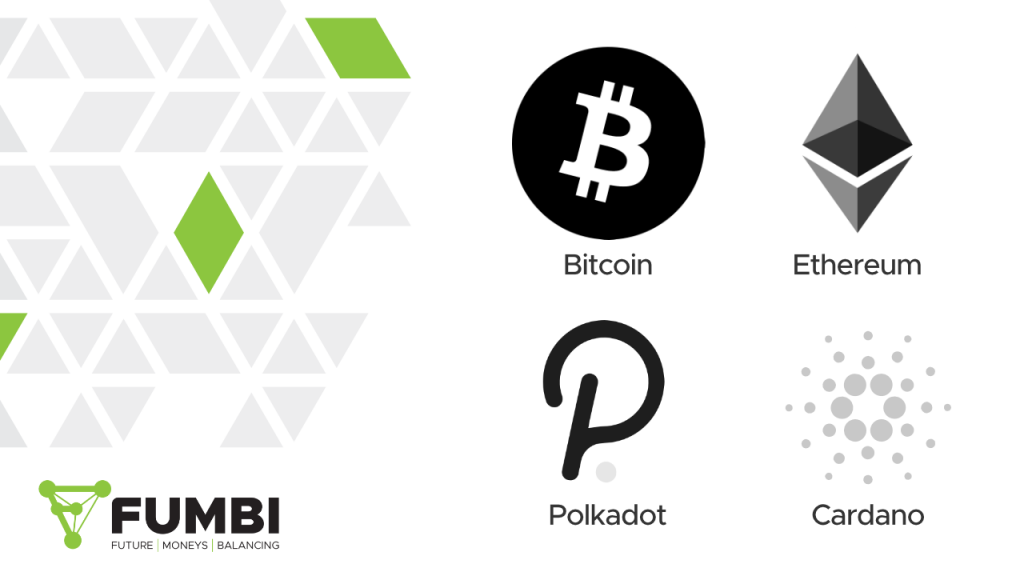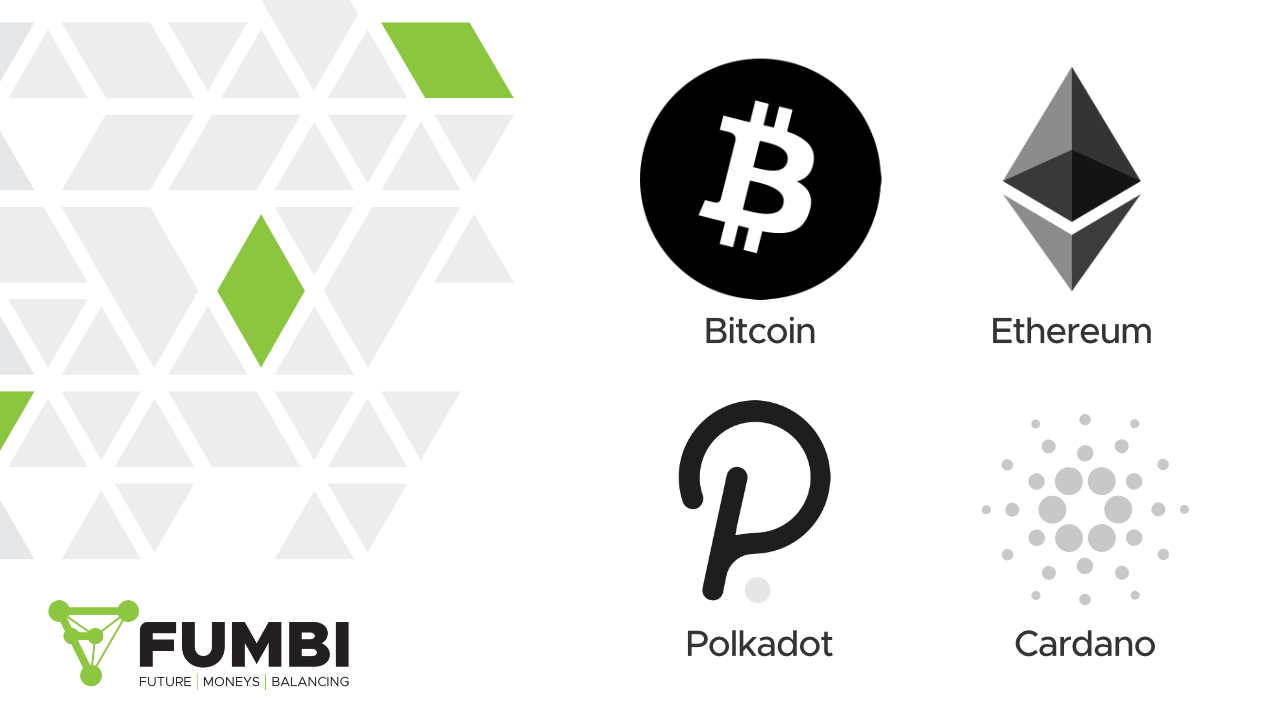 Czym jest Cardano?
Należy obecnie do TOP 5 kryptowalut na rynku. Cardano można uznać za pierwszy na świecie sprawdzony łańcuch bloków Proof-of-Stake. Powszechnie uważa się, że kryptowaluta trzeciej generacji rozwiązuje problemy kryptowalut pierwszej i drugiej generacji. Dodatkowo Cardano to platforma nastawiona na rozwój inteligentnych kontraktów, oferująca jednocześnie wysoką skalowalność i bezpieczeństwo, jakie zapewnia wielowarstwowa architektura sieci.
Posiada własny natywny token ADA, który ma na celu zapewnienie posiadaczom tokenów ADA prawa do uczestniczenia w działaniu sieci. Z tego powodu ci, którzy są właścicielami tokena, mają prawo głosować nad wszelkimi proponowanymi zmianami oprogramowania. Obecnie Cardano jest drugą najbardziej aktywną kryptowalutą deweloperską z łącznie ponad 37327 zmianami deweloperskimi w kodzie źródłowym (tzw. Commits).
Czym jest Polkadot?
Kryptowaluta, której popularność rośnie z każdym dniem, głównie ze względu na ogromny potencjał innowacyjny oraz możliwość zostania prawdziwym i szanowanym konkurentem Etherea. Polkadot to protokół sieciowy, który umożliwia przesyłanie dowolnych danych (nie tylko tokenów) przez łańcuchy bloków.
Jest to łańcuch bloków nowej generacji, który umożliwia wzajemną komunikację (interoperacyjność) poprzez połączenie wielu łańcuchów bloków w jedną sieć. Podstawą całego ekosystemu jest optymalizacja rozwiązania, w którym kilka blockchainów będzie mogło pracować na jednej wspólnej podstawie, a każdy z tych blockchainów będzie mógł skupić się na rozwiązaniu konkretnego problemu, dla którego zostanie zoptymalizowany.
Wygody Fumbi Własnego Wyboru:
Własny wybór kryptowaluty – Bitcoin, Ethereum, Cardano i Polkadot.
Najbezpieczniejszy portfel kryptowalut Ledger Vault.
Inwestowanie w poszczególne kryptowaluty od 230 PLN/ 50€.
Regularny audyt za pośrednictwem SGS Slovakia.
Jak zainwestować w Fumbi Własny Wybór
Inwestowanie w Fumbi Własny Wybór jest łatwe. Możesz to zrobić za pomocą dowolnego przycisku + Depozyt.
Po przejściu na Depozyt, tuż pod Fumbi Index, kliknij na Pokaż więcej, gdzie wybierzesz produkt Fumbi Własny Wybór. Następnie wybierz kryptowalutę i kwotę, którą chcesz wpłacić. Potem już tylko potwierdź, a zobaczysz szczegóły płatności.
Uwaga: Aby lepiej identyfikować depozyty, stworzyliśmy własne konto bankowe dla każdej kryptowaluty. Dlatego jest zawsze potrzebne sprawdzić numer konta, na które wysyłasz depozyt.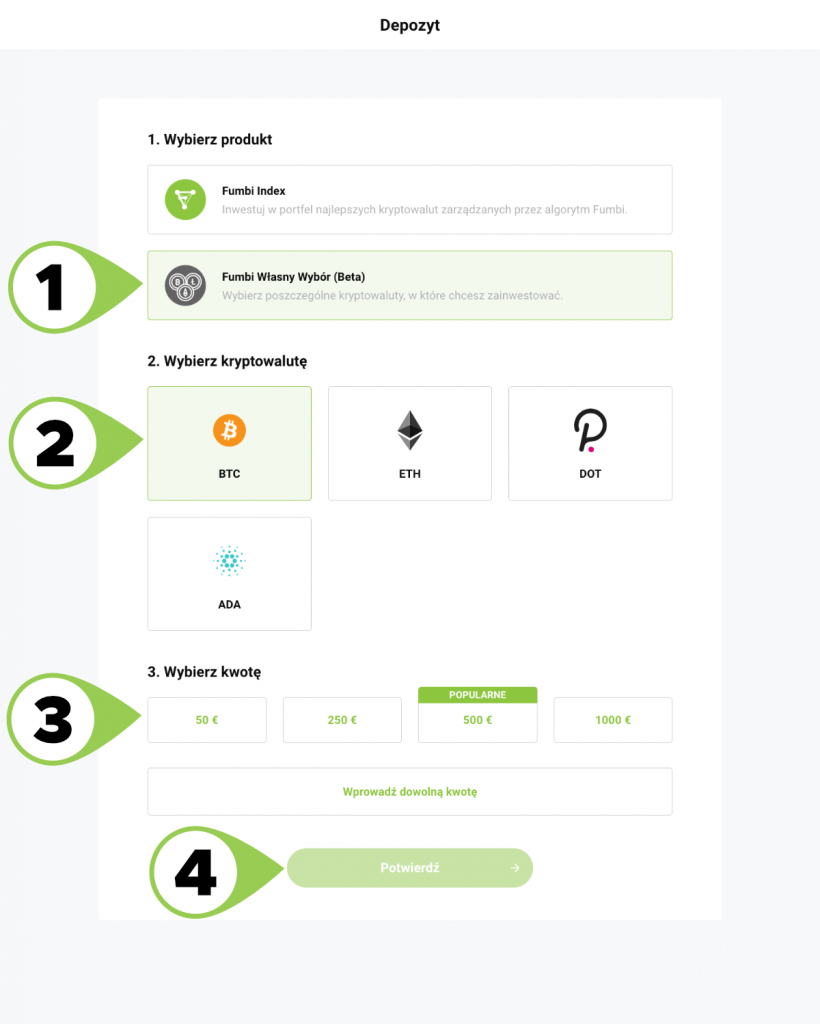 Zainwestowałeś w więcej produktów Fumbi?
Jeśli zainwestowałeś w więcej produktów Fumbi, możesz otworzyć każdy z nich osobno i wyświetlić szczegółowe informacje. Dostęp do szczegółowych informacji możesz uzyskać za pośrednictwem strony głównej Przegląd i sekcji Products. Tam wystarczy wybrać produkt i kliknąć na Pokaż więcej.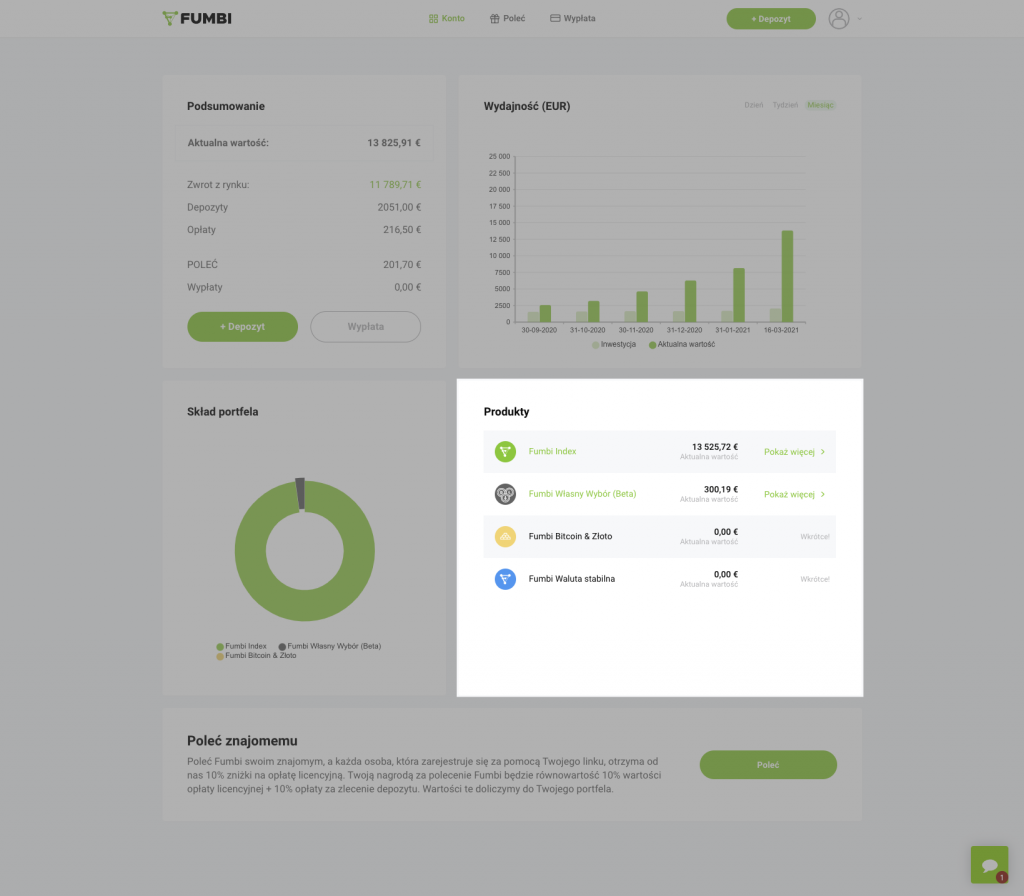 Możesz również dokonać wpłaty po otwarciu szczegółów poszczególnych produktów.
Recommended
More articles

with Fumbi