Ethereum 2.0 čaká prvý "hard fork" – týždenný prehľad trhu
V tomto týždni presiahla celková trhová kapitalizácia 1,28 bilióna EUR. Rast v 7-dňovom horizonte predstavuje viac ako 9,4 %. Samotný Bitcoin vzrástol v priebehu týždňa o viac než 14 % na hodnotu vyše 42 700 EUR. Dominancia Bitcoinu oproti minulému týždňu mierne klesla a aktuálne predstavuje 61,1 %.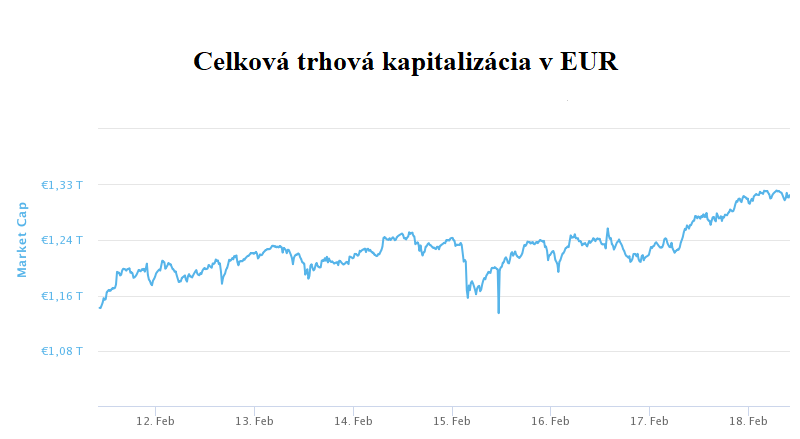 Zdroj: Coinmarketcap
Ethereum 2.0 čaká prvý hard fork
(Prečítajte si v našom slovníku čo je hard fork )
Spoluzakladateľ Etherea Vitalik Buterin v pondelok oznámil, že Ethereum 2.0 čaká prvý hard fork s názvom HF1. Tento hard fork prinesie nové funkcionality a predstaví niektoré kľúčové vylepšenia na aktuálnom Beacon Chaine.
Najväčšou novinkou v tomto hard forku bude podpora pre "light clients. Ide o implementáciu uzlov, ktoré vyžadujú minimum úložného priestoru a nízku výpočtovú silu, čo by umožnilo ich implementáciu na mobilné zariadenia. To by umožnilo peňaženkám na mobilných zariadeniach overiť si blockchain samostatne, bez toho aby sa museli spoliehať na externých poskytovateľov služieb. Zdroj
Bitcoin dosiahol ďalší kľúčový míľnik – 50 000 USD
Bitcoin prekonal v utorok psychologicky významnú hranicu 50 000 USD ( 41 454 EUR ) po tom, čo spoločnosť Microstrategy oznámila , že plánuje minúť ďalších 600 miliónov USD na nákup Bitcoinu. Na posilnení býčieho trendu sa podieľala aj najstaršia súkromná banka v USA "Bank of New York Mellon", ktorá potvrdila, že bude poskytovať custody služby spojené s držaním a správou Bitcoinu pre svojich klientov.
Ďalším dôvodom aktuálneho trendu môže byť aj informácia, že platobný gigant Mastercard umožní svojim klientom využívať kryptomeny ako jeden zo spôsobov platby u viac než 30 miliónov obchodníkov. Zdroj
Deutsche Bank plánuje prepojenie medzi kryptomenami a tradičným bankovníctvom
Medzinárodná banka Deutsche Bank plánuje vytvoriť "most" medzi kryptomenami a tradičnými bankovými produktmi. Prvým krokom v tejto oblasti by malo byť poskytovanie služieb v oblasti kryptomien pre správcov aktív, inštitúcie, digitálne fondy či family offices. Deutsche Bank plánuje v budúcnosti vybudovať obchodnú platformu na nákup a predaj kryptomien prostredníctvom rôznych maklérskych spoločností. Zdroj
Uniswap s novým historickým rekordom
V pondelok sa decentralizovanej burze Uniswap podarilo pokoriť hranicu 100 miliárd USD (82 miliárd EUR) v celkovom objeme uskutočnených obchodov. Uniswap sa týmto oficiálne stala prvou decentralizovanou burzou, ktorej sa podarilo pokoriť magickú hranicu 100 miliárd USD. Decentralizované burzy zaznamenávajú v posledných mesiacoch obrovský prílev kapitálu a čoraz viac sa stávajú serióznou konkurenciou pre centralizované platformy. Zdroj
BitPay integruje platby prostredníctvom Apple Pay
Koncom minulého týždňa spoločnosť Bitpay oznámila, že držitelia BitPay kariet môžu spárovať svoju kartu s Apple Wallet a platiť za produkty a služby prostredníctvom Apple Pay. Tento krok je významný najmä pre držiteľov kryptomien, ktorí chcú využiť svoje kryptomeny na platby v reálnom svete. BitPay v súčasnosti ponúka možnosť platieb prostredníctvom Bitcoinu, Etherea, Bitcoin Cash a niektorých stablecoinov. Zdroj
Investujte s Fumbi už dnes
Ak uvažujete o investovaní do kryptomien, Fumbi je tu práve pre vás. Naše algoritmom spravované portfólio presne sleduje pohyb cien na trhu s kryptomenami.
Spoločnosť Fumbi je prvá svojho druhu, pretože ponúka kryptomeny širokej verejnosti, a to aj pri malom vklade. Investovanie do kryptomien prostredníctvom spoločnosti Fumbi je veľmi jednoduché a minimalizuje riziká.
Môžete začať vkladom už od 50 €.
Recommended
Ďalšie články

with Fumbi