Ethereum 2.0 čeká první "hard fork" – týdenní přehled trhu
V tomto týdnu přesáhla celková trhová kapitalizace 33,7 bilionu CZK. Růst v 7denním horizontu představuje více než 9,4 %. Samotný Bitcoin vzrostl v průběhu týdne o více než 14 % na hodnotu více než 1 100 000 CZK. Dominance Bitcoinu oproti minulému týdnu mírně klesla a aktuálně představuje 61,1 %.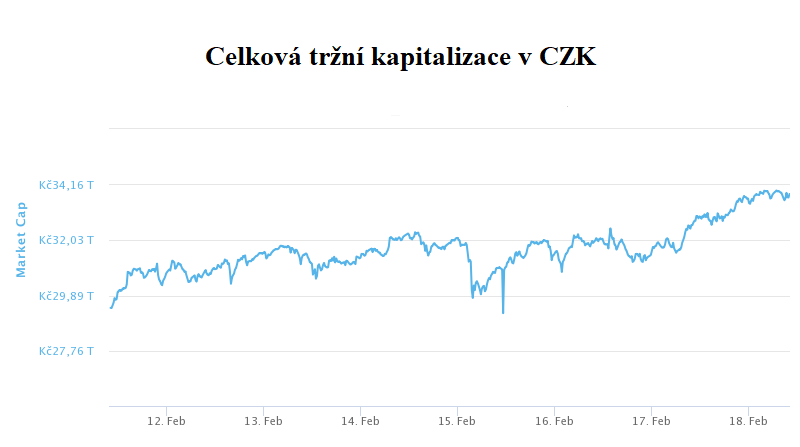 Ethereum 2.0 čeká první hard fork
(Přečtěte si v našem slovníku co je to hard fork – https://fumbi.network/cs/about/kryptomenovy-slovnik ) Spoluzakladatel Etherea Vitalik Buterin v pondělí oznámil, že Ethereum 2.0 čeká první hard fork s názvem HF1. Tento hard fork přinese nové funkce a představí některá klíčová vylepšení na aktuálním Beacon Chaine.
Největší novinkou v tomto hard forku bude podpora pro "light clients". Jde o implementaci uzlů, které vyžadují minimum úložného prostoru a nízkou výpočtovou sílu, co by umožnilo jejich implementaci na mobilní zařízení. To by umožnilo peněženkám na mobilních zařízeních ověřit si blockchain samostatně, bez toho, aby se musely spoléhat na externí poskytovatelé služeb. Zdroj
Bitcoin dosáhl další klíčový milník – 50 000 USD
Bitcoin v úterý překonal psychologicky významnou hranici 50 000 USD (1,07 milionu CZK) po tom, co společnost Microstrategy oznámila, že jej plánuje nakoupit za dalších 600 milionů dolarů. Na posílení býčího trendu se podílela také nejstarší soukromá banka v USA "Bank of New York Mellon", která potvrdila, že bude svým klientům poskytovat custody služby spojené s držením a správou Bitcoinu.
Dalším důvodem aktuálního trendu může být také informace, že platební gigant Mastercard umožní svým klientům používat kryptoměny jako jeden ze způsobů platby u více než 30 milionů obchodníků. Zdroj
Deutsche Bank plánuje spojení mezi kryptoměnami a tradičním bankovnictvím
Mezinárodní banka Deutsche Bank plánuje vytvořit "most" mezi kryptoměnami a tradičními bankovními produkty. Prvním krokem v této oblasti by mělo být poskytování služeb v oblasti kryptoměn pro správce aktiv, instituce, digitální fondy nebo family offices. Deutsche Bank plánuje v budoucnu vybudovat obchodní platformu na nákup a prodej kryptoměn prostřednictvím různých makléřských společností. Zdroj
Uniswap s novým historickým rekordem
V pondělí se decentralizované burze Uniswap podařilo pokořit hranici 100 miliard USD (2,14 bilionů CZK) v celkovém objemu uskutečněných obchodů. Uniswap se tímto oficiálně stala první decentralizovanou burzou, které se podařilo pokořit magickou hranici 100 miliard USD. Decentralizované burzy zaznamenávají v posledních měsících obrovský příliv kapitálu a stávají se čím dál tím více seriózní konkurencí pro centralizované platformy. Zdroj
BitPay integruje platby prostřednictvím Apple Pay
Koncem minulého týdne společnost Bitpay oznámila, že držitelé BitPay karet mohou spárovat svou kartu s Apple Wallet a platit za produkty a služby prostřednictvím Apple Pay. Tento krok je významný primárně pro držitelé kryptoměn, kteří chtějí využít své kryptoměny na platby v reálném světě. BitPay v současnosti nabízí možnost plateb prostřednictvím Bitcoinu, Etherea, Bitcoin Cash a některých stablecoinů. Zdroj
Investujte s Fumbi již dnes
V případě, že investujete do kryptoměn, Fumbi je tu právě pro vás. Naše algoritmem spravované portfolio přesně sleduje pohyb cen na trhu s kryptoměnami.
Společnost Fumbi je první svého druhu, jelikož nabízí kryptoměny široké veřejnosti a to i při malém vkladu. Investování do kryptoměn prostřednictvím společnosti Fumbi je velmi jednoduché a minimalizuje rizika.
Můžete začít vkladem už od 1400 Kč / 50 €.
Recommended
Ďalšie články

with Fumbi