Ethereum 2.0 czeka na pierwszy "hard fork" – cotygodniowy przegląd rynku
Łączna kapitalizacja rynkowa przekroczyła w tym tygodniu 5,83 bln PLN. Wzrost w horyzoncie 7 dni to ponad 9,4%. Sam bitcoin wzrósł w ciągu tygodnia o ponad 14% do ponad 189 700 PLN. Dominacja Bitcoina nieznacznie spadła w porównaniu z poprzednim tygodniem i obecnie wynosi 61,1%.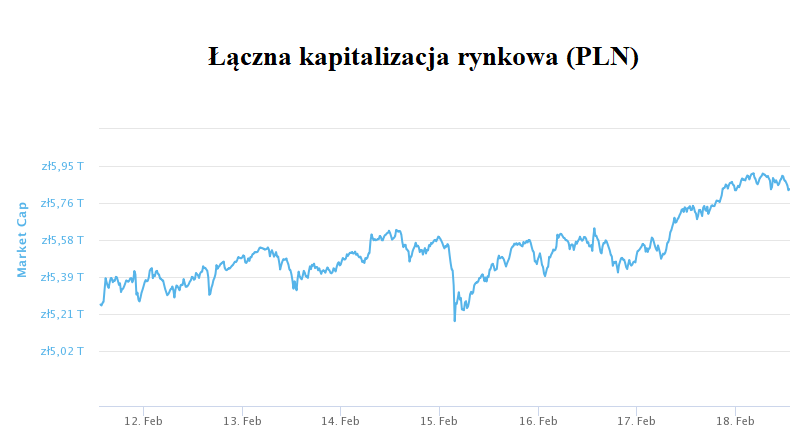 Ethereum 2.0 czeka na pierwszy hard fork
(Przeczytaj w naszym słowniku, czym jest hard fork)
Współzałożyciel Etherea Vitalik Buterin ogłosił w poniedziałek, że Ethereum 2.0 czeka na pierwszy hard fork o nazwie HF1. Przyniesie on nowe funkcje i wprowadzi kilka kluczowych ulepszeń do obecnego Beacon Chaine. Największą wiadomością na tym hard forku będzie wsparcie dla "light clients".
Jest to implementacja węzłów wymagających minimalnej przestrzeni dyskowej i małej mocy obliczeniowej, co pozwoliłoby na ich implementację na urządzeniach mobilnych. Umożliwiłoby to portfelom na urządzeniach mobilnych niezależną weryfikację łańcucha bloków, bez konieczności polegania na zewnętrznych dostawcach usług. Źródło
Bitcoin osiągnął kolejny kluczowy kamień milowy – 50 000 USD
Bitcoin przekroczył we wtorek znaczący psychologicznie znak 50 000 USD (185 987 PLN) po tym, jak firma Microstrategy ogłosiła plany wydania kolejnych 600 milionów USD na zakup Bitcoina. Najstarszy prywatny bank w USA, Bank of New York Mellon, również przyczynił się do wzmocnienia trendu wzrostowego, potwierdzając, że będzie świadczył usługi powiernicze związane z przechowywaniem i zarządzaniem Bitcoinem dla swoich klientów.
Innym powodem obecnego trendu może być informacja, że ​​gigant płatniczy Mastercard pozwoli swoim klientom korzystać z kryptowalut jako jednej z metod płatności dla ponad 30 milionów akceptantów. Źródło
Deutsche Bank planuje połączyć kryptowaluty z tradycyjną bankowością
Deutsche Bank planuje zbudować "pomost" między kryptowalutami a tradycyjnymi produktami bankowymi. Pierwszym krokiem w tym obszarze powinno być świadczenie usług kryptowalut dla zarządzających aktywami, instytucji, funduszy cyfrowych czy rodzinnych biur. W przyszłości Deutsche Bank planuje zbudować platformę handlową do kupna i sprzedaży kryptowalut za pośrednictwem różnych firm brokerskich. Źródło
Uniswap z nowym historycznym rekordem
W poniedziałek zdecentralizowana giełda Uniswap zdołała pokonać wartość 100 miliardów dolarów (371,99 miliardów PLN) w całkowitym wolumenie zrealizowanych transakcji. Uniswap oficjalnie stał się pierwszą zdecentralizowaną giełdą, która przełamała magiczną linię 100 miliardów dolarów. Zdecentralizowane giełdy odnotowały w ostatnich miesiącach ogromny napływ kapitału i stają się coraz poważniejszą konkurencją dla scentralizowanych platform. Źródło
BitPay integruje płatności za pośrednictwem Apple Pay
Pod koniec zeszłego tygodnia Bitpay ogłosił, że posiadacze kart BitPay mogą sparować swoją kartę z Apple Wallet i płacić za produkty i usługi za pośrednictwem Apple Pay. Ten krok jest szczególnie ważny dla posiadaczy kryptowalut, którzy chcą używać swoich kryptowalut do płatności w świecie rzeczywistym. BitPay oferuje obecnie opcję płatności za pośrednictwem Bitcoina, Etherea, Bitcoin Cash i trochę stablecoinów. Źródło
Zainwestuj z Fumbi już dziś
Jeśli rozważasz inwestowanie w kryptowaluty, Fumbi jest tutaj dla Ciebie. Nasz portfel zarządzany algorytmem dokładnie śledzi zmiany cen na rynku kryptowalut.
Fumbi jest pierwszym tego rodzaju, który oferuje kryptowaluty dla ogółu społeczeństwa, nawet w przypadku niewielkich depozytów. Inwestowanie w kryptowaluty za pośrednictwem Fumbi jest bardzo proste i minimalizuje ryzyko.
Możesz zacząć wpłatą już od 230 PLN / 50 EUR.
Recommended
More articles

with Fumbi