Ethereum osiągnęło nowy szczyt – cotygodniowy przegląd rynku
W tym tygodniu łączna kapitalizacja rynkowa przekroczyła 940 miliardów euro. Wzrost w horyzoncie 7 dni to ponad 18 %. Sam Bitcoin wzrósł o ponad 15% w ciągu tygodnia do aktualnej wartości ponad 31 100 EUR. Dominacja Bitcoin wynosi obecnie 61,1 %.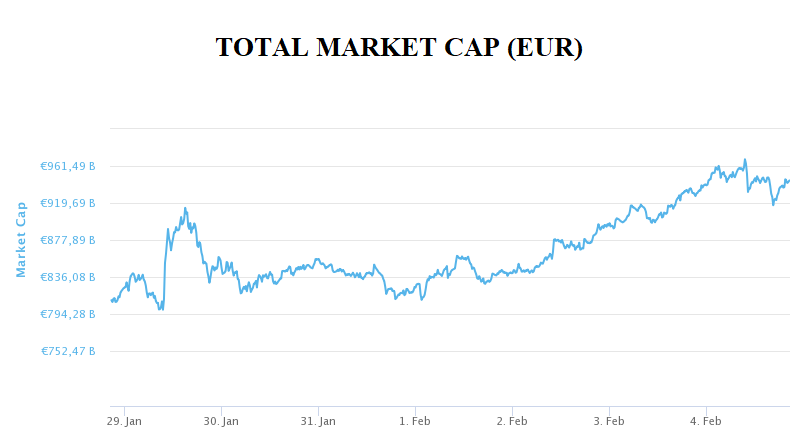 Ethereum osiągnęło swój nowy rekord wszechczasów
W środę 3 lutego 2021 r.Ethereum osiągnęło nową maksymalną wartość 1366,21 EUR (1644,03 USD). Na podstawie danych można założyć, że głównym czynnikiem wzrostu dla Etherea może być rosnący rynek opcji ETH. W momencie, gdy cena Etherea osiągnęła 1500 USD, odnotowano dużą liczbę opcji kupna. Inne ważne czynniki wzrostu dla Etherea obejmują rozwój zdecentralizowanego sektora finansowego i stale rosnącą aktywność on-chain. Źródło
W styczniu zarejestrowano ponad 22,3 miliona aktywnych adresów
Aktywność Bitcoina w styczniu gwałtownie wzrosła. W tym miesiącu zarejestrowano ponad 22,3 miliona adresów BTC, które otrzymały lub wysłały Bitcoiny. Po ponad trzech latach udało się pobić rekord z grudnia 2017 roku, kiedy to w ciągu miesiąca odnotowano ponad 21 milionów aktywnych adresów. Należy zauważyć, że od tego czasu liczba aktywnych adresów nigdy nie spadła poniżej 10 milionów. Źródło
VISA sygnalizuje nowości dotyczące kryptowalut
VISA, we współpracy z Anchorage, rozwija interfejsy programowania aplikacji (API), które w przyszłości pozwolą na sprzedaż i zakup Bitcoinów w tradycyjnych bankach. Cyfrowy bank First Boulevard był pierwszym bankiem, który przyłączył się do tego projektu. VISA wydała obecnie listę rejestracyjną dla innych banków, które będą chciały dołączyć do projektu. W przeszłości współpracowała VISA z ponad 35 firmami kryptograficznymi, z których większość pomagała w wydawaniu kart bankowych. Źródło
Wolumen obrotu na zdecentralizowanych giełdach stale rośnie
Zdecentralizowane finansowanie stale nabiera rozpędu i znacząco wpływa na rozwój sektora kryptowalut. Wolumen obrotu na zdecentralizowanych giełdach osiągnął w styczniu nowy rekord 55 miliardów dolarów. Jeszcze we wrześniu 2020 r. obroty na zdecentralizowanych giełdach wynosiły średnio około 26 miliardów dolarów, co stanowi wzrost o ponad 100%. W wolumenie obrotów dominuje obecnie Uniswap z udziałem 45% (25,9 mld. USD) i Sushiswap z udziałem 22% (12,2 mld. USD). Źródło
Yearn.finance wydaje dodatkowe tokeny o wartości 200 milionów dolarów.
Projekt DeFi Yearn.Finance zdecydował się na wydanie dodatkowych tokenów w wysokości 6 666 YFI. Z tego 2 222 tokeny zostaną przekazane tak zwanym "wiodącym dostawcom", a pozostałe 4 444 tokeny zostaną zdeponowane w skarbcu. Autorzy tej propozycji postanowili zwiększyć łączną podaż tokenów o 22%, aby spełnić założone cele projektu. Źródło
Rośnie liczba adresów z saldem większym niż 1 BTC
Na podstawie danych agencji wywiadowczej Glassnode, istnieje obecnie ponad 784 000 adresów BTC z saldem większym niż 1 Bitcoin. Rok temu było to 707 000 adresów, co oznacza wzrost o 11% rok do roku. Od początku 2015 roku liczba takich adresów podwoiła się. Rosnąca liczba tego typu adresów może sygnalizować gromadzenie Bitcoinów przez klientów detalicznych i detalistów. Na szczycie listy pod względem liczby zgromadzonych Bitcoinów znajduje się obecnie "Cold wallet" firmy Huobi, który posiada aż 255 502 BTC. Rynek jednak nadal jest zdominowany przez "wieloryby". Inwestorzy posiadający od 1000 do 1 000 000 BTC stanowią do 42,1% całej oferty Bitcoina. Źródło
Recommended
More articles

with Fumbi