Fumbi sme spustili začiatkom roka a už viac ako 600 Slovákov zistilo, ako bezpečne investovať do kryptomien
Na začiatku roka sme ako prvý na Slovensku sprístupnili platformu pre bezpečné a inteligentné investovanie do kryptomien. Od spustenia v januári sme zaznamenali s Fumbi až nečakaný úspech a aj napriek zhoršenej nálade na trhu kryptomien sa o možnosť bezpečného investovania zaujímalo a následne registrovalo viac ako 300 Slovákov, teraz už viac ako 600.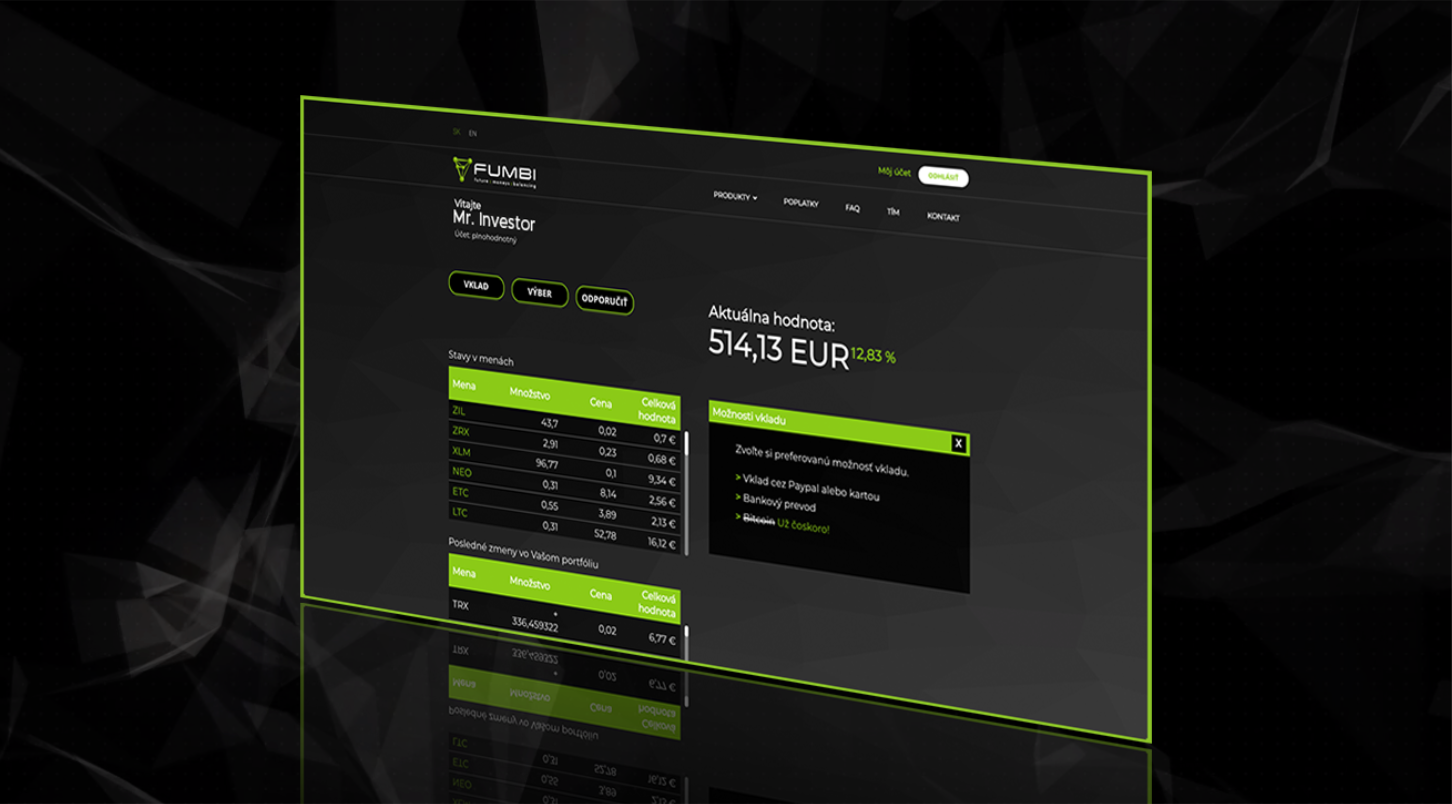 Investičný produkt, ktorý vo Fumbi ponúkame, je novinka nielen na slovenskom trhu. Naša unikátnosť spočíva vo Fumbi Algoritme, ktorý z investície vytvára dynamické portfólio skladajúce sa z top 31 kryptomien. Vďaka našej dynamike a pravidelným prepočtom, dokážeme kopírovať pohyby celého trhu a nielen pohyby jednotlivých kryptomien.
"Sme veľmi radi, že je o náš produkt taký záujem. Pripisujem to nie len službe, ktorú ponúkame, ale aj tomu, že sme slovenská spoločnosť, čo u investorov vzbudzuje väčšiu dôveru. Keďže veríme, že trh s kryptomenami v dlhodobom horizonte porastie, dnešní investori majú veľmi dobrý pomer príležitosti a rizika", komentoval situáciu Juraj Forgács, zakladateľ Fumbi.
Možnosť investovať do portfólia kryptomien ponúka aj niekoľko zahraničných firiem. Nie všetky sú však regulované a väčšinou sa nachádzajú v takzvaných daňových rajoch. Je pravdepodobné, že sú tam s cieľom vyhnúť sa nielen daniam, ale aj kontrole a prípadnej vymáhateľnosti pohľadávok. Preto, keď sa už človek rozhodne investovať v zahraničnej spoločnosti, treba si dať najmä pozor na to, či firma ponúka samotné kryptomeny, alebo iba podiel v neregulovanom indexovom fonde.
Taká investícia by niesla obzvlášť veľké právne riziko.
Náš Koncept Fumbi je jedinečný v tom, že sa neopiera o podielové fondy, ale o zdieľanú ekonomiku. Investori zapojení v sieti si navzájom pomáhajú udržiavať portfólio zviazané s hodnotou celého trhu kryptomien, a to pri minimálnych nákladoch.
Fumbi je prvá svojho druhu, pretože ponúka investovanie i sporenie v kryptomenách pre širokú verejnosť, a to už pri malej výške vkladu. Fungujeme podľa slovenského práva a nevyužívame kolektívne investovanie. Klienti Fumbi zostávajú priamymi a výlučnými vlastníkmi svojich kryptomien. Začínajúci investori si Fumbi môžu vyskúšať už od 50€.
Fumbi Biznis slúži pre právnické osoby, ktoré môžu vďaka nemu efektívne zhodnotiť majetok svojej firmy.
Začínajúci investori si Fumbi môžu vyskúšať už od 50€.
Recommended
More articles

with Fumbi