Inštitucionálne spoločnosti nakupujú bitcoin ako súčasť rezerv
Popularita Bitcoinu medzi inštitucionálnymi investormi neustále narastá. Aktuálnym trendom medzi inštitucionálnymi spoločnosťami je nákup Bitcoinu ako druh hotovostnej rezervy.
V auguste sa spoločnosť MicroStrategy, ktorej akcie sú zalistované na Americkej burze cenných papierov NASDAQ rozhodla nakúpiť 38 250 bitcoinov v hodnote 425 miliónov dolárov. Súčasná hodnota držaných bitcoinov predstavuje 493 miliónov dolárov. Trhová kapitalizácia tejto spoločnosti predstavuje 1,74 miliardy, čo znamená, že percentuálny podiel bitcoinov na trhovej kapitalizácií predstavuje až 28 %. Netrvalo dlho a k MicroStrategy sa pridali ďalšie spoločnosti.
Prvý októbrový týždeň sa spoločnosť Square, gigant v oblasti vývoja aplikácií pre mobilné platby, ktorá disponuje trhovou kapitalizáciou viac než 78 miliárd amerických dolárov rozhodla nakúpiť 4 709 bitcoinov za účelom tvorby pokladničnej rezervy. O päť dní neskôr spoločnosť Stone Ridge Holdings zverejnila, že zakúpila 10 000 bitcoinov v hodnote 114 miliónov dolárov ako súčasť strategických rezerv.
Webový portál www.bitcointreasuries.org zverejnil zoznam 23 spoločností, ktoré disponujú vysokým podielom bitcoinových rezerv. V súčasnosti predstavuje agregátne množstvo rezerv držaných v bitcoinoch až 785 999 BTC, čo je v prepočte viac než 10,1 miliardy dolárov. Z pohľadu množstva bitcoinov v obehu predstavujú rezervy 23 spoločností podiel až 4,24 % na celkovej cirkulácií bitcoinov v obehu.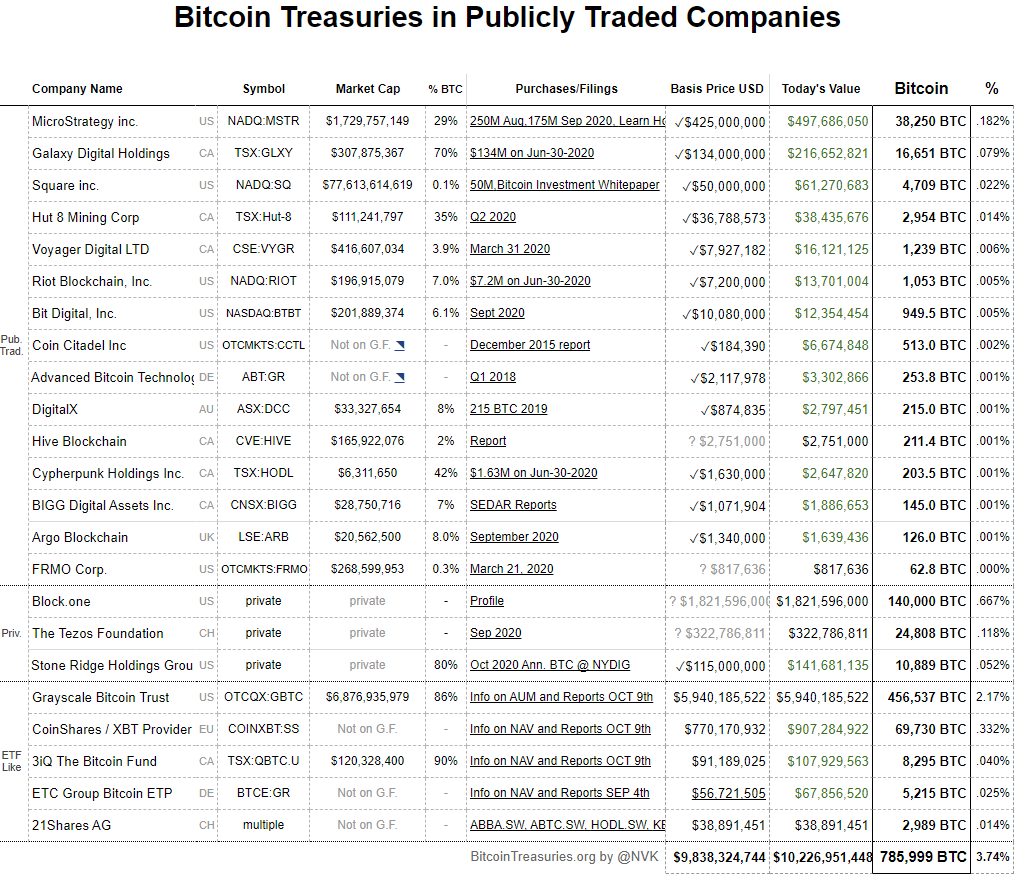 Zdroj: bitcointreasuries.org
Bitcoin: Nové rezervné aktívum?
Prečo spoločnosti nakupujú bitcoin za účelom hedgingu? Edward Moya,senior market analytik spoločnosti Oanda, ktorá sa zameriava na FOREX obchodovanie v rozhovore pre Cointelegraph uviedol, že pandémia COVID-19 zmenila makroekonomické pozadie FIAT peňazí. "FED (Federálny rezervný systém v USA) jasne naznačil, že ultra akomodatívna monetárna pozícia (stimulujúca ekonomiku) zostane v platnosti niekoľko rokov, čo mnohých inštitucionálnych investorov núti hľadať alternatívne investície," dodáva.
Zlato ako tradičné bezpečné útočisko počas kríz nedávno sklamalo a vo výsledku sa Bitcoin ukázal ako obľúbená diverzifikácia mimo dlhopisov a pravdepodobne bude neustále priťahovať viac a viac inštitucionálnych investorov.
Celosvetovo známy ekonóm Saifedean Ammous, autor knihy The Bitcoin Standard: The Decentralized Alternative to Central Banking, v rozhovore pre Cointelegraph uvádza, že jedným z dôvodov hedgingu môžu byť "obavy z devalvácie dolára z hľadiska zvýšeného objemu vládnych výdavkov a stimulov v reakcii na paniku počas krízy COVID-19."
Mnoho spoločností čelí dlhodobému problému, ktorý sa týka výnosu, ktorý môžu spoločnosti dostať zo svojich hotovostných rezerv držaním v bankách alebo v štátnych dlhopisoch. V minulosti mohli spoločnosti držať svoje rezervy v štátnych dlhopisoch a mali by primeranú istotu, že prekonajú index spotrebiteľských cien (CPI) – teda infláciu.
V súčasnej situácií, kedy sa úrokové sadzby na desaťročné štátne dlhopisy dlhodobo pohybujú v horizonte 0,5 – 0,7 % a miera inflácie je na úrovni 1,4 % sa zdá, že rastie počet spoločností, ktoré to už ani do budúcna neočakávajú a tak sa obzerajú po alternatívnych investíciách.
Edward Moya však upozorňuje, že Bitcoin je stále rizikové aktívum, aj keď by sa to čoskoro mohlo zmeniť: "Európa aj Amerika zápasia s koronavírusom a investori vo veľkej miere očakávajú, že vlády a centrálne banky budú naďalej poskytovať obrovské množstvo stimulov do ekonomiky. Bitcoin zatiaľ ostáva rizikovým aktívom, pričom jeho hodnota prirodzene rastie v časoch, keď je vysoký apetít po riziku. Ak bude dolár naďalej pokračovať v klesajúcom trende, bitcoin a ďalšie kryptomeny sa môžu stať počas krízy bezpečným útočiskom pre investorov – podobne ako zlato."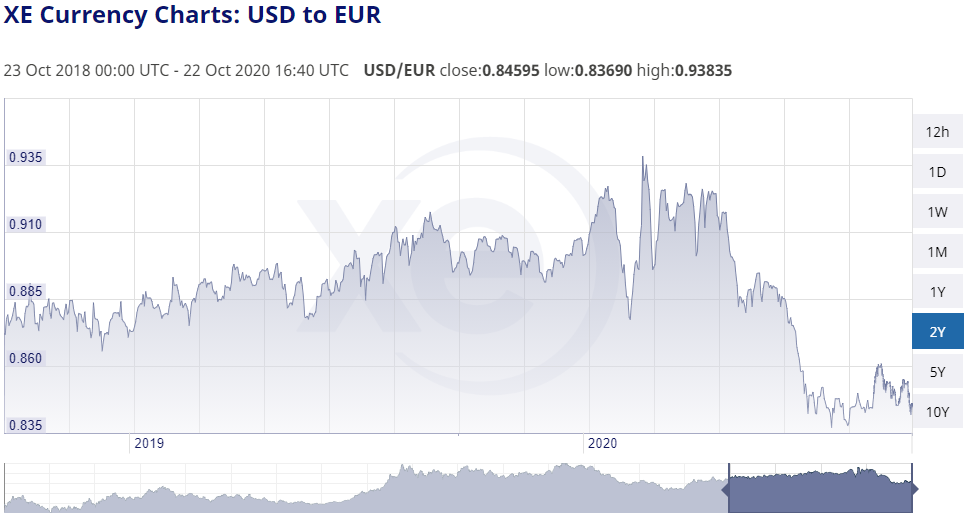 Zdroj: xe.com
Ak uvažujete o investovaní do kryptomien, Fumbi je tu práve pre vás.
Naše algoritmom spravované portfólio presne sleduje pohyb cien na trhu s kryptomenami. Spoločnosť Fumbi je prvá svojho druhu, pretože ponúka kryptomeny širokej verejnosti, a to aj pri malom vklade. Investovanie do kryptomien prostredníctvom spoločnosti Fumbi je veľmi jednoduché a minimalizuje riziká. Môžete začať vkladom už od 50 €.
Recommended
Ďalšie články

with Fumbi