Inštitucionálni investori nakupujú Bitcoin
Bitcoin sa stále viac dostáva do pozornosti inštitucionálnych investorov z celého sveta. V rámci opatrení, ktoré väčšina krajín prijala na pomoc svojim ekonomikám, hľadajú inštitúcie aktíva, ktoré môžu slúžiť ako zabezpečenie proti inflácii.
Zdá sa, že tento trend je jasný – Bitcoin zaznamenáva zvýšený dopyt veľkých investorov. Analytici spoločnosti Bloomberg predpovedajú, že by Bitcoin mohol tento rok opäť zaútočiť na svoju predchádzajúcu ATH (historicky najvyššiu hodnotu) vo výške 20 000 dolárov. Ich predpovede sú založené na podobnosti cenových pohybov v obdobiach nasledujúcich po tom, ako Bitcoin prvýkrát dosiahol vrchol 1100 dolárov v decembri 2013 a ako sa dovŕšil jeho prepad v decembri 2017. Počas obidvoch týchto období Bitcoin klesol až na 75% svojej hodnoty oproti vrcholu.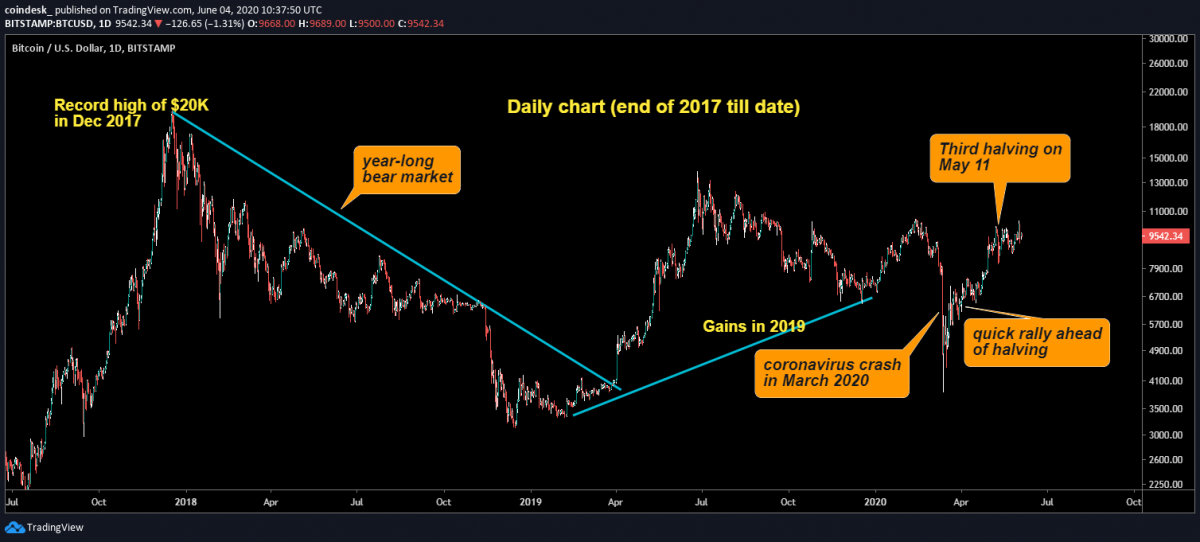 Zdroj: Coindesk
Táto technická analýza však nie je jediným dôvodom prečo by sme sa mohli domnievať, že by sa v nasledujúcich mesiacoch mohla cena Bitcoinu prudko zvýšiť. Jedným z hlavných ukazovateľov inštitucionálneho dopytu po Bitcoine sú otvorené pozície termínovaných a opčných kontraktov na Chicagskej obchodnej burze (CME). Podľa spoločnosti Skew, zaoberajúcej sa výskumom kryptomien, sa v tomto roku zatiaľ počet otvorených pozícií zvýšil o viac ako 300%.
Podobné závery uviedli aj iní dôležití aktéri, ako napríklad finančný gigant Fidelity, ktorý tiež potvrdzuje prudký nárast záujmu inštitucionálnych investorov o digitálne aktíva ako je Bitcoin.
Tento trend dokumentuje aj ďalšia, možno ešte dôležitejšia skutočnosť. Jeden z najdôveryhodnejších orgánov v oblasti investovania do digitálnej meny – spoločnosť Grayscale Investments – ktorá spravuje majetok v hodnote viac ako 3,8 miliárd dolárov, vo veľkom zvýšila svoje nakupovanie Bitcoinu prostredníctvom svojho významného investičného nástroja Grayscale Bitcoin Trust, najmä od polovice mája, kedy Bitcoin prešiel halvingom. V skutočnosti spoločnosť v uplynulých týždňoch kúpila viac Bitcoinu, ako ho bolo uvoľneného do obehu z ťažby od halvingu.
Zvýšený apetít spoločnosti Grayscale po Bitcoine iba odráža rastúci dopyt zo strany jej investorov – najmä inštitúcií, ako sú dôchodkové a hedžové fondy.
Je zaujímavé, že iné krypto fondy v správe spoločnosti Grayscale zaznamenali podobný nárast dopytu, pretože ich priemerná týždenná investícia sa oproti minulému roku zvýšila o 800%, z 3,2 milióna dolárov týždenne v roku 2019 na takmer 30 miliónov dolárov týždenne v roku 2020.
Zdroj: Kevin Rooke
Niektorí analytici zašli vo svojich predpovediach o pohybe ceny Bitcoinu v nasledujúcich rokoch ešte ďalej. Nedávno zverejnená správa Crypto Research Report predpovedá, že cena Bitcoinu by sa do roku 2030 mohla reálne zvýšiť na takmer 400 000 dolárov. Analytici dospeli k tomuto číslu použitím preniknutia Bitcoinu na cieľový adresný trh.
Podľa ich správy by sa Bitcoin a kryptomeny mohli rozmôcť na základe viacerých scenárov použitia, napríklad v oblasti mikroplatieb, offshore (účtov v daňových rajoch), spotrebiteľských pôžičiek, prevodov, hier, ukladania hodnoty alebo dokonca hazardných hier na internete. Celkovo sú tieto cieľové adresné trhy ohodnotené na približne 212 miliárd dolárov a správa z výskumu predpokladá, že kryptomeny by mohli preniknúť na 10% z týchto trhov. Takýto vývoj by mal viesť nielen k nárastu ceny Bitcoinu, ale aj iných mien.

Zdroj: Crypto Research Report
Zatiaľ čo si boli nadšenci kryptomien vedomí tohto potenciálu už dlho, inštitúcie do tejto hry začali vstupovať len nedávno. Bitcoin sa dostáva do konzervatívnejších portfólií tradičných investorov, čo iba posilňuje náladu na trhu, podľa ktorej sa Bitcoin považuje za tvrdé peniaze a úložisko budúcej hodnoty. Takéto vnímanie nedávno posilnili programy kvantitatívneho uvoľňovania všetkých hlavných centrálnych bánk.
To by sa mohlo odraziť v oslabení národných mien. Paul Tudor Jones, miliardár a manažér hedžových fondov spoločnosti Tudor Investment Corporation, ktorá v súčasnosti spravuje majetok v hodnote 22 miliárd dolárov, nedávno vyjadril v liste svojim investorom podporu Bitcoinu:
Najlepšia stratégia maximalizácie zisku je vlastniť najrýchlejšieho koňa. Ak som nútený predpovedať, moja stávka je, že to bude Bitcoin.
Vzostup kryptomien je nevyhnutný a stále viac a viac aktérov na trhu sa chce podieľať na rastových príležitostiach, ktoré táto nová trieda aktív ponúka. Zvýšenie dopytu sa neprejavilo iba v prípade inštitucionálnych investorov, ale aj v maloobchode. Nedávno sa to ukázalo v prípade spoločnosti Paypal, ktorá oznámila zmenu svojej stratégie týkajúcej sa kryptomien. Jeden z najznámejších globálnych platobných systémov by mal začať ponúkať v blízkej budúcnosti nákup a predaj kryptomien. Takýto krok nielenže kryptomeny ešte viac legitimizuje, ale čo je najdôležitejšie, priblíži ich 300 miliónom svojich používateľov.
Ak uvažujete o investovaní do kryptomien, Fumbi je tu práve pre Vás.
Naše algoritmom spravované portfólio presne sleduje pohyb cien na trhu s kryptomenami. Spoločnosť Fumbi je prvá svojho druhu, pretože ponúka kryptomeny širokej verejnosti, a to aj pri malom vklade. Investovanie do kryptomien prostredníctvom spoločnosti Fumbi je veľmi jednoduché a minimalizuje riziká. Navyše sa riadi slovenským právnym poriadkom bez použitia kolektívneho investovania. Klienti Fumbi zostávajú priamymi a výlučnými vlastníkmi svojich kryptomien.
Môžete začať vkladom už od 50 €.
Recommended
Ďalšie články

with Fumbi