Kwartalny przegląd rynku kryptowalut – Q1/2023
W pierwszym kwartale tego roku kryptowaluty odnotowały stosunkowo ciekawą aprecjację cen, pomimo tego, że w tle rynku przewijają się wydarzenia spowodowane upadkiem krypto-gigantów. Rynek kryptowalut i jego graczy nękają jednak również inne problemy – mianowicie regulacyjne. O ile jednak nieudolność regulatorów w niektórych miejscach szkodzi kryptowalutom, o tyle ich inne wpadki, konkretnie w sektorze bankowym, przynoszą kryptowalutom ogromne korzyści.
Także te informacje znajdą Państwo w pełnym raporcie:
Bitcoin otworzył nowy rok kalendarzowy na poziomie 16 500 dolarów i zamknął go na poziomie 28 400 dolarów z aprecjacją w pierwszym kwartale na poziomie +72%.

Południowoamerykański naród Brazylii, liczący ponad 200 milionów mieszkańców, uchwalił prawo, które definiuje kryptowaluty jako jedną z legalnych metod płatności w kraju.

Wszystko jest już prawie gotowe: Ethereum oczekuje aktualizacji Shanghai w kwietniu tego roku.

Bitcoin, najpopularniejsza kryptowaluta, obchodził na początku tego roku swoje czternaste urodziny.

Banki amerykańskie, ale także europejskie, mają ogromne kłopoty. Niektóre z największych banków nie poradziły sobie z burzliwymi czasami.

Bezpieczeństwo sieci Bitcoin wciąż rośnie. Hashrate sieci Bitcoin osiągnął rekordowe wartości.

Muzyczna platforma streamingowa Spotify rozszerza swoją obecność w przestrzeni Web3 dzięki integracji Web3 Portfeli.

W minionym kwartale Fumbi wprowadziło nowy produkt o nazwie Zaawansowane Portfolio, dzięki któremu każdy może stworzyć swój własny zdywersyfikowane portfolio.

POBIERZ KWARTALNY PRZEGLĄD RYNKU KRYPTOWALUT
Rozwój ceny Bitcoina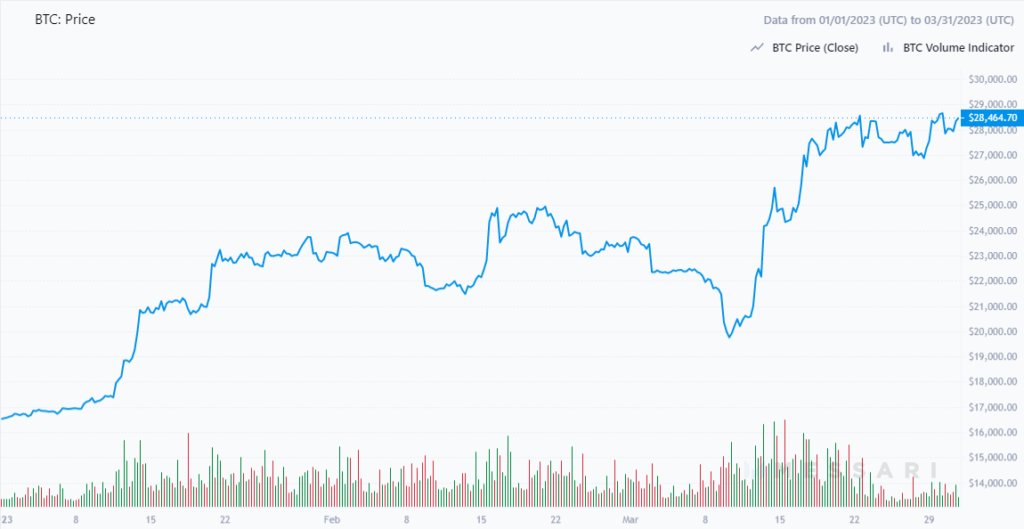 Źródło: TradingView
Otwarty kwartał 2023 roku upłynął pod znakiem byczych sentymentów i znacznych wzrostów cen w sektorze kryptowalut. Chociaż Bitcoin otworzył nowy rok kalendarzowy na poziomie zaledwie 16 500 dolarów, miesiąc później jego cena znajdowała się już w przedziale 22 800 – 23 200 dolarów. W ciągu pierwszego kwartału cena Bitcoina wzrosła łącznie o 72%, osiągając ostateczną wartość 28 400 USD na dzień 31 marca 2023 roku. Bitcoin osiągnął swój trzymiesięczny szczyt 30 marca, kiedy to handlowano nim aż do 28 800 USD.
Rozwój cen 10 najlepszych altcoinów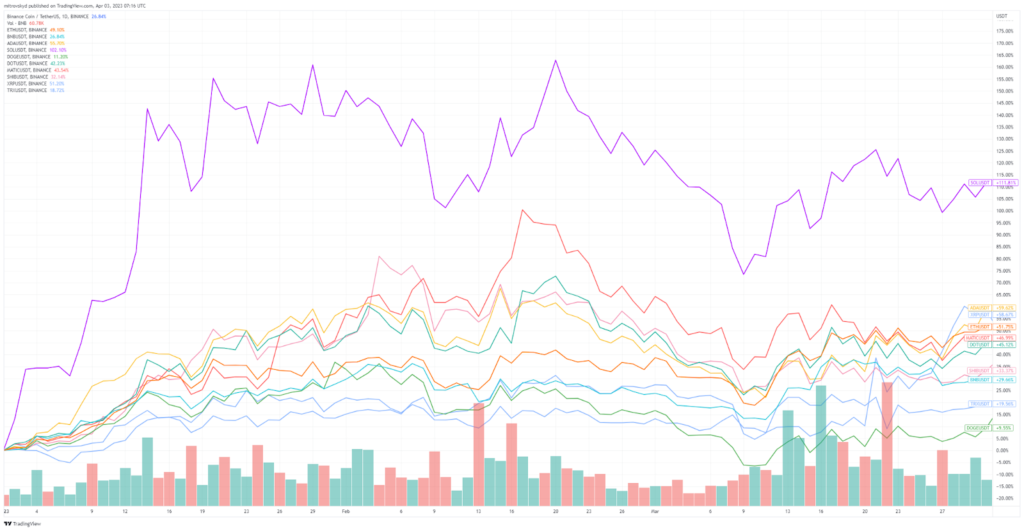 Źródło: Tradingview
Spośród 10 najlepszych altcoinów (z których wykluczono stablecoiny), Solana (SOL) była najlepiej radzącą sobie kryptowalutą w pierwszym kwartale, rosnąc o 111% w ciągu trzech miesięcy. Wzrost cen Solany następuje po powrocie do równowagi po krachu kryptowalutowym FTX, kiedy to ujawniono, że Alameda Research miała w swoim bilansie ogromną ilość niepłynnych tokenów SOL, co spowodowało, że Solana runęła o ponad 70%.
Kryptowaluty Cardano (ADA) i Ripple (XRP) również poradziły sobie bardzo dobrze w początkowym kwartale, rosnąc o prawie 60%. Dogecoin (DOGE) radził sobie najgorzej wśród śledzonych kryptowalut, rosnąc o prawie 10%.
Ewolucja dominacji Bitcoina i innych ważnych metryk kryptowalutowych znajduje się w pełnym raporcie. Można go pobrać tutaj.
Ewolucja kapitalizacji rynku kryptowalutowego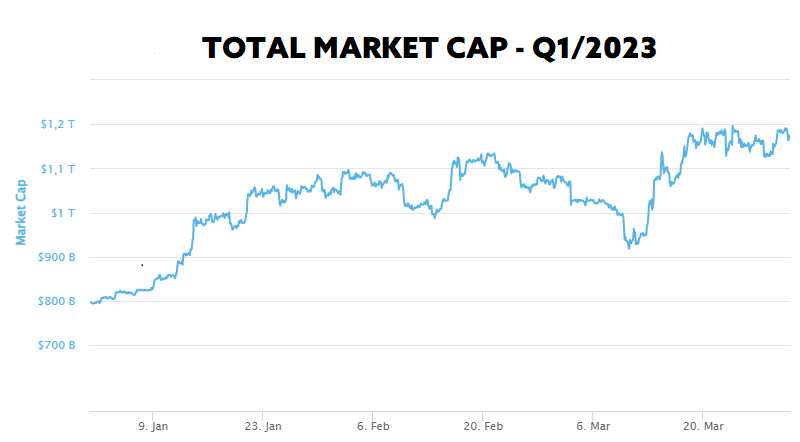 Źródło: Coinmarketcap
Kapitalizacja rynku kryptowalut wynosiła na początku trzeciego kwartału 795 miliardów dolarów. Kapitalizacja rynku znacznie wzrosła po nowym roku i po raz kolejny przebiła ważny próg jednego biliona dolarów. Pod koniec pierwszego kwartału kapitalizacja rynkowa wynosiła 1,17 biliona dolarów.
Bitcoin obchodził swoje czternaste urodziny
Na początku stycznia jednostka rynku Bitcoin obchodziła swoje 14 urodziny. Konkretnie 13 stycznia, 14 lat temu dzisiaj, anonimowy założyciel Bitcoina Satoshi Nakamoto wydobył pierwszy w historii blok Bitcoina, do dziś określany jako "blok genezy" lub "blok 0".
Utworzenie pierwszego bloku w sieci Bitcoin miało miejsce mniej więcej 2 miesiące po tym, jak Nakamoto opublikował artykuł o Bitcoinie 31 października 2008 roku, szczegółowo opisując moc nowego zdecentralizowanego systemu monetarnego. Pierwszy blok Bitcoina został wydobyty 3 stycznia 2009 roku dokładnie o 2:15 PM EST, a nagrodą za jego wydobycie było 50 BTC. Od momentu powstania Bitcoin rozwinął się masowo, stając się najbardziej znaczącą kryptowalutą na rynku z kapitalizacją rynkową wynoszącą ponad 540 miliardów dolarów.
Amerykańskie banki w ogromnych kłopotach
Chaos, panika i niepewność. Tak w uproszczeniu można opisać listopadowy kryzys bankowy w Stanach Zjednoczonych i Europie. Po masowych podwyżkach stóp procentowych przez Fed kilka głównych banków amerykańskich popadło w kłopoty. Niepewność w sektorze bankowym przeniosła się następnie zza oceanu do Europy i wystawiła na próbę stabilność kilku instytucji europejskich.
Pierwszym bankiem, który wpadł w kłopoty, był amerykański Silvergate, który był znany ze swojej prokryptograficznej orientacji i relacji biznesowych z kilkoma firmami kryptowalutowymi, w tym Coinbase i Paxos. Silvergate najpierw opóźnił wydanie kompleksowego raportu 10-K do amerykańskiej Komisji Papierów Wartościowych i Giełd (SEC), co wystraszyło inwestorów i akcjonariuszy banku. Firma uwikłała się w kryzys płynnościowy, a w porozumieniu z Federalną Korporacją Ubezpieczeń Depozytów ("FDIC") bank ogłosił, że zaprzestaje działalności.
Co się właściwie stało i które banki wpadły w kłopoty? Wszystkie ważne informacje znajdziecie w naszym raporcie kwartalnym. Pobierz go tutaj.
Całkowita wartość zamkniętych aktywów (TVL)
Od 2017 roku DeFi systematycznie ewoluuje i pozostawia coraz większy ślad w powstającym świecie nowego zdecentralizowanego Web 3.0. Aktywność w tej przestrzeni znacząco wzrosła w pierwszym kwartale, głównie ze względu na wyzwania, przed którymi stanęły podmioty bankowe w Ameryce, ale także w Europie. Po upadku szeregu banków zaufanie do tradycyjnego systemu finansowego uległo poważnej erozji, powodując przepływ kapitału do sektora zdecentralizowanych finansów, gdzie każdy ma swoje środki we własnych rękach.

Źródło: Defillama
Więcej informacji z sektorów DeFi, Metaverse i stablecoin można znaleźć w naszym kompletnym raporcie. Ponadto raport obejmuje inne ważne wiadomości ze świata kryptowalut, takie jak regulacja MiCa, aktualizacje Ethereum Shanghai lub to, jak prawdopodobnie rozwinie się kolejny kierunek polityki pieniężnej Fed.
ZALOGUJE SIĘ DO FUMBI
Recommended
More articles

with Fumbi