Cryptocurrency market slump
Cryptocurrency enthusiasts and investors woke up to a not-so-nice morning on Saturday. A combination of profit-taking and macroeconomic concerns caused hundreds of billions of dollars to leave the market overnight and cryptocurrency prices to plummet by tens of percent.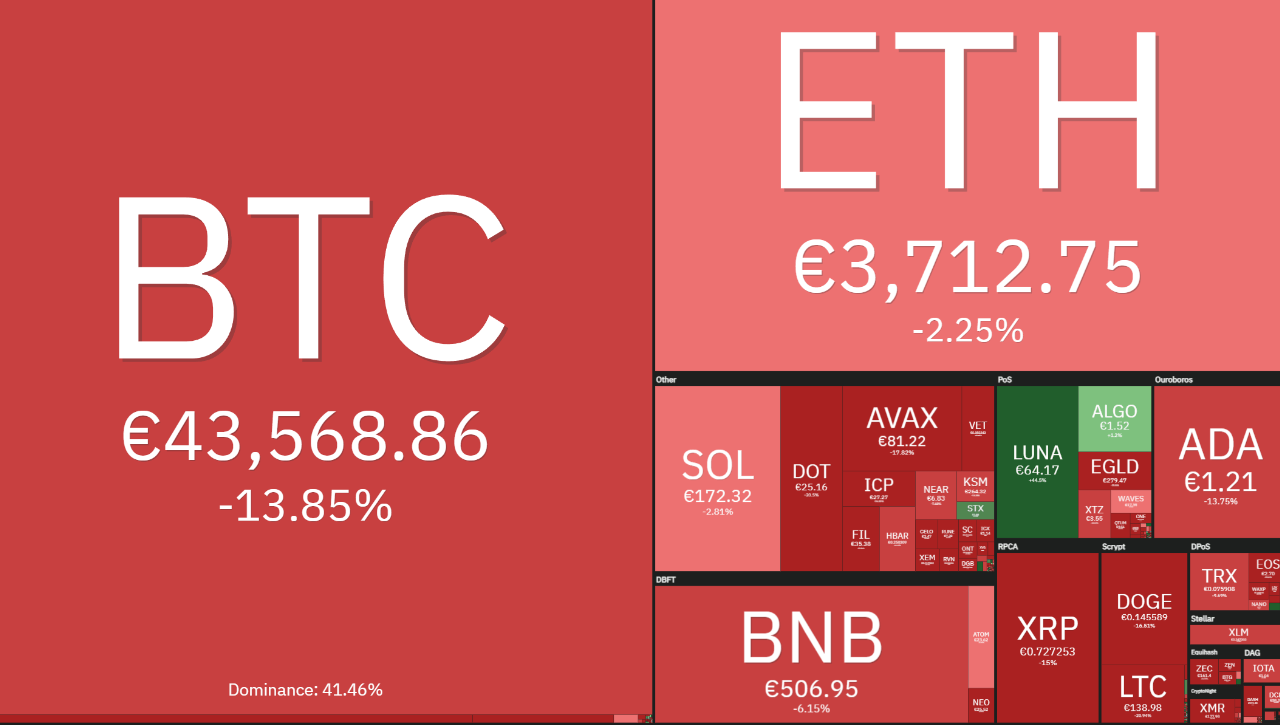 Zdroj: COIN360
Cena Bitcoinu v sobotu nadránom klesla na burze Binance až na 42 000 dolárov, čo predstavuje pokles o viac než 20 % v priebehu pár hodín. Ide o jeden z najväčších poklesov zaznamenaných tohto roku. Naposledy sme podobný pokles na trhu zaznamenali 15. mája, kedy cena Bitcoinu na krátko klesla až na 33 000 dolárov.
Pád Bitcoinu na najnižšiu úroveň od konca septembra prichádza v dôsledku neistôt spôsobených novým variantom COVID-19 s názvom Omicron a rastúcej neistoty Federálneho rezervného systému (FED) ohľadom inflácie.
Vysoká inflácia núti centrálne banky sprísniť menovú politiku, čím hrozí zníženie likvidity, ktorá zdvihla ceny aktív. Omicron variant koronavírusu vedie investorov k averzii voči riziku v súvislosti s obavami, že by opäť mohlo dôjsť k narušeniu dodávateľských reťazcov.
Aktuálnej trhovej situácií nepomohli ani piatkové výsledky z trhu práce v USA. Akciový trh aj výnosy benchmarkových desaťročných amerických dlhopisov sa v piatok prepadli po tom, čo údaje z trhu práce ukázali, že rast pracovných miest v USA sa v novembri spomalil.
Zamestnávatelia v najväčšej svetovej ekonomike v novembri vytvorili len 210 000 pracovných miest, čo je prudký pokles oproti 546 000 pozíciám, ktoré zamestnávatelia vytvorili v októbri a hlboko pod odhadmi ekonómov, ktorí očakávali v novembri prírastok zhruba 550 000 nových pracovných miest.
Pozitívnym signálom je však fakt, že miera nezamestnanosti v USA opäť klesla o 0,4 percentuálneho bodu na aktuálnu úroveň 4,2 percenta. Ešte zhruba 6 mesiacov dozadu sa nezamestnanosť v USA pohybovala až okolo úrovne 6 %.
Pád Bitcoinu sa dotkol aj derivátov. Údaje spoločnosti Coinglass ukazujú, že pokles ceny Bitcoinu spôsobil v priebehu 24 hodín likvidáciu bitcoinových futures pozícii v celkovej hodnote viac než 2,5 miliardy v dolárov. Viacerí poprední odborníci začiatkom tohto týždňa poukazovali práve na fakt, že trh sa zdá byť už príliš zadlžený a prepákovaný. To môže v konečnom dôsledku bitcoinu len pomôcť.
Pokles na trhu – príležitosť na nákup
Vo všeobecnosti platí, že žiadne aktívum ani finančné trhy ako celok nikdy nerastú priamočiaro "až na mesiac" a z času na čas sa na trhu objavujú významné korekcie. Tieto cenové korekcie však môžeme považovať za dôležitý reset na trhu, pričom trh má dlhodobú tendenciu sa vrátiť k priemernému rastovému trendu. Napríklad, aj napriek tejto významnej korekcii je cena bitcoinu stále viac než 1,7-krát vyššia ako na začiatku tohto roka, kedy sa bitcoin obchodoval približne za 29 000 dolárov.
Prepad na trhu využili aj viaceré známe osobnosti. Nayib Bukele, prezident El Salvádoru, prostredníctvom sociálnej siete Twitter v sobotu po polnoci oznámil, že nakúpil ďalších 150 Bitcoinov pri priemernej cene 48 670 USD/BTC. Justin Sun, zakladateľ krypto platformy Tron taktiež prostredníctvom Twitteru oznámil, že pri cenovom prepade nakúpil 150 bitcoinov.
S Fumbi môžete využiť prepad na trhu aj vy
Skúsení investori vedia, že pokles na trhu pre nich nepredstavuje obavy, ale príležitosť, ako rozšíriť svoje investičné portfólio. Ak váhate, ako pohyby na trhu kryptomien vnímať a ako na ne reagovať, prečítajte si blog, ktorý je venovaný problematike poklesov na trhu.
S Fumbi môžete investovať do kryptomien napríklad s produktom Fumbi Index Portfólio, v ktorom nemusíte hodnoty kryptoaktív neustále sledovať, pretože náš sofistikovaný Fumbi Algoritmus to robí za Vás.
Využite potenciál kryptomien ako vyše 70 000 našich používateľov a spravte vklad ešte dnes.
Investovať môžete už od 50 €.
Recommended
Ďalšie články

with Fumbi