Pridali sme ďalšie dva produkty, pre dlhodobé sporenie v kryptomenách
Začiatkom roka, keď sme vo Fumbi oficiálne spustili náš portál pre bezpečné investovanie do kryptomien, je o náš produkt stále väčší záujem. Potvrdzuje to aj vyše 800 registrácii od nášho spustenia. Fumbi preto prináša ďalšie dva zaujímavé produkty, cez ktoré môžu nielen jednotlivci ale aj firmy využiť sporenie alebo investovanie do kryptomien.
Vznikli sme ako odpoveď na čoraz väčší a ťažšie prehľadný trh s kryptomenami. Ako prvý na Slovensku i vo svete prinášame investičné riešenie pre širokú verejnosť – teda pre všetkých, ktorí uvažujú nad investovaním do kryptomien. Investori už nemusia riešiť otázku, kde, kedy a ktoré kryptomeny nakúpiť, ani ako ich bezpečne uložiť. Fumbi sa tak zaraďuje medzi priekopníkov, a spolutvorcov tejto novej technológie, ktorá má potenciál zmeniť svet rovnako alebo ešte výraznejšie, ako to urobil internet.
Prinášame ďalšie dva investičné kryptomenové produkty – Fumbi digitálny pilier a Fumbi sporiaci plán, ktoré budú môcť využívať jednotlivci ale aj spoločnosti.
Fumbi digitálny pilier.
Je to produkt zaujímavý najmä pre zamestnávateľov, ktorí sa chcú odlíšiť na trhu práce a ponúknuť svojim zamestnancom výnimočnú možnosť odkladať a sporiť si bonusy v kryptomenách. Zamestnávateľ sa pritom nemusí trápiť daňovými či účtovnými otázkami kryptomien pretože Fumbi digitálny pilier je kompatibilný s klasickými mzdovými systémami.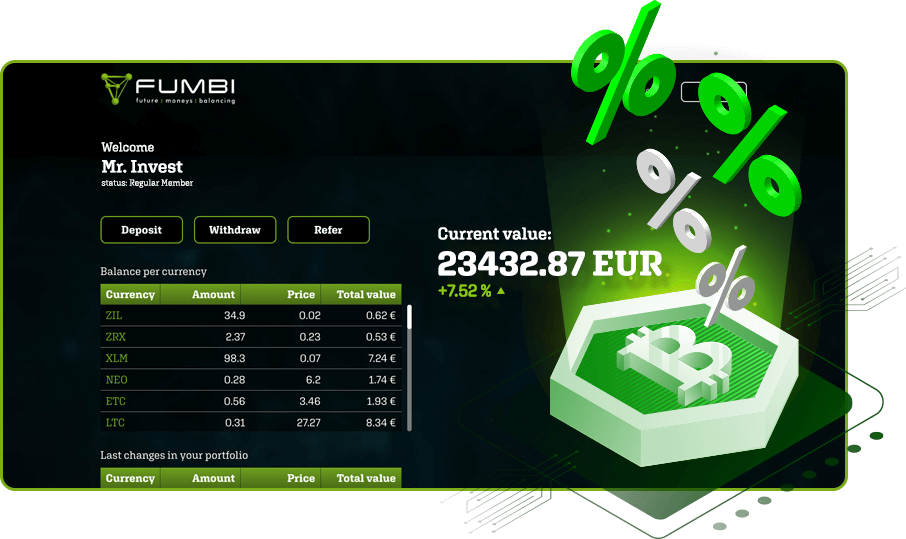 Fumbi sporiaci plán.
Je kryptomenovou alternatívou ku klasickému sporeniu, ktoré ponúkajú tradičné banky.
S Fumbi sporiacim plánom nemusia zákazníci vkladať veľkú investíciu naraz, ale mesačne sporiť po menších sumách. Opakovanie menších mesačných vkladov je pri dlhodobom investovaní rozumná stratégia. Znižuje sa ňou riziko zle načasovaného nákupu, keď sú ceny a trh relatívne vysoko. Trh s kryptomenami má neporovnateľný rastový potenciál, ale aj vysoké riziko cenových výkyvov, je preto rozumné znížiť riziko spriemerovaním nákupných cien.
Vo Fumbi zároveň pripravujeme aj nové možnosti vkladania depozitov. Doposiaľ bola jediná možnosť bankový prevod ale v priebehu niekoľkých dní už bude možné urobiť depozit aj službou PayPal a prostredníctvom PayPalu aj cez platobné karty. V blízkej budúcnosti ešte pribudne platobná brána pre Váš internet banking ako aj možnosť preniesť si do Fumbi Vaše kryptomeny. Pre začínajúcich investorov je minimálny vklad už od 50€.
Vo Fumbi bude Vaše inteligentné a bezpečného portfólio vždy sledovať celkovú kapitalizáciu trhu, a nielen jednotlivé vybrané kryptomeny.
Recommended
Ďalšie články

with Fumbi