Spustili sme nový produkt Fumbi Vlastná Voľba
Chcete investovať len do vami vybranej kryptomeny? Teraz je to vo Fumbi možné. Prichádzame s novým produktom Fumbi Custom, ktorý je k dispozícii každému používateľovi, ktorý si chce vybrať vlastné kryptomeny pre investovanie. Produkt prináša slobodu vlastnej voľby, pričom investovanie naďalej ostáva jednoduché, bezpečné a pohodlné.
Prečo Fumbi Vlastná Voľba?
Koncom minulého roka sme zbierali spätnú väzbu na to, ako sú používatelia spokojní s našimi produktmi a službami. Možnosť vybrať si vlastné kryptomeny a investovať len do nich, bola jedna z najčastejších odpovedí, ktorú zákazníci v dotazníku uvádzali. Fumbi Vlastná Voľba je preto vhodná pre každého, kto chce dlhodobo vlastniť kryptomeny podľa vlastného výberu.
Od začiatku tohto mesiaca je k dispozícii beta verzia a vy môžete jednoducho a pohodlne investovať do kryptomien Bitcoin a Ethereum. Neskôr tento produkt rozšírime aj o ďalšie kryptomeny. Ak máte návrh, ktorú kryptomenu by ste chceli pridať, môžete vyplniť tento dotazník.
Benefity Fumbi Vlastnej Voľby:
Vlastný výber kryptomeny – Bitcoin a Ethereum.
Najbezpečnejšie uloženie kryptomien na Ledger Vault.
Investovanie do jednotlivých kryptomien už od 50 €.
Pravidelný audit cez spoločnosť SGS Slovakia.
Ako investovať do Fumbi Vlastná Voľba
Investovať do Fumbi Vlastná Voľba je jednoduché. Môžete to spraviť cez hocijaké tlačítko +Vklad.
Keď ste na vklade stačí pod Fumbi Index kliknúť na Zobraz viac, kde si vyberiete produkt Fumbi Vlastná Voľba. Následne si zvolíte kryptomenu (Bitcoin alebo Ethereum) podľa vášho výberu a sumu, ktorú chcete vložiť. Stačí už len potvrdiť a zobrazia sa vám detaily platby.
Upozornenie: Pre lepšiu identifikáciu vkladov, sme pre každú kryptomenu vytvorili vlastný bankový účet. Preto je potrebné, aby ste si vždy skontrolovali číslo účtu, na ktorý vklad posielate.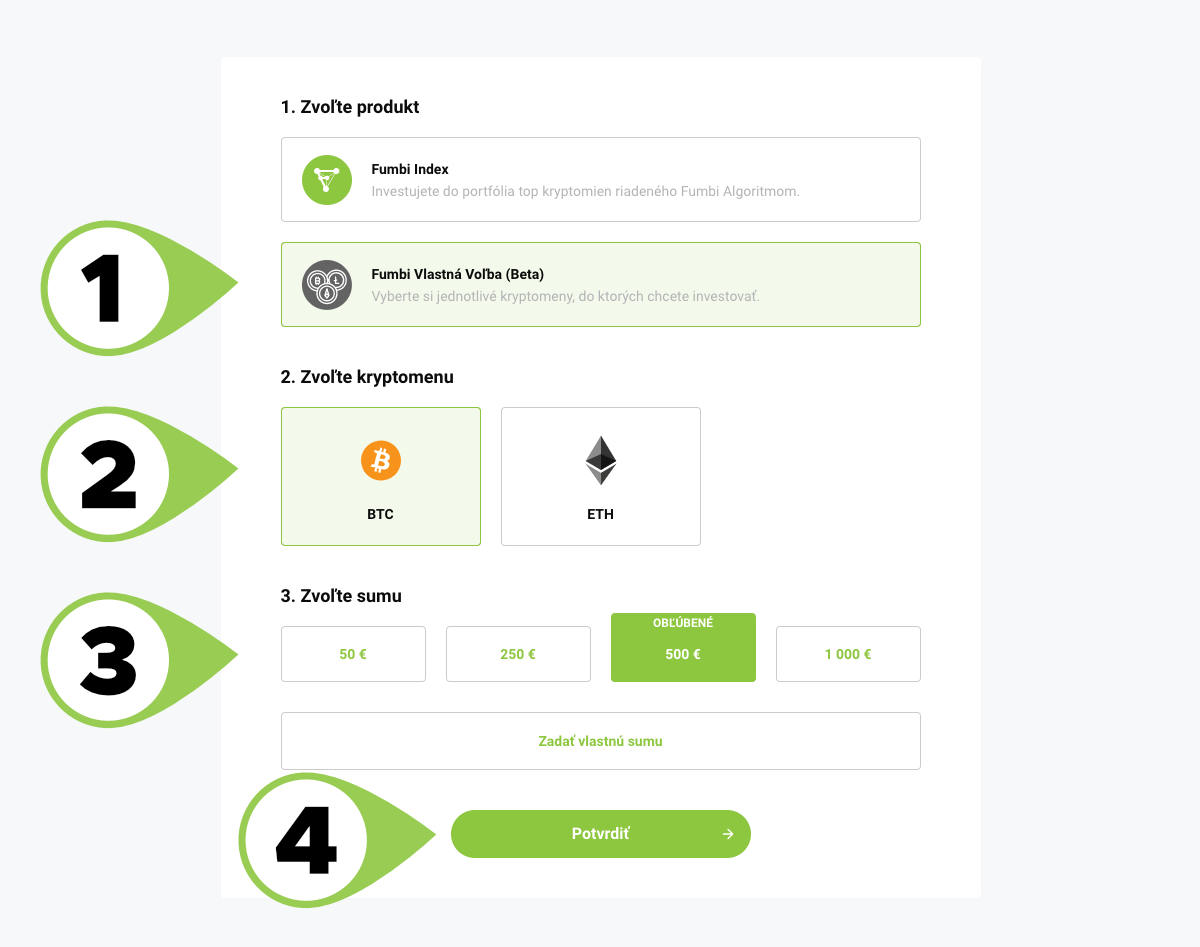 Máte investované vo viacerých Fumbi produktoch?
Ak máte investované vo viacerých produktoch Fumbi, je tu možnosť otvoriť si každý zvlášť a pozrieť si detailné informácie. K detailným informáciám sa dostanete cez hlavnú stránku Prehľad a sekciu Products. Tam si stačí vybrať produkt a kliknúť na Zobraziť viac.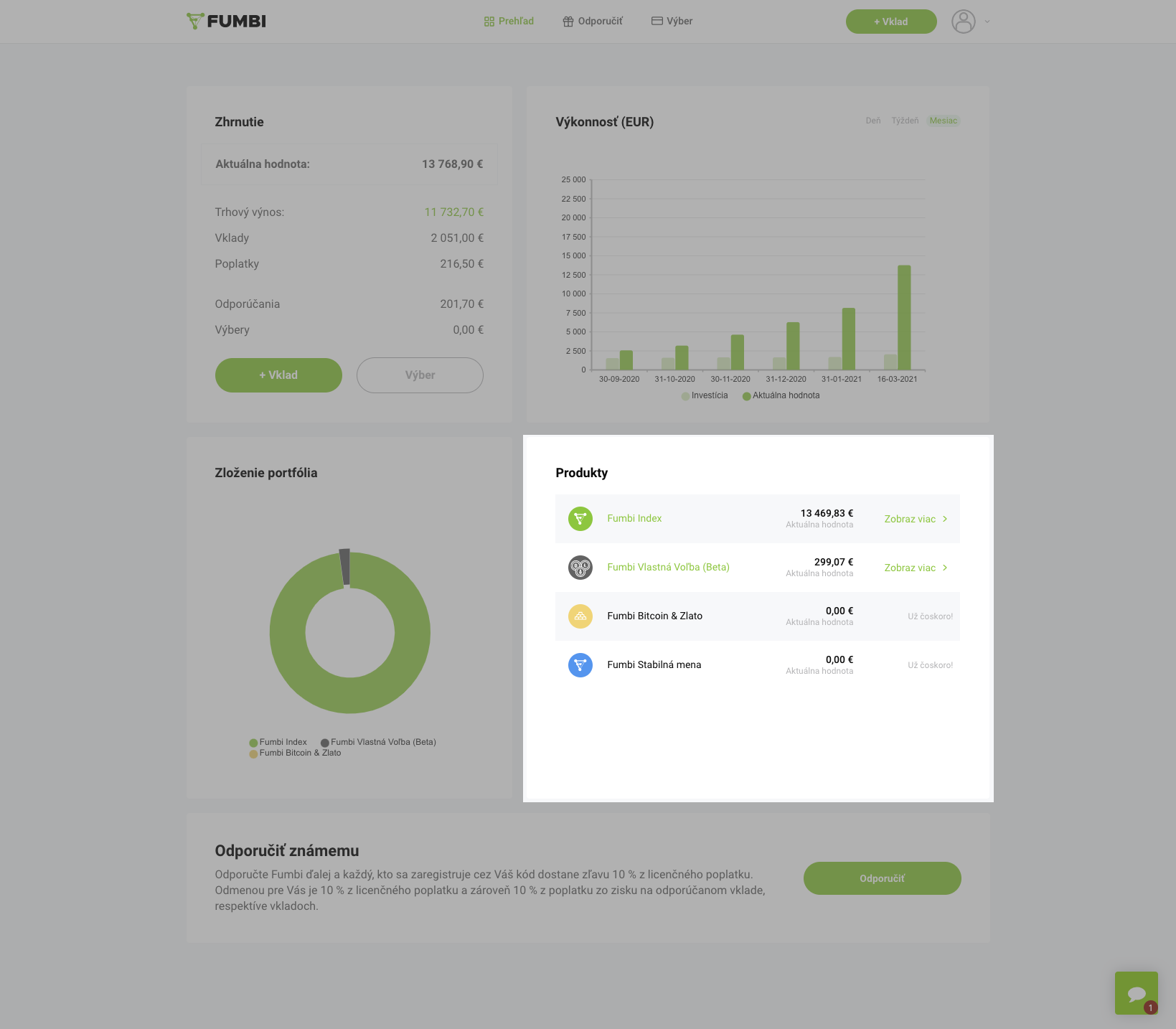 Vklad viete spraviť aj po otvorení detailov jednotlivých produktov.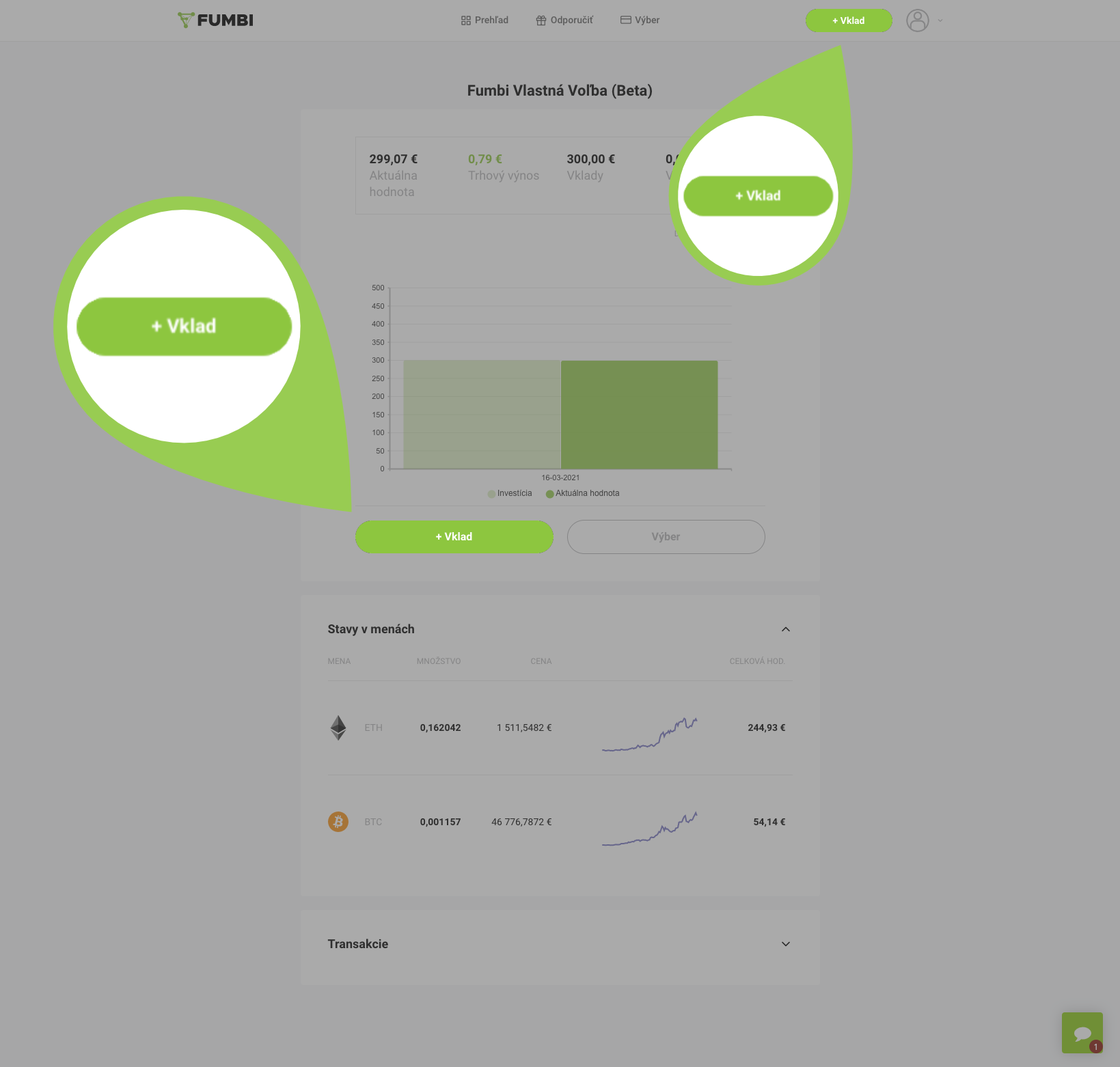 Cenník pre Fumbi Vlastná Voľba
Našli ste niečo na vylepšenie? Dajte nám vedieť.
Produkt Fumbi Vlastná Voľba je zatiaľ k dispozícii v beta verzii.
Ak ste si všimli nejaké nedostatky alebo máte nápady na zlepšenie, dajte nám vedieť na support@fumbi.network.
Recommended
Ďalšie články

with Fumbi