Tesla potvrdila prijímanie platieb v Bitcoine – týždenný prehľad trhu
V tomto týždni presiahla celková trhová kapitalizácia 1,40 bilióna EUR. Pokles trhovej kapitalizácie v 7-dňovom horizonte predstavuje 6,66 %. Samotný Bitcoin klesol v priebehu týždňa o 9,2 % na hodnotu vyše 44 900 EUR. Dominancia Bitcoinu oproti minulému týždňu mierne poklesla a aktuálne predstavuje 59,8 %.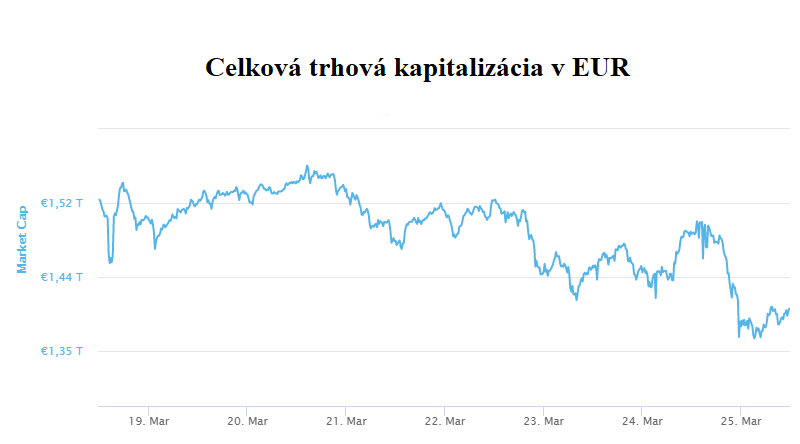 Zdroj: Coinmarketcap
Spoločnosť Tesla oznámila prijímanie platieb v Bitcoine
Generálny riaditeľ spoločnosti Tesla Elon Musk dnes prostredníctvom svojho účtu na Twitteri oznámil, že automobily Tesla je možné nakupovať aj prostredníctvom Bitcoinu. Zatiaľ sa táto novinka týka len klientov pochádzajúcich z Ameriky. Spoločnosť bude priamo prevádzkovať Bitcoinové uzly a bude sa držať platieb priamo v Bitcoine. V praxi to znamená, že nebude nutné využívať alternatívnu platobnú bránu, ktorá by Bitcoin prepočítala na FIAT peniaze.
To, že Bitcoiny získané predajom vozidiel nebudú prevedené na FIAT peniaze naznačuje, že Elon Musk nevníma Bitcoin len ako prostriedok výmeny, ale hlavne ako efektívny investičný nástroj. Tesla svoj zámer prijímať Bitcoin ako spôsob platby oznámila už vo februári po tom, čo vyšlo najavo, že Tesla nakúpila Bitcoiny v hodnote 1,5 miliardy USD (1,25 miliardy EUR). Zdroj
Dopyt po Bitcoine v Turecku enormne narastá
Hodnota tureckej líry poklesla o viac než 14 % po tom, čo turecký prezident Erdogan vyhodil guvernéra tamojšej centrálnej banky. Práve bývalému guvernérovi Naci Agbalovi sa pripisovali zásluhy za to, že vytiahol tureckú líru z jej historicky najnižších hodnôt najmä zvýšením úrokových sadzieb. Jeho náhle odvolanie šokovalo domácich i zahraničných investorov, pričom reakcia na seba nenechala dlho čakať.
Vyhľadávanie informácií o kryptomene Bitcoin pochádzajúce z tureckých IP adries v posledných dňoch explodovalo. Podľa údajov z Google Trends počet vyhľadávaní Bitcoinu pár hodín po odvolaní guvernéra stúpol až o 566 %. Zvýšenie počtu vyhľadávaní informácií súvisiacich s Bitcoinom tureckými občanmi je doposiaľ historicky najvyššie, pričom aktuálne čísla predstavujú takmer dvojnásobný počet vyhľadávaní zaznamenaných počas býčieho obdobia v rokoch 2017 a 2018. Zdroj
Aktivita v sieti Litecoin je na vzostupe
Počet aktívnych adries v sieti Litecoin, v súčasnosti 10. najsilnejšej kryptomeny na trhu, sa za posledný rok zvýšil viac ako päťnásobne, čo ukazujú dáta analytickej služby Glassnode. Okrem toho narastá aj počet adries, ktoré sa používajú každý deň. David Schwartz, projektový riaditeľ nadácie Litecoin, poukázal na fakt, že počet aktívnych adries v sieti Litecoin je v súčasnosti na úrovni 300 000 denne, pričom rok dozadu sa každodenne využívalo v priemere iba 50 000 adries.
Rast používania Litecoin adries logicky súvisí s rastom jeho ceny. Litecoin má v súčasnosti trhovú kapitalizáciu viac než 12 miliárd USD (10,1 miliardy EUR) a jeho cena je na úrovni 180 USD (148 EUR), zatiaľ čo rok dozadu sa Litecoin obchodoval len za 30 USD (25 EUR). Zdroj
Decentralizované burzy s rastúcou likviditou
Objemy a likvidita na decentralizovaných burzách neustále rastie, pričom hodnota kolaterálu, ktorý je súčasťou decentralizovaných búrz sa blíži k veľmi významnému míľniku na úrovni 10 miliárd USD (8,4 miliárd EUR). Podiel Uniswapu na celkovej likvidite predstavuje viac než 50 % s celkovou uzamknutou hodnotou (TVL – Total Value Locked) takmer 5,4 miliardy USD (4,55 miliardy EUR). Objemy na decentralizovaných burzách vo februári vzrástli na rekordných 72 miliárd USD (60,8 miliardy EUR).
Podľa spoločnosti Dune Analytics dominancia Uniswapu nad sektorom decentralizovaných búrz taktiež narastá, pričom na burze sa týždenne uzatvoria obchody v objeme až 6,5 miliardy USD (5,49 miliardy EUR). Celkový objem sektora decentralizovaných financií v marci prekročil hranicu 44 miliárd USD (37,15 miliardy EUR), čo je viac než bola jeho hodnota v októbri a novembri 2020 dohromady. Zdroj
Brazília schválila krypto ETF fondy.
Brazílska komisia pre cenné papiere a burzy tento týždeň schválila dva nové ETF fondy pre kryptomeny – jeden pozostávajúci výlučne z Bitcoinu, pričom druhý fond bude zložený z piatich alternatívnych kryptomien bez Bitcoinu. Pôjde vôbec o prvé krypto ETF fondy v Latinskej Amerike. Oba z týchto ETF fondov sa budú obchodovať na Brazílskej burze cenných papierov (B3).
Podľa magazínu Brazil Journal sa už dve z hlavných bánk v krajine, Itaú a BTG Pactual, vyjadrili, že svojim zákazníkom ponúknu novovzniknuté krypto ETF fondy. Očakáva sa, že ETF pozostávajúce len z Bitcoinu by sa mohlo začať obchodovať už tento mesiac, zatiaľ čo zmiešaný ETF fond by sa mal začať obchodovať v druhom polroku 2021. Viacero odborníkov považuje tento krok za dôležitý míľnik pre inovácie na brazílskom kapitálovom trhu. Zdroj
Investujte s Fumbi už dnes
Ak uvažujete o investovaní do kryptomien, Fumbi je tu práve pre vás. Naše algoritmom spravované portfólio presne sleduje pohyb cien na trhu s kryptomenami.
Spoločnosť Fumbi je prvá svojho druhu, pretože ponúka kryptomeny širokej verejnosti, a to aj pri malom vklade. Investovanie do kryptomien prostredníctvom spoločnosti Fumbi je veľmi jednoduché a minimalizuje riziká.
Môžete začať vkladom už od 50 €.
Narazili ste v texte na pojem, ktorému nerozumiete? Nevadí, všetky dôležité pojmy súvisiace s kryptomenami nájdete na jednom mieste v našom Fumbi slovníku.
Recommended
More articles

with Fumbi