Tesla potwierdza akceptowanie płatności w Bitcoine – cotygodniowy przegląd rynku
W tym tygodniu łączna kapitalizacja rynkowa przekroczyła 6,50 bln PLN. Spadek kapitalizacji rynkowej w horyzoncie 7 dni wynosi 6,66%. Sam bitcoin spadł w ciągu tygodnia o 9,2% do ponad 208 000 PLN. Dominacja Bitcoina nieznacznie spadła w porównaniu z poprzednim tygodniem i wynosi obecnie 59,8%.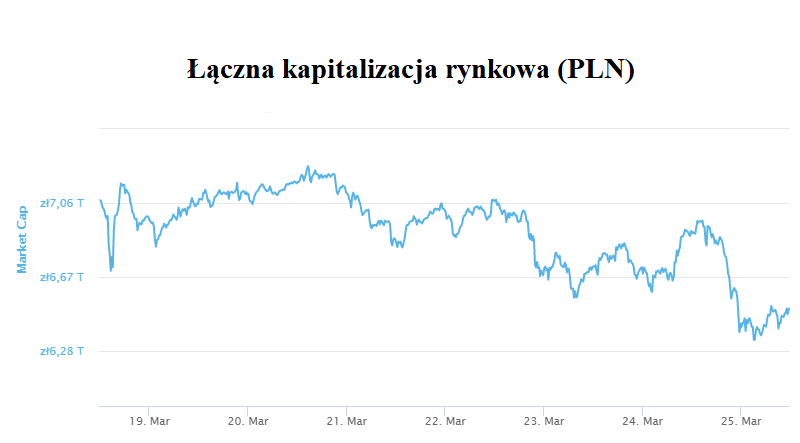 Tesla ogłosiła akceptowanie płatności w Bitcoinach
Dyrektor generalny Tesli, Elon Musk, ogłosił dziś za pośrednictwem swojego konta na Twitterze, że samochody Tesli można od teraz kupić również za pośrednictwem Bitcoinów. Na razie ta wiadomość dotyczy tylko klientów z Ameryki. Firma będzie obsługiwać węzły Bitcoin bezpośrednio i będzie przechowywać płatności bezpośrednio w Bitcoinie. W praktyce oznacza to, że nie będzie konieczne korzystanie z alternatywnej bramki płatniczej, która zamieniłaby Bitcoin na pieniądze FIAT.
Fakt, że Bitcoiny uzyskane ze sprzedaży pojazdów nie zostaną przelane na pieniądze FIAT, sugeruje, że Elon Musk postrzega Bitcoin nie tylko jako środek wymiany, ale przede wszystkim jako efektywne narzędzie inwestycyjne. Tesla ogłosiła zamiar zaakceptowania Bitcoin jako metody płatności w lutym po tym, jak kupiła Bitcoiny o wartości 1,5 miliarda dolarów (5,88 mld PLN). Źródło
Popyt na Bitcoin w Turcji ogromnie rośnie
Wartość liry tureckiej spadła o ponad 14% po zwolnieniu przez prezydenta Turcji Erdogana prezesa banku centralnego. To byłemu gubernatorowi Naci Agbalowi przypisywano wyciągnięcie liry tureckiej z najniższego w historii poziomu, głównie poprzez podniesienie stóp procentowych. Jego nagłe zwolnienie zszokowało inwestorów krajowych i zagranicznych, a na reakcję nie było potrzebne długo czekać.
Poszukiwanie informacji na temat kryptowaluty Bitcoin pochodzące z tureckich adresów IP eksplodowało w ostatnich dniach. Według danych Google Trends, liczba wyszukiwań Bitcoin wzrosła nawet o 566 % w kilka godzin po odwołaniu gubernatora. Wzrost liczby wyszukiwań informacji związanych z Bitcoinem przez obywateli Turcji jest najwyższy w historii, a obecne dane prawie podwajają liczbę wyszukiwań zarejestrowanych w okresie hossy w 2017 i 2018 roku. Źródło
Aktywność Litecoina rośnie
Liczba aktywnych adresów w sieci Litecoin, obecnie dziesiątej najsilniejszej kryptowaluty na rynku, wzrosła w ciągu ostatniego roku ponad czterokrotnie – wynika z danych serwisu analitycznego Glassnode. Ponadto rośnie liczba adresów używanych każdego dnia. David Schwartz, dyrektor projektu Fundacji Litecoin, zwrócił uwagę, że liczba aktywnych adresów w sieci Litecoin wynosi obecnie 300 000 dziennie, przy czym każdego roku wykorzystywanych jest średnio tylko 50 000 adresów.
Wzrost wykorzystania adresów Litecoin jest logicznie powiązany ze wzrostem jego ceny. Kapitalizacja rynkowa Litecoina wynosi obecnie ponad 12 miliardów dolarów (47,08 mld PLN) i kosztuje 180 dolarów (705 PLN), podczas gdy rok temu Litecoin kosztował tylko 30 dolarów (117 PLN). Źródło
Zdecentralizowane giełdy o rosnącej płynności
Wolumeny i płynność na giełdach zdecentralizowanych stale rosną, a wartość zabezpieczenia będącego częścią giełd zdecentralizowanych zbliża się do bardzo znaczącej granicy 10 mld USD (39,24 mld PLN). Udział Uniswap w całkowitej płynności wynosi ponad 50% przy całkowitej zablokowanej wartości (TVL) wynoszącej prawie 5,4 miliarda USD (21,18 mld PLN). Wolumeny na zdecentralizowanych giełdach wzrosły w lutym do rekordowego poziomu 72 mld USD (282,50 mld PLN).
Według Dune Analytics, dominacja Uniswap w zdecentralizowanym sektorze giełdowym również rośnie, z tygodniowym obrotem do 6,5 miliarda dolarów (21,54 mld PLN). Całkowity wolumen zdecentralizowanego sektora finansowego przekroczył w marcu 44 mld USD (172,65 mld PLN), czyli więcej niż jego wartość w październiku i listopadzie 2020 r. Źródło
Brazylia zatwierdziła kryptowalutowe fundusze ETF.
Brazylijska Komisja Papierów Wartościowych i Giełd zatwierdziła w tym tygodniu dwa nowe fundusze ETF dla kryptowalut – jeden składający się wyłącznie z Bitcoina, podczas gdy drugi fundusz będzie składał się z pięciu alternatywnych kryptowalut bez Bitcoina. Będzie to pierwszy w historii kryptowalutowy fundusz ETF w Ameryce Łacińskiej. Oba te fundusze ETF będą notowane na brazylijskiej giełdzie papierów wartościowych (B3).
Według Brazil Journal, dwa główne banki w kraju, Itaú i BTG Pactual, ogłosiły już, że zaoferują swoim klientom nowo utworzone kryptograficzne fundusze ETF. Oczekuje się, że fundusze ETF składające się tylko z Bitcoin mogą zacząć handlować w tym miesiącu, podczas gdy fundusz mieszany ETF powinien zacząć handlować w drugiej połowie 2021 r. Kilku ekspertów uważa ten krok za ważny kamień milowy dla innowacji na brazylijskim rynku kapitałowym. Źródło
Inwestuj z Fumbi już dziś
Jeśli rozważasz inwestowanie w kryptowaluty, Fumbi jest tutaj dla Ciebie. Nasz portfel
zarządzany algorytmem dokładnie śledzi ruchy cen na rynku kryptowalut.
Fumbi jest pierwszą platformą tego rodzaju, która oferuje kryptowaluty ogółowi
społeczeństwa, nawet przy niewielkim depozycie. Inwestowanie w kryptowaluty za
pośrednictwem Fumbi jest bardzo proste i minimalizuje ryzyko.
Można zacząć już od wpłaty od 50 € / 230 PLN.
Znalazłeś w tekście wyrażenie, którego nie rozumiesz? Nic nie szkodzi, wszystkie ważne terminy związane z kryptowalutami można znaleźć w jednym miejscu w naszym Słowniku Fumbi.
Recommended
More articles

with Fumbi