Trh kryptomien prekonal ďalší významný míľnik – týždenný prehľad trhu
V tomto týždni presiahla celková trhová kapitalizácia 1,63 bilióna EUR. Pokles kapitalizácie v 7-dňovom horizonte predstavuje 0,2 %. Samotný Bitcoin klesol v priebehu týždňa o 2,9 % na hodnotu vyše 48 200 EUR. Dominancia Bitcoinu oproti minulému týždňu mierne poklesla a aktuálne predstavuje 55,3 %.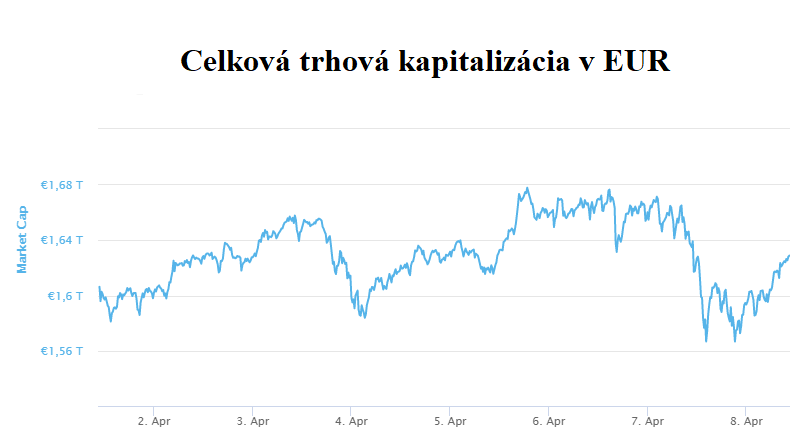 Zdroj: Coinmarketcap
Trh kryptomien s novým maximom
Trhová kapitalizácia všetkých kryptomien po prvýkrát vo svojej histórii prekročila magickú hranicu
2 bilióny USD (1,68 bilióna EUR). Podľa dát spoločnosti Coingecko sa tak stalo v pondelok 5. apríla 2021. Prekonanie tejto hranice len potvrdzuje impozantný rast Bitcoinu a všetkých ostatných altcoinov, ktoré počas aktuálneho býčieho trhu naberajú na sile. Nové historické maximum prichádza len necelé tri mesiace po tom, čo trh s kryptomenami začiatkom januára prekročil hranicu 1 bilióna USD, pričom cena jedného Bitcoinu sa vtedy pohybovala okolo úrovne 33 000 USD. V súčasnosti sa však Bitcoin už viac ako mesiac vytrvalo drží nad úrovňou 50 000 USD. Zdroj
Cardano uzatvorilo spoluprácu s Orion Protocol
Kryptomena Cardano zastúpená spoločnosťou IOHK uzatvorila tento týždeň partnerstvo so spoločnosťou Orion Protocol, ktorá sa stane prvým agregátorom likvidity na blockchaine Cardano. Podľa oficiálnych informácií bude Orion Protocol poskytovať Cardanu decentralizovanú bránu naprieč celým trhom kryptomien, ktorá bude agregovať likviditu z centralizovaných aj decentralizovaných búrz do jednej decentralizovanej platformy. Jeho úlohou bude zabezpečovať udržateľnosť a škálovateľnosť ekosystémov decentralizovaných financií (DeFi) a NFT (Non-fungible token), ktoré budú fungovať na blockchaine Cardano. Táto spolupráca predstavuje významný krok vpred pre obe platformy. Zdroj
Sobáše prostredníctvom blockchainu?
Tento týždeň vyšli na verejnosť veľmi zaujímavé informácie o sobáši v štáte Kalifornia, ktorý sa uskutočnil v marci s využitím blockchainu. Rebecca Rose a Peter Kacherginsky, ktorí patria k popredným zamestnancom americkej krypto burzy Coinbase, využili blockchain kryptomeny Ethereum na to, aby sa mohli legálne zosobášiť.
Okrem tradičného svadobného obradu sa ženích rozhodol vytvoriť smart kontrakt s názvom Tabaat (z hebrejčiny prsteň), ktorý emitoval tokenizované NFT prstene vo forme TBT tokenov. Vytvorený smart kontrakt mal dĺžku 2218 liniek a náklad na jeho vytvorenie predstavoval 0,25 ETH (v tom čase 450 USD/380 EUR). Okrem toho boli z Tabaatu odoslané ďalšie tri transakcie za dodatočné náklady vo výške 0,0048 ETH (87 USD/73 EUR). Z toho vyplýva, že tokenizácia manželskej zmluvy cez blockchain stojí zhruba 537 USD (452 EUR).
Samotný svadobný "ceremoniál" pozostával z dvoch transakcií, ktoré zahrňovali prevod "NFT prsteňov" zo smart kontraktu na svadobčanov – Rebeccu a Petra. Tento prevod trval celkovo štyri minúty, kým ho overila sieť Ethereum s poplatkom 50 USD pre minerov. Celkové finálne náklady tejto nezvyčajnej svadby boli vyčíslené na 587 USD (494 EUR). Pre porovnanie, tradičná svadba v USA stojí zhruba 25 000 USD (21 040 EUR). Zdroj
Ripple uspel na súde
V minulosti sme vás už viackrát informovali o spore medzi spoločnosťou Ripple Labs a Americkou komisiou pre cenné papiere a burzu (SEC), ktorý sa týka predaja neregistrovaných cenných papierov z roku 2013 vo výške 1,38 miliardy USD (1,16 miliardy EUR). Táto správa spôsobila výrazný pokles kryptomeny XRP, pričom sa viaceré burzy rozhodli XRP delistovať zo svojich obchodných platforiem.
Podľa najnovších informácií však spoločnosť Ripple Labs získala prístup k interným dokumentom agentúry SEC, ktoré sa týkajú kryptomien ako Bitcoin či Ethereum. To znamená, že spoločnosť sa už čoskoro dozvie, ako SEC v histórií vnímala tieto kryptomeny z regulačného hľadiska.
Ripple dlhodobo spochybňuje žalobu zo strany SEC a odvoláva sa na fakt, že XRP funguje podobne ako Bitcoin či Ethereum – ktoré sú v USA klasifikované ako komodity.
Viaceré zdroje uvádzajú, že odhalenie týchto dokumentov môže znamenať ukončenie súdnych konaní a výhru spoločnosti Ripple za predpokladu, že sa nájde potrebné množstvo dôkazov. Po zverejnení týchto informácií cena XRP výrazne vzrástla a dosiahla svoje 2-ročné maximum presahujúce 1,05 USD (0,85 EUR). Zdroj
Dáta signalizujú akumuláciu Bitcoinov
On-chain analýza spoločnosti Glassnode s názvom "Miner Net Position", ktorá sleduje adresy ťažiarov v sieti a porovnáva prílev a odlev Bitcoinov z týchto adries signalizuje, že väčšina ťažiarov v sieti v súčasnosti preferuje držbu Bitcoinov namiesto ich priameho predaja. V ideálnom prípade to môže znamenať, že ťažiari majú aktuálne dostatočné množstvo finančných prostriedkov na pokrytie svojich nákladov súvisiacich s ťažbou Bitcoinu.
Tento postoj zo strany ťažiarov môže v otvorenom trhovom mechanizme ovplyvňovať výšku ponúkaných Bitcoinov pri stálom dopyte. Vo všeobecnosti platí, že ak dopyt po aktíve prevyšuje jeho ponuku, sledované aktívum sa stáva cennejším, čo sa odzrkadľuje na jeho rastúcej cene. Zdroj
Investujte s Fumbi už dnes
Ak uvažujete o investovaní do kryptomien, Fumbi je tu práve pre vás. Naše algoritmom spravované portfólio presne sleduje pohyb cien na trhu s kryptomenami.
Spoločnosť Fumbi je prvá svojho druhu, pretože ponúka kryptomeny širokej verejnosti, a to aj pri malom vklade. Investovanie do kryptomien prostredníctvom spoločnosti Fumbi je veľmi jednoduché a minimalizuje riziká.
Môžete začať vkladom už od 50 €.
Narazili ste v texte na pojem, ktorému nerozumiete? Nevadí, všetky dôležité pojmy súvisiace s kryptomenami nájdete na jednom mieste v našom Fumbi slovníku.
Recommended
Ďalšie články

with Fumbi