Trh ve fázi zdravé korekce – týdenní přehled trhu
V tomto týdnu přesáhla celková kapitalizace 32,21 bilionu CZK. Pokles v 7denním horizontu představuje 4,01 %. Hodnota samotného Bitcoinu v průběhu týdne klesla o téměř 4,5 % na hodnotu přesahující 1 062 487 CZK. Dominance Bitcoinu oproti minulému týdnu mírně vzrostla a aktuálně představuje 61,4 %.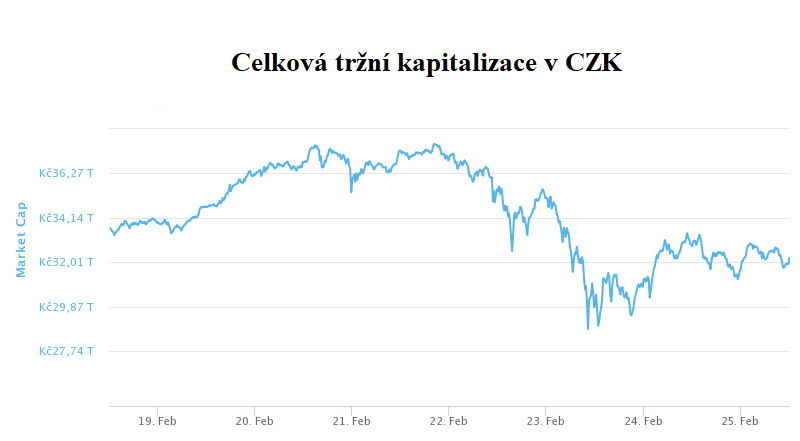 Týden ve znamení korekce
V pondělí a úterý (22.2. – 23.2.) se Bitcoin a trh kryptoměn ponořili do fáze korekce. Cena Bitcoinu klesla během 48 hodin o více než 10 000 USD (213 300 CZK) až na hodnotu 45 200 USD (964 000 CZK). Jedním z více důvodů této korekce byl také přesun 28 000 Bitcoinů ze soukromé peněženky na burzu Gemini jako signál prodeje BTC. Takové cenové korekce můžeme považovat za "reset" na trhu, přičemž trh se vrátí k průměrnému růstovému trendu a opadne nadměrná euforie z dlouhodobého růstu. Ve středu 24.2. se trh dostal opět do zelených čísel. Zdroj
Spoločnosti Microstrategy a Square pokračují v akumulaci Bitcoinů
Společnost Microstrategy zvýšila svůj podíl držených Bitcoinů o 27 % po tom, co se rozhodla zakoupit dalších 19 452 BTC. Na webové stránce společnosti je uvedené, že společnost nakoupila Bitcoiny za cenu 52 765 USD, co představuje kumulativní nákup v hodnotě více než 1 miliardy amerických dolarů (21,32 miliard CZK). Generální ředitel společnosti Microstrategy Michael Saylor uvedl, že společnost nemá v úmyslu zpomalit tempo nákupu Bitcoinů. Microstrategy v současnosti vlastní více než 90 500 Bitcoinů.
Podobně společnost Square oznámila nákup více než 3 318 Bitcoinů v hodnotě 170 milionů USD (3,67 mld CZK). Square se ihned chopila příležitosti k nákupu dodatečných Bitcoinů po tom, co cena Bitcoinu začala při korekcii klesat. Na základě investované částky 170 milionů USD, za které společnost nakoupila 3 318 BTC, byla nákupní cena za 1 Bitcoin vyčíslena na hodnotu 51 325 USD (1,09 mln CZK). Společnost Square už loni na podzim zakoupila 4 709 Bitcoinů v hodnotě 50 milionů USD, které mají současnou hodnotu zhruba 250 milionů USD. Zdroj
Aktiva pod správou společnosti BitWise přesáhly 1 miliardu USD.
Společnost Bitwise, která patří mezi přední správce fondů s kryptoměnami oznámila v úterý dosažení dalšího významného milníku – aktiva pod správou společnosti ve formě digitálních aktiv poprvé přesáhly hodnotu 1 miliardy USD (21,32 mld CZK). Za poslední tři měsíce se aktiva pod správou společnosti zdvojnásobily, co signalizuje neustále rostoucí zájem o kryptoměny ze strany investorů.
Začátkem ledna společnost BitWise předložila SEC (Komise pro kontrolu cenných papírů Spojených Států) návrh na založení nového fondu "kryptoměnových inovátorů". Jedná se o fond, který sleduje výkonnost indexu "Bitwise Crypto Innovators Index", který tvoří společnosti, které dosahují více než 75 % svých výnosů ze sektoru kryptoměn. Zdroj
Indická centrální banka blízko vytvoření vlastní digitální měny
Indie, která je v současnosti druhou nejlidnatější zemí na světě, zvažuje vytvoření vlastní digitální měny. Guvernér Reserve bank of India vyjádřil odhodlání centrální banky vytvořit CBDC (Central Bank Digital Currency) v podobě digitální rupie. I přes to, že ještě neexistuje žádné přesné datum vydání této měny, podle dostupných informací banka v současnosti dolaďuje technologické a procedurální záležitosti. Zdroj
Bitfinex a Tether si vyslechli své rozsudky
Ostře sledovaný případ kolem společnosti Bitfinex a Tether, který má významný vliv na trh kryptoměn, byl konečně ukončený. Společnosti Bitfinex a Tether zaplatí státu New York 18,5 milionů USD (394,5 mln CZK) a budou muset pravidelně informovat regulační úřady o stavu svých zásob každý čtvrtek po dobu nejbližších dvou let. I přes to všechno si společnosti nepřiznávají žádné přestupky.
Spor mezi kanceláří generálního prokurátora New Yorku (NYAG) a společnostmi Bitfinex a Tether se táhne už od roku 2019. Žaloba Newyorského generálního prokurátora uvádí, že Bitfinex měl v minulém období použít 800 milionů USD z rezerv firmy Tether na financování své ztráty, čímž měly být poškozeny práva klientů ve státě New York. Zdroj
Investujte s Fumbi již dnes
V případě, že uvažujete o investování do kryptoměn, je tu Fumbi právě pro vás. Naše algoritmem spravované portfolio přesně sleduje pohyb cen na trhu s kryptoměnami. Společnost Fumbi je první svého druhu, jelikož nabízí kryptoměny široké veřejnosti a to i při malých vkladech. Investování do kryptoměn prostřednictvím společnosti Fumbi je velmi jednoduché a minimalizuje rizika.
Můžete začít s vkladem už od 50 € / 1400 Kč.
Recommended
Ďalšie články

with Fumbi