VISA oznámila vyrovnávání transakcí prostřednictvím stablecoinů – týdenní přehled trhu
V tomto týdnu přesáhla celková trhová kapitalizace 41,70 bilionu CZK. Nárůst kapitalizace v 7denním horizontu představuje až 16 %. Samotný Bitcoin narostl v průběhu týdne o 12 % na hodnotu více než 1,3 milionu CZK. Dominance Bitcoinu oproti minulému týdnu výrazně poklesla a aktuálně představuje 58,2 %.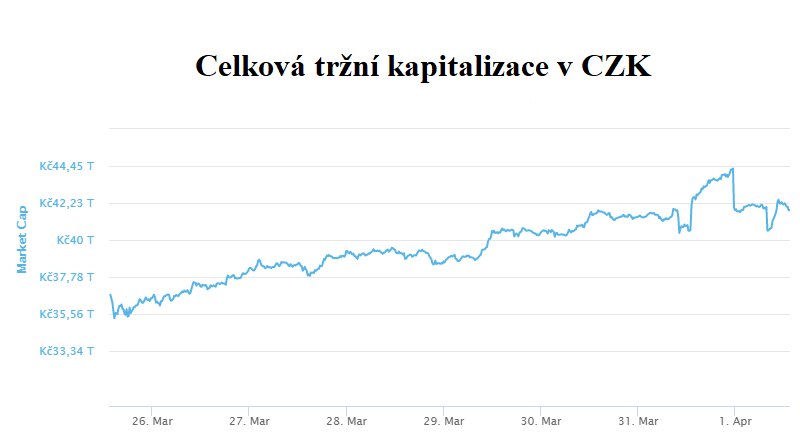 VISA umožní vyrovnávání plateb prostřednictvím stablecoinu USDC
V pondělí společnost VISA oznámila pomocí zpravodajské agentury Reuters, že už v blízké době umožní vyrovnání transakcí v jeji platební síti prostřednictvím stablecoinu USDC. Stablecoin USDC je druh kryptoměny, který je vázaný na americký dolar v poměru 1:1.
Společnost VISA už začátkem tohoto měsíce ve spolupráci s Crypto.com uskutečnila testovací platby prostřednictvím USDC stablecoinu s využitím Ethereum blockchainu. Hlavním důvodem zavedení plateb prostřednictvím USDC je snaha o zrušení potřeby převádění kryptoměn na FIAT peníze ještě před tím, než se realizuje platba samotná. Tento krok s sebou přináší výrazné zvýšení akceptace krypto aktiv v tradičním finančním systému. Zdroj
CME připravuje micro Bitcoin futures kontrakty
Chicagská burza CME představila aktuální plány související s uvedením nového kryptoměnového produktu na trh. Nově připravovaným produktem mají být derivátové micro Bitcoin futures kontrakty, které obchodníkům umožní spekulovat ohledně vývoje ceny Bitcoinu. Zatímco do teď byl každý futures kontrakt na platformě CME vázaný na smlouvu ve výši až 5 BTC, nově budou tyto kontrakty vázané pouze na 0,1 BTC.
Menší velikost kontraktu poskytuje účastníkům na trhu další spekulační nástroj na obchodování, který by mohl přitáhnout i menší investory. Tim McCourt, ředitel alternativních investičních produktů CME tvrdí, že micro Bitcoin futures se rozhodli zařadit mezi své produktové portfolio primárně z důvodu rostoucí poptávky po menších kontraktech ze strany jejich klientů. Zdroj
Paypal umožňuje v USA platby prostřednictvím kryptoměn
Platební gigant Paypal tento týden oficiálně spustil připravovanou službu "Checkout with Crypto", která umožňuje jejím uživatelům platit za zboží a služby kryptoměnami. Avšak tento systém bude vykonávat instantní konverzi kryptoměn prostřednictvím platební brány na fiat peníze v reálném čase a doručí je přímo konkrétnímu obchodníkovi.
V praxi to ale znamená, že k obchodníkovi se v konečném důsledku dostanou FIAT peníze a ne kryptoměny samotné. Aktuálně je služba přístupná pouze pro klienty v USA, je však možné očekávat, že v budoucnosti zavítá i na další kontinenty. Služba bude podporovat platby v Bitcoinu, Litecoinu, Ethereu a v Bitcoin Cash. Zdroj
Stablecoin Tether absolvoval úspěšný audit
Společnost Tether Holdings Limited, která je provozovatelem největšího stablecoinu na trhu s názvem Tether (USDT), vydala nové vyhlášení o věrohodnosti svých tokenů. Součástí vyhlášení od společnosti Tether byla i auditorská zpráva s názvem Consolidated Reserves Report (CRR) od auditorské firmy Moore Cayman.
Oficiálně byla tato zpráva podepsaná 26.3.2021, avšak stav rezerv sloužících ke krytí USDT se hodnotil k poslednímu únorovému dni. Auditorská společnost ve zprávě uvádí, že "Podle našeho názoru je CRR, kterou připravil management společnosti Tether Holdings Limited konci února 2021 (23:59 UTC) v souladu se stanovenými kritérii ve všech významných ohledech".
Zpráva taktéž uvádí, že rezervy společnosti dokonce přesahují částku potřebnou ke odkoupení všechn USDT. Ve chvíli vykonávání kontroly bylo potřeba na odkoupení všech USDT z oběhu zhruba 35,2 miliardy USD, zatímco společnost disponovala aktivy v hodnotě minimálně 35,3 miliardy USD. Zdroj
Novozélandský důchodový fond alokuje část prostředků do Bitcoinu
KiwiSaver Growth Strategy, penzijní fond pocházející z Nového Zélandu potvrdil, že ještě koncem roku 2020 investoval část svých prostředků do Bitcoinu. Hlavní investiční ředitel fondu uvedl, že Bitcoin postupem času začali stále více vnímat jako investiční aktivum podobné zlatu a proto se rozhodli do něj alokovat část svých aktiv.
Společnost údajně nakoupila poprvé Bitcoin ještě v říjnu 2020, kdy měl hodnotu zhruba 10 000 USD (222 000 CZK). Cena Bitcoinu začátkem tohoto měsíce vystřelila až na astronomických 61 000 USD (1 355 000 CZK), co společnosti přineslo 6násobný výnos v průběhu pěti měsíců. I přes to patří globálně důchodové fondy mezi nejpomalejší instituce z pohledu investicí do kryptoměn. Zdroj
Investujte s Fumbi již dnes
V případě, že uvažujete o investování do kryptoměn, je tu Fumbi právě pro vás. Naše algoritmem spravované portfolio přesně sleduje pohyb cen na trhu s kryptoměnami.
Společnost Fumbi je první svého druhu, jelikož nabízí kryptoměny široké veřejnosti a to i při malém vkladu. Investování do kryptoměn prostřednictvím společnosti Fumbi je velmi jednoduché a minimalizuje rizika.
Můžete začít s vkladem už od 1400 Kč.
*Narazili jste v textu na pojem, kterému nerozumíte? Nevadí, všechny důležité pojmy související s kryptoměnami najdete na jednom místě v našem Fumbi slovníku.
Recommended
Ďalšie články

with Fumbi