Wystartowaliśmy z Fumbi Własny Wybór!
Czy chcesz inwestować jedynie w wybrane kryptowaluty?
Teraz jest to możliwe. Przedstawiamy Ci naszą nowość – Fumbi Własny Wybór produkt dzięki któremu nasi klienci będą mogli inwestować w kryptowaluty według własnego wyboru. Produkt przynosi wolność wyboru przy jednoczesnym zachowaniu prostoty, bezpieczeństwa i wygody inwestowania.
Dlaczego Fumbi Własny Wybór?
Pod koniec ubiegłego roku zebraliśmy informacje na temat zadowolenia użytkowników z naszych produktów i usług. Możliwość wyboru konkretnych kryptowalut do inwestowania była jedną z najczęstszych próśb naszych klientów. Fumbi Własny Wybór jest stworzony dla każdego, kto chce posiadać jedynie wybrane przez siebie kryptowaluty.
Od początku tego miesiąca dostępna jest wersja beta strony Fumbi Własny Wybór, w której łatwo i wygodnie możesz inwestować w Bitcoin i Ethereum. W przyszłości będziemy rozszerzać Fumbi Własny Wybór o inne kryptowaluty. Jeśli masz sugestie, która kryptowaluta powinna zostać dodana w następnej kolejności, możesz wypełnić poniższy formularz.
Korzyści z Fumbi Własny Wybór:
Samodzielny wybór kryptowalut – Bitcoin i Ethereum.
Najbezpieczniejsze przechowywanie kryptowalut na Ledger Vault,.
Inwestycja w kryptowaluty już od 230 PLN.
Regularny audyt przeprowadzany przez SGS Slovakia.
Jak inwestować w Fumbi Własny Wybór
Inwestowanie w Fumbi Własny Wybór jest bardzo proste. Możesz zrobić to za pomocą dowolnego przycisku +Depozyt.
Kiedy jesteś na stronie lokaty, kliknij na "Pokaż więcej", a następnie wybierz produkt Fumbi Własny Wybór. W tym miejscu wybierasz jedną z kryptowalut (Bitcoin lub Ethereum) oraz kwotę, którą chcesz wpłacić. Po potwierdzeniu, zobaczysz szczegóły płatności.
*Uwaga: Dla lepszej identyfikacji depozytów, stworzyliśmy oddzielne konta bankowe dla każdej kryptowaluty. Dlatego konieczne jest sprawdzenie numeru konta, na które dokonujesz wpłaty.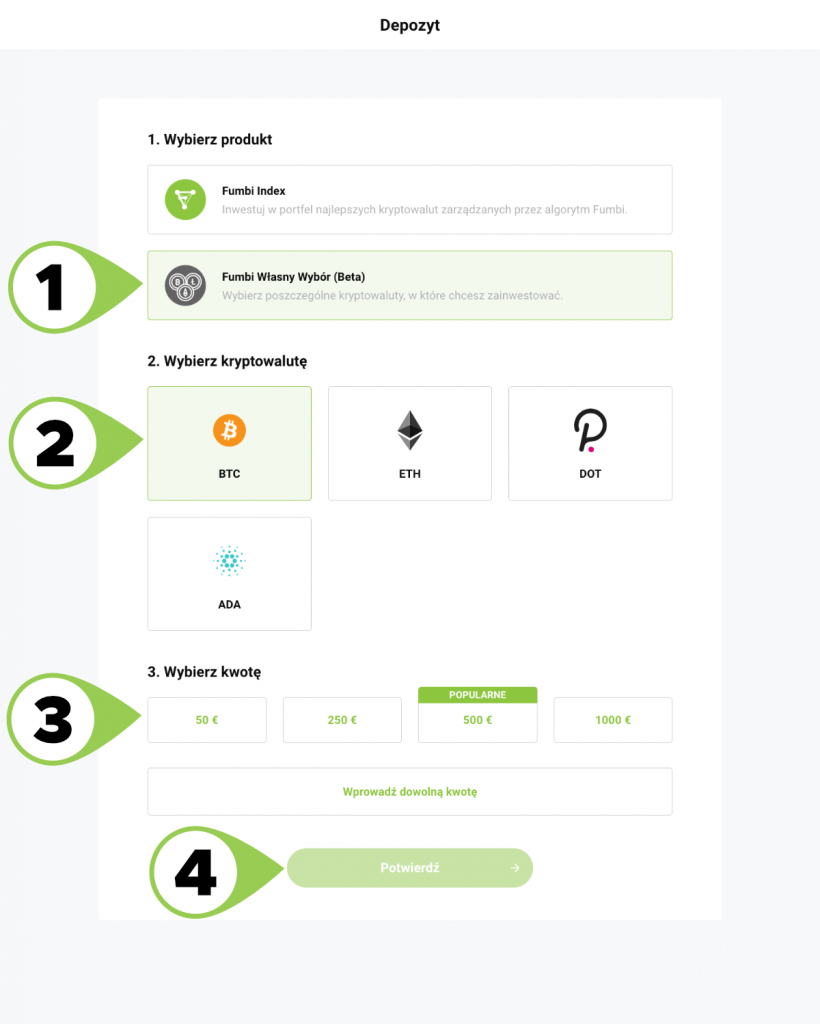 Czy zainwestowałeś w kilka produktów Fumbi?
Jeśli tak to masz możliwość otworzenia każdego produktu osobno i zapoznanie się ze szczegółowymi informacjami na jego temat. Dostęp do szczegółowych informacji możesz uzyskać na głównej stronie Przegląd oraz w sekcji Products. Tam wystarczy wybrać produkt i kliknąć Pokaż więcej.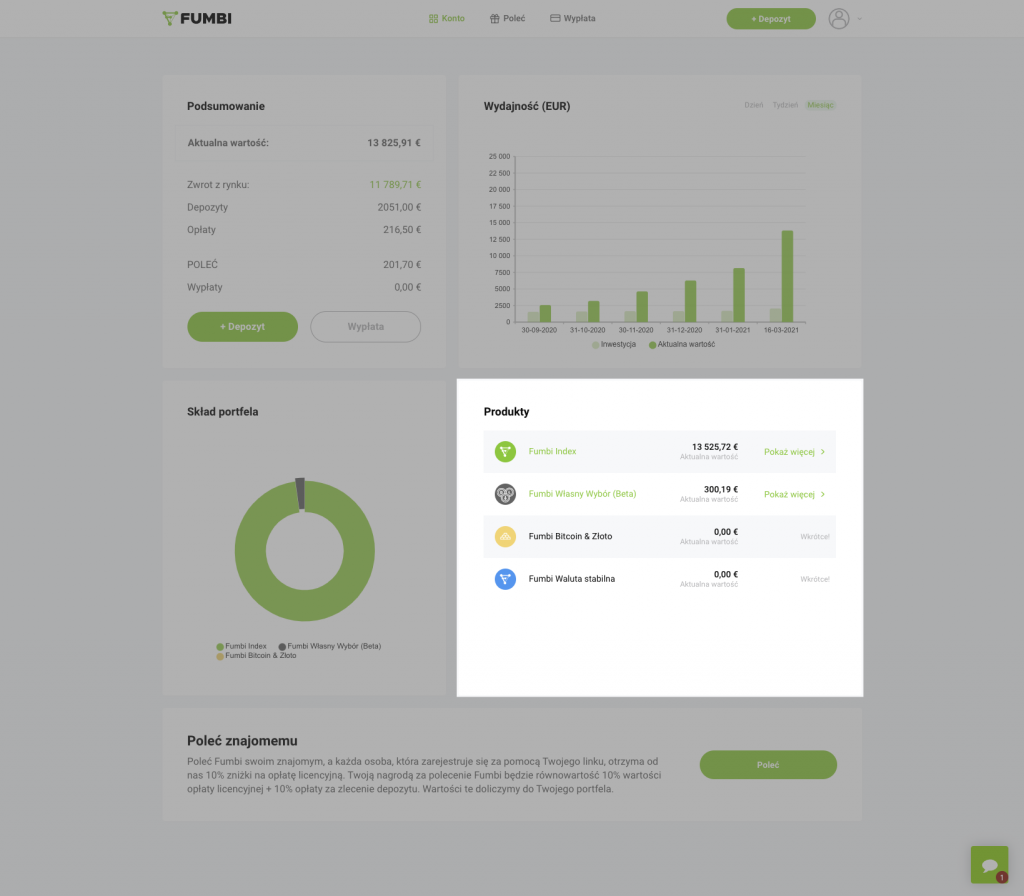 Wpłaty możesz dokonać również po otwarciu "szczegółów" poszczególnych produktów.
Czy masz jakieś uwagi? Czekamy na Twoją opinię.
Fumbi Własny Wybór jest obecnie dostępny w wersji beta. Jeśli zauważycie Państwo jakieś niedociągnięcia lub macie pomysły na jego ulepszenie, prosimy o kontakt pod adresem support.pl@fumbi.network.
Recommended
More articles

with Fumbi