Annual Report: Cryptocurrency Market in 2021
The year 2021 was a year of significant milestones in cryptocurrencies. We have achieved many new records in several indicators such as the price of Bitcoin, its market capitalization or the capitalization of the crypto market as such. Furthermore, a number of achievements and significant events have also been recorded within the decentralized finance sector.
In addition to these nominal factors, we have also witnessed historical events such as the launch
of the first bitcoin ETF in the US or the introduction of Bitcoin as legal tender in the first country – El Salvador. However, we have also seen less flattering events, such as the mining ban in China, which has caused a significant drop in the Bitcoin network's computing power and the associated price drop. On the positive side, Bitcoin recovered quickly. After half a year, the network has reached new highs and is now more decentralized than ever before.
However, many interesting events took place outside of Bitcoin. The decentralized finance ecosys- tem has attracted nearly $200 billion in capital, and decentralized exchanges have begun to reach trading volumes similar to the centralized ones. Hundreds of new projects have emerged, attract- ing billions of dollars from venture capital funds.
Ethereum has enhanced its dominant role in smart contract platforms, and protocol revenues (in the form of transaction fees) have risen by as much as 1,777% year-over-year to more than $4.3 billion. Almost 90% of the amount was burned in the last six months after Ethereum introduced an upgrade called EIP-1559. Simultaneously, this meant a reduction in Ethereum's inflation from 1.13% to 0.46%, but also an increase in transaction fees. The average transaction fee has risen from $4 to $27.
The increase in fees on Ethereum has been used by several competing platforms to cut out the market pie. Polkadot, Cardano, Binance Smart Chain, Terra, Avalanche and Solana did the most. Several of them successfully launched the network and developed the DeFi ecosystem, which attracted billions of dollars of capital.
Last but not least, the world has been dominated by a phenomenon called the NFT. Sales of these unique tokens representing the most common digital art and gaming items have grown year over year from more than $ 70 million to nearly $ 36 billion, or more than 50,000%!
Last year, the world of cryptocurrencies was full of interesting developments. Our report brings you an overview of the most important ones.
Download the full report from this link – Annual Report 2021.
Year in Numbers – Market Capitalization
At the beginning of 2021, the value of the entire cryptocurrency market cap was $776 billion. Over the course of twelve months, it rose by 186% to a year-end level of $2.25 trillion. The highest market capitalization this year was reached on November 9, 2021, at $2.94 trillion.

Total market cap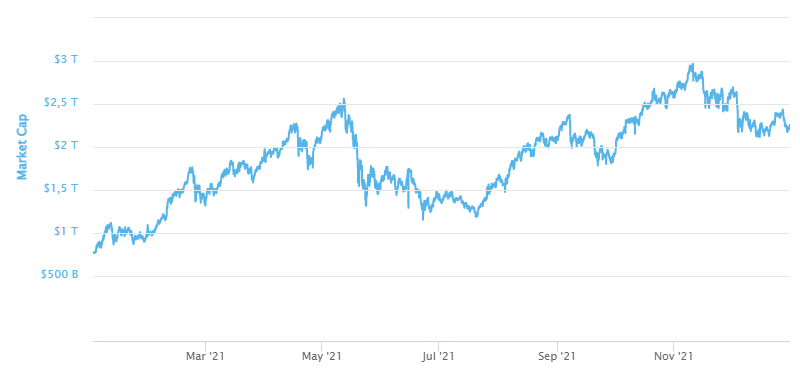 In 2021, Bitcoin lost more than half of its market dominance. Within a year, its market dominance fell from 71.3% to 40.5%. At the expense of Bitcoin, several altcoins have strengthened their market position, includ- ing Ethereum, Solana, Binance Coin and Cardano.

Market dominance
Bitcoin in 2021
Bitcoin started 2021 at $29,001 and closed it at $48,500. The value of bitcoin increased by 67.2% compared to January 1, 2021, while at the same time, the price of bitcoin on December 31 decreased by 29.3% com- pared to the highest achieved value (ATH) on November 10, 2021. The lowest price of bitcoin this year was recorded in August at $28,993.
In 2021, bitcoin recorded six months with a positive return and six months with a negative return. The high- est return was achieved in October, at 39.93%. In contrast, Bitcoin had the worst performance in May, when it recorded a loss of up to 35.31% in one month.

Monthly returns of bitcoin in 2021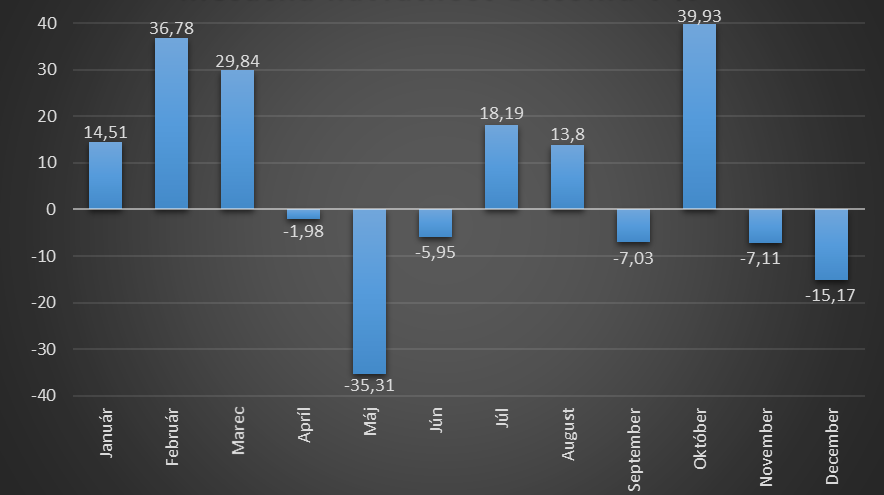 Market Capitalization in 2021
Bitcoin started 2021 with a market capitalization of $554 billion and closed it with a market capitalization of $914 billion. Bitcoin capitalization increased by 64.9% compared to January 1, 2021, while at the same time, market capitalization decreased by 28% compared to the highest achieved market capitalization on Novem- ber 10. The lowest market capitalization this year was recorded on January 1, 2021.

Market capitalization in 2021
Find further information about Ethereum's performance, events that impacted cryptocurrencies, DeFi, and more on-chain data in the full report – download here.
NFT
An NFT (non-fungible token) is a digital object stored on a blockchain that uses cryptography to link a file to its owner – it can be used to express unique ownership of a JPEG, GIF, MP3 file or any other asset. The owner of the NFT will receive a certificate of authenticity, making it easy to find out which files are original and which are copies somewhere on the Internet. Non-fungible (unique) is a term that you could also use to describe things, such as your apartment, your own song or your laptop. These things are not interchange- able with other items because they have unique characteristics and a clearly defined owner. When you own an NFT, the information is stored in a blockchain, so everyone knows that only you own the original, even though there may be copies. The NFT allows us to tokenize things like art (paintings, graphics), collectibles (cards, badges), tickets, game items, or real estate. Each NFT can have only one official owner registered on the blockchain, and no one can edit the ownership record.
NFTs have quickly become collectibles, with some people willing to spend hundreds of thousands, if not millions, of dollars to buy one NFT. There was a lot of interest in NFTs in 2021, as evidenced by the numbers. The top 3 most expensive NFT sales in 2021 were Pak's The Merge, Beeple's First 5000 Days and Beeple's HUMAN ONE.
You will learn more about GameFI and Metaverse in the full report, which you can download here – Annual Report 2021
Other Smart Contract Platforms – Ecosystem Development
2021 was a year in which smart contracts, DeFi and NFTs got beyond the borders of the Ethereum network. As the popularity of decentralized applications grows, the traction and value of the platforms on which these applications can operate have increased. Competition in the field of so-called L1 protocols, the first tier networks that are trying to compete with Ethereum, is really huge. Among Ethereum's most significant challengers belong protocols such as Polkadot, Cosmos, Near, Algorand or Fantom. For a more detailed analysis, we selected the three platforms that in 2021 recorded the greatest progress and growth not only in value but also in capital inflows – Binance Smart Chain, Terra and Avalanche. However, despite the strong competition, Ethereum has an unshakable market position, and alternative platforms take advantage of its (temporary) weaknesses in its ability to scale to the required level. This is reflected in par- ticular in the high transaction fees, where any alternative platform can now compete relatively easily. In the long run, however, we can assume that some of them will gradually disappear even though we expect more dominant players in this market.
Futures Market
BTC Futures – Open Interest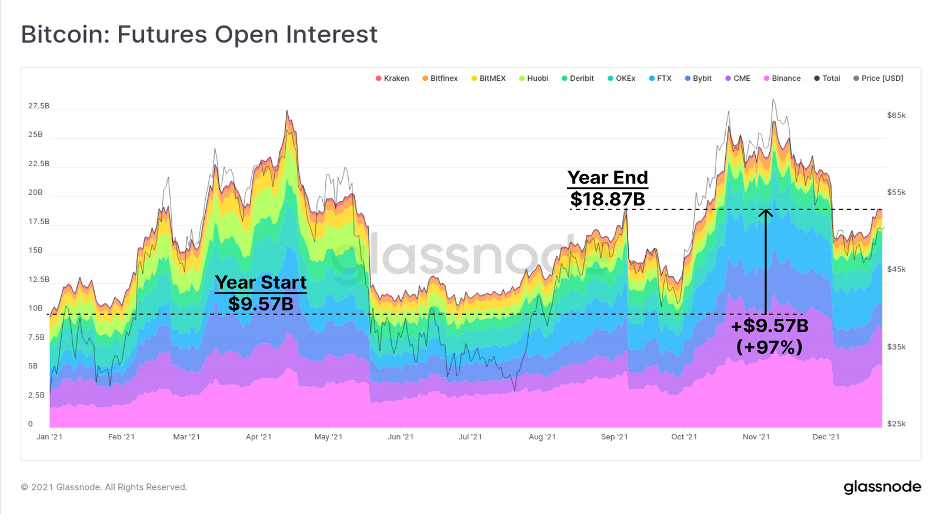 Total interest in bitcoin futures trading has almost doubled this year, rising $9.57 billion (+ 97%) to total OI (open interest) of $18.87 billion. Over the past week, there has been a $2.5 billion increase in open interest, driven primarily by Binance traders.
While open interest in futures is still relatively far from its all-time high, a rapid increase in leverage may indi- cate a grouping of stop-losses and liquidation levels close to the current price.
BTC Futures – traveling volume
Despite a slight increase in the total value of open positions on the Bitcoin futures market in the last days of 2021, trading volumes are still relatively low given that it is the end of the year which is usually characterized by lower trading activity. On a 7-day moving average, futures volumes have fallen by 16% since the beginning of the year. Smaller volume and growing open interest is a combination that may be conducive to at least partial leverage squeeze in the coming weeks.
You can read about stablecoins, one of the fastest-growing crypto segments, in the full report.
Odporúčame
More articles

with Fumbi