Arizona wants to follow El Salvador – Crypto weekly update
This week, the total market capitalization exceeded 1.51 trillion EUR. Increase at the 7-day interval is 4.13 %. Bitcoin increased by 0.25 % during the week to a current value of over than 32,800 EUR. Bitcoin dominance is 41.1 %.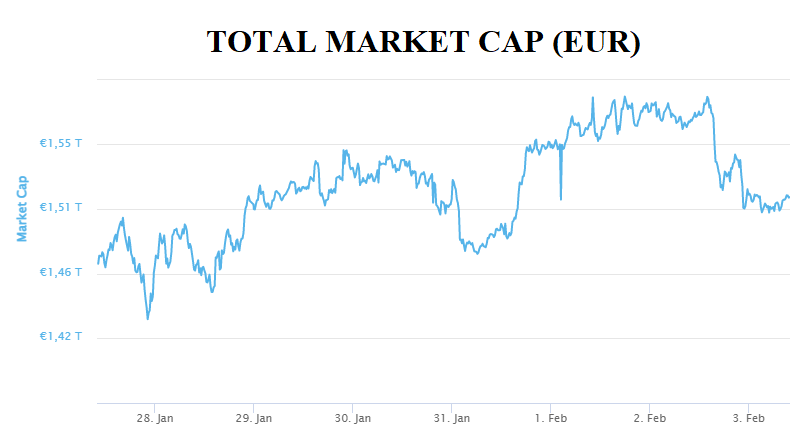 Will Arizona follow El Salvador?
A state senator has introduced a bill in Arizona that seeks to make bitcoin a legal tender.
State Senator Wendy Rogers, a Republican, has moved a draft bill numbered SB 1341 that seeks to accord bitcoin the status of transactional currency or legal tender. If the bill is discussed in the state senate and house of representative for which a date is not fixed yet, Arizona would become the first state in the U.S. to consider this development.
Although the US federal law doesn't allow the states to create their currencies, Rogers' move may open up a new debate about acceptance and tolerance of bitcoin.
The introduction of the bill follows Rogers' promise to make Arizona a crypto-friendly state. In September 2021, she was appointed to the Blockchain and Cryptocurrency Study Committee , which seeks to review data on the scope of blockchain and cryptocurrency throughout the country and determine how the technology can play into Arizona's existing financial infrastructure. Source
Hacked bitcoins from Bitfinex on the move
Analytics platform Whale Alert detected several notable bitcoin transactions on Tuesday morning, mainly consisting of bitcoins stolen in a hack on Bitfinex exchange in 2016.
Totally, 94,643 bitcoins were transferred to an unknown wallet on Tuesday. Bitfinex was hacked on August 2, 2016, with the hackers exploiting a security breach and making away with a total of 119,756 Bitcoin worth $71.8 million at the time. The current value of stolen bitcoins is almost $4.6 billion.
This is not the first time hackers have moved a portion of the stolen funds. The last such episode occurred in May 2021, when 12,241 Bitcoin worth $774 million was transferred to an unknown wallet on the same day that Coinbase went public via a direct listing on the Nasdaq.
While the reasons why the hackers decided to move coins today are unclear, it is important to remember that all Bitcoin stolen from Bitfinex is closely monitored. This means that converting those funds into cash will not be an easy job. Source
India won't ban cryptocurrencies
India, the second most populous country in the world, will not ban cryptocurrencies.
In a speech discussing the budget for 2022, Indian finance minister Nirmala Sitharaman announced the launch of a central bank digital currency (CBDC) by 2022 and 2023 as a means to boost the country's economic growth.
Complementing the launch of a digital version of the Indian rupee, Sitharaman also proposed the introduction of a 30% crypto tax that targets all transfers of virtual digital assets.
"Any income from transfer of any virtual digital asset shall be taxed at the rate of 30%. No deductions in respect of any expenditure or allowance shall be allowed while computing such income, except the cost of acquisition," added Sitharaman.
The finance minister also highlighted that any losses that occurred while transacting digital assets cannot be used as compensation against any other income source. In other words, investors will not be able to show losses or hacks of cryptocurrencies to offset taxation on profits.
Speaking about the launch of a digital rupee, she added that the introduction of a CBDC will provide a "big boost" to the digital economy. She also highlighted the possibility of a more efficient and cheaper currency management system made possible by digital currencies. Source
Bitcoin is greener than many think it is
CoinShares latest analytical study published on Monday, revealed that bitcoin's mining network emitted 42 million tons of carbon dioxide (CO2) in 2021.
In context, the number amounts to less than 0.08% of the world's total emissions of 49,36 billion tons of CO2 in the same year.
CoinShares came to such figures using a variety of estimates regarding the efficiency of the Bitcoin network, its energy use, hardware, etc., on a global scale. As a result, it may not reflect the actual CO2 emission of the network. But the report's estimate of worldwide CO2 emission is mainly in-line with industry figures.
In addition, the report estimates the total electricity consumption of the Bitcoin network at 89 terawatt-hours (TWh), which is far lower than that of estimates put forth by an institution such as the University of Cambridge, which estimates consumption at 126 TWh.
Either way, the published study sheds a good light on bitcoin's environmental impacts. However, if the report's claims are accurate, it shows Bitcoin's overall environmental impact to be negligible from a worldwide standpoint. Source
Meta ends development of digital currency Diem
Meta, formerly branded as Facebook, has officially announced the closure of its digital currency project Diem after years of major efforts to move forward with the initiative.
Announcing the news on Monday, Diem CEO Stuart Levey confirmed that Meta is selling intellectual property and other assets related to the Diem stablecoin project to its Silvergate Capital Corporation.
Despite the end of participation in this project, Diem is convinced that the project will continue to thrive because it has been put in the right hands of the new owners.
According to an official announcement by Silvergate, the company will purchase assets of Diem for the aggregate value of $182 million. "As part of integrating the acquired assets into Silvergate's existing technology, Silvergate expects to incur approximately $30 million of additional costs in 2022," the firm said.
Specifically, Silvergate Bank, a subsidiary of Silvergate and Meta's stablecoin partner, will integrate its payment platform, the Silvergate Exchange Network, with Diem's assets. The new combination will help the bank launch a "next-generation global payment system that is faster, easier to use and more cost-effective than existing solutions," the announcement notes. Source
Microstrategy already owns 0.6% of all bitcoins
The largest bitcoin institutional investor Microstrategy headed by visionary Michael Saylor, has announced the acquisition of an additional 660 bitcoins, which the company acquired between December 30, 2021 and January 31, 2022, for about $25 million.
The average BTC price of the purchase amounted to $37,865 per BTC, including fees and expenses, the report notes. As of Jan. 31, MicroStrategy held about $3.78 billion worth of BTC at the average purchase price of approximately $30,200 per BTC, inclusive of fees and expenses.
Microstrategy continues to accumulate bitcoin even after the SEC reportedly rejected MicroStrategy's Bitcoin accounting practices, causing MicroStrategy shares to plummet in mid-January. But, Michael Saylor takes it easy and continues in his bitcoin accumulation plan. Source
Start investing safely in cryptocurrencies now.
Odporúčame
More articles

with Fumbi