Bitcoin as a new asset class– Crypto weekly update
This week, the total market capitalization exceeded 1.38 trillion EUR. Decrease at the 7-day interval is 2.81 %. Bitcoin decreased by 4 % during the week to a current value of over than 31 400 EUR. Bitcoin dominance is 42.3 %.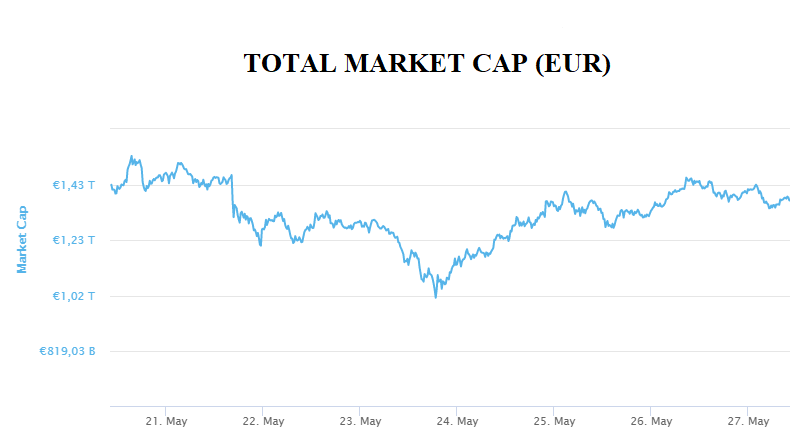 Goldman Sachs endorses Bitcoin as new asset class
Financial giant Goldman Sachs has officially acknowledged Bitcoin's potential as an investment vehicle. The company in its latest report called "Crypto : A New Asset Class?" points out that Bitcoin is now considered an investable asset.
The company further states that Bitcoin in this case falls into the category of "more risky assets" mainly due to its relative novelty and due to the fact that its price often does not behave as expected compared to other assets.
McDermott, Global Head of Digital Assets at Goldman Sachs continued by noting that clients are largerly treating Bitcoin as a new asset class.
Goldman Sachs Senior Multi-Asset Strategist Christian Mueller-Glissman suggested that if Bitcoin's risk/reward ratio continues, it could become an asset that adds value to investor portfolios.
Goldman Sachs' report comes alongside its plans to move into the cryptocurrency business. On May 7, the company revealed that it had executed its first crypto trade through its long-awaited trading desk. For more information, as well as the full Goldman Sachs report, please refer to this link.
Elon Musk meets north American miners
The CEO of MicroStrategy brokered a successful meeting between Elon Musk and North American Bitcoin miners earlier this week.
Saylor and Musk both revealed that the meeting was shaping the "Bitcoin Mining Council". The council is made up of several industry leaders, including Argos Blockchain, Galaxy Digital, Hive Blockchain, Marathon Digital, Riot Blockchain and others.
They've all agreed to promote transparency of energy consumption in Bitcoin mining and to accelerate initiatives for the use of renewable energy sources all around the world.
Saylor also indicated that the new industry group is committed to pursuing broad environmental, social and corporate governance goals concerning Bitcoin mining, as well as educating the marketplace about how the mining process works.
After this news went public, the cryptocurrency rallied and Bitcoin price again reached $40,000 level (33,000). Source
Vitalik Buterin reacts to Elon Musk
Reactions to Tesla CEO Elon Musk's posts about Dogecoin's superiority and usability did not wait long.
Elon Musk in his posts on social network Twitter pointed out that Dogecoin could become a "leading blockchain" if developers manage to increase doge speeds up block time 10X, increases block size 10X & drops fee 100X.
In reaction to Musk's tweets, Ethereum co-founder Vitalik Buterin has posted a lengthy paper on the limits to blockchain scalability. The article, published on Buterin's personal blog on Sunday, emphasizes the trade-off between decentralization and scalability in architecting blockchain networks.
Buterin challenged Musk's proposition, emphasizing the challenge of seeking to achieve a sharp increase in scalability and throughput "without leading to extreme centralization and compromising the fundamental properties that make a blockchain what it is."
Buterin stressed the need for decentralization to eliminate the risk of a network having a single point of failure and the protections that a widely distributed network enjoys against coordinated attacks. He added that decentralization cannot be achieved without regular users being freely able to run nodes. Source
IT firm Globant revealed as Bitcoin's latest institutional buyer
Recent news from the filling for SEC (U.S. Securities and Exchange Commission) shows that IT conglomerate Globant has become the latest big firm to invest in Bitcoin.
Globant confirmed its bitcoin purchases in Tuesday's quarterly economic results report for the first quarter of 2021. The SEC report shows that the company spent $500,000 (€415,000) to buy crypto-assets during the first quarter of 2021, comprised solely of Bitcoin.
The company's crypto investments and expenses were listed among its intangible assets because it "lacks physical form and there is no limit to its useful life".
Company declared that any gains made on digital assets will not be recognized until they are sold.
Despite revealing the presence of Bitcoin on its balance sheet, the firm has not revealed the cost-basis paid for its BTC stash. Source
Cardano is close to the era of smart contracts
Cryptocurrency Cardano is probably going to face 90 busiest days in its history. Charles Hoskinson, chief executive of the Cardano cryptocurrency released a video earlier this week where he talked about long-awaited implementation of smart contracts.
The video, titled "The Next 90 Days" highlights the final completion of the Goguen era, which is related to the implementation of smart contracts for this decentralized platform. The Goguen era is considered by many to be groundbreaking, mainly due to increased competitiveness towards Ethereum and other cryptocurrencies.
Hoskinson announced in the video that the launch of the Goguen era is expected during August, though he does not rule out delays. In one breath he adds that all developers will try to do everything possible to make the Goguen era officially launched in August. Source
Salaries in Bitcoin?
Immensus Holding, the franchisee behind 16 Domino's Pizza locations in Netherlands released a report in which they stated that its employees will be able to choose between being paid in euros or Bitcoin for all salary above the country's minimum.

BTC Direct, a Netherlands-based crypto firm with a fiat-to-crypto onramp, will handle the payments for any of the company's more than 1000 employees who choose to participate.
"We are a modern company, and we work with a lot of young employees," said Immensus co-owner Jonathan Gurevich. "We hear them talking about Bitcoin and we want to offer the opportunity to own cryptocurrency." Source
Start investing safely in cryptocurrencies now.
Odporúčame
More articles

with Fumbi