Bitcoin as Legal Tender in Another Country – Crypto Weekly Update
This week, the total market capitalization exceeded 1.69 trillion EUR. The decrease at the 7-day interval is 1.16%. Bitcoin decreased by 1.2% during the week to a current value of over 37,300 EUR. Bitcoin dominance is 41.9%.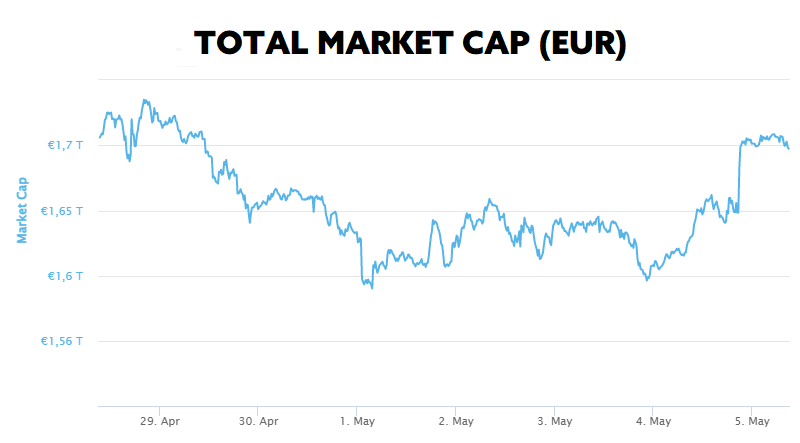 Bitcoin as Legal Tender in Another Country
The Central American state of El Salvador is no longer the only country to adopt Bitcoin as its legal tender.
Last week, the Central African Republic (CAR) was added to the still short but growing list of countries that have adopted Bitcoin as legal tender. According to an official announcement from the President's office on Wednesday, the Central African Republic has officially become the world's second country to adopt Bitcoin as legal tender in addition to the hitherto used national currency.
However, there was uncertainty around whether the legislation in question – which the National Assembly passed unanimously – was a legal tender bill or if it simply provided a legal framework for cryptocurrencies.
The announcement, made by the President's office, was confirmed a few hours later by the French news agency AFP, which stated that crypto adoption would help spur the nation's economic recovery and peacebuilding initiatives. It means that Bitcoin will be made legal tender in the CAR, alongside the CFA franc.
As in the case of El Salvador, the International Monetary Fund (IMF) has heavily criticized the decision. It reportedly warned of "large risks associated with the use of bitcoin on financial stability, financial integrity, and consumer protection."
The nation's existing currency is not currently recognized by the IMF, which makes it very difficult for the country to conduct international trade. This is one of the main reasons why the country has decided to adopt Bitcoin. Source
German Giant Applies for Crypto License
Germany's second-largest bank, Commerzbank (CBK), applied for a local crypto license earlier this year. Commerzbank will become the first major bank in Germany to open its doors to cryptocurrencies.
A spokesman for the bank said Commerzbank wants to help shape the emerging digital ecosystem, particularly when it comes to custody and trading of digital assets.
Germany introduced a new licensing regime for crypto services in 2020 along with an amendment to the EU's Money Laundering Directive, in order to encourage regulated firms to enter the crypto market. The law required any business seeking to offer crypto services in Germany to seek a license from BaFin, Germany's Federal Financial Supervisory Authority.
The license application comes a year after a partnership was struck between Commerzbank, Deutsche Börse and fintech 360X to develop a digital asset trading platform. Source
Wikipedia Stops Accepting Cryptocurrencies
The Wikimedia Foundation, the foundation behind the open-content online encyclopedia, will shut down its BitPay account and has announced it will stop accepting cryptocurrency donations based on community feedback.
The decision to end crypto donations was made after 232 members (71%) of the Wikimedia Foundation (WMF) community voted in favor of a proposal that cited energy consumption, exposure to crypto scams and environmental sustainability as reasons to stop it.
In a Sunday update to the original proposal from the WMF, chief advancement officer Lisa Seitz-Gruwell stated that "The Wikimedia Foundation has decided to discontinue direct acceptance of cryptocurrency as a means of donating. Specifically, we will be closing our BitPay account, which will remove our ability to directly accept cryptocurrency as a method of donating."
The Mozilla Foundation, the company behind the Mozilla Firefox web browser, made a similar move a few months ago. Mozilla banned crypto donations via cryptocurrencies in January but partially reversed the decision in April and began only accepting crypto over the proof-of-stake (PoS) algorithm. Source
Goldman Sachs Offers Bitcoin-Backed Loans
US multinational investment bank Goldman Sachs has made its first bitcoin-backed loan, meaning institutional adoption of cryptocurrencies on Wall Street continues to grow.
In an interview with Bloomberg, a Goldman Sachs spokeswoman said that the multinational investment bank had lent a client money collateralized by bitcoins owned by the borrower for the first time in Goldman Sachs' history. According to a spokeswoman from Goldman Sachs, the deal was particularly interesting because of its structure and 24-hour risk management.
Information later revealed that the company that took out the first bitcoin-backed loan was crypto exchange Coinbase. Although the dollar value of the loan was not disclosed, the loan was collateralized by a portion of Coinbase's total holdings of 4,487 BTC, worth around $170 million.
Bitcoin-collateralized loans allow bitcoin owners to borrow traditional fiat currency such as the US dollar by providing their bitcoins to a bank as collateral. Due to bitcoin's high volatility, if the price of bitcoin drops too low, the borrower may be required to increase the collateral to avoid liquidating their position. Source
Institutional Funds With Capital Outflows
CoinShares, which reports on the performance of the largest cryptocurrency funds every Monday, including Grayscale, CoinShares, 3iQ and ProShares, released data showing that crypto funds saw a total capital outflow of $120 million over the past week.
Capital has flowed out of major cryptoasset funds for four weeks in a row, with total capital outflows of up to $339 million during April.
The majority of those outflows were from Bitcoin-based funds resulting in the largest single week of outflows since June 2021, with $133 million exiting BTC funds. Ethereum-based funds also saw outflows, totaling $25.1 million.
Slightly better were funds based on cryptocurrencies Solana, Cardano and Polkadot, which collectively saw capital outflows totaling $2.7 million.
Funds focused on the exchange token FTX did particularly well last week, with measurable inflows totaling $38 million. There were also minor inflows for Terra and Fantom-based products.
Year-to-date total fund flows are still in positive territory, but year-to-date institutional capital inflows are now only $270 million. Source
Algorand Sponsors FIFA
Blockchain network Algorand has partnered with FIFA, inking a sponsorship and technical partner deal. Algorand will thus become the first official blockchain platform of the world's largest football association.
According to the agreement, Algorand will be a "regional supporter" for North America and Europe at the World Cup and an official sponsor of the Women's World Cup in Australia and New Zealand next year.
Algorand will provide the official blockchain-supported wallet for FIFA in what is a sponsorship and technical partnership deal. FIFA will get assistance from Algorand to "further develop its digital assets strategy," and Algorand will have the opportunity for promotions, advertising and media exposure through FIFA. Source
Start investing safely in cryptocurrencies now.
START INVESTING
Odporúčame
More articles

with Fumbi