Bitcoin celebrated its 13th birthday – Crypto weekly update
This week, the total market capitalization exceeded 1.82 trillion EUR. Decrease at the 7-day interval is 7.73 %. Bitcoin increased by 10.29 % during the week to a current value of over than 37,800 EUR. Bitcoin dominance is 39.9 %.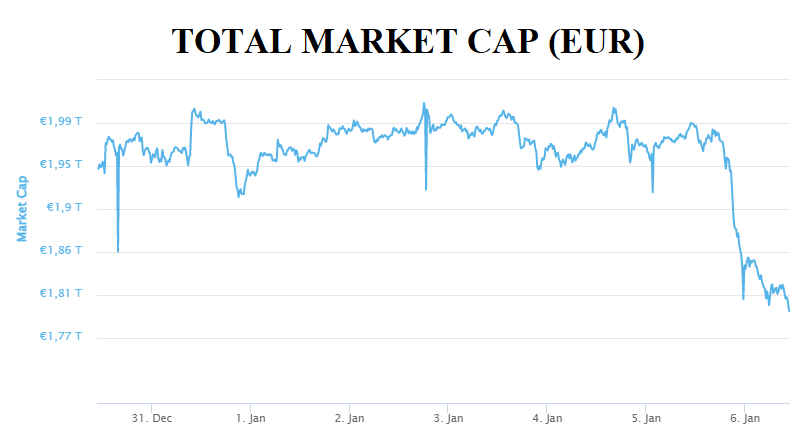 Bitcoin celebrated its 13th birthday
Monday marks the 13th year since Bitcoin's creator, Satoshi Nakamoto, mined the genesis block, called "block 0".
It all started on August 18, 2008, when the domain name "bitcoin.org" was first registered on the internet. A few months later, on the last day of October, a bitcoin whitepaper called "Bitcoin: Peer-to-Peer Electronic Cash System" was published in the so-called "Cryptography mailing list", which describing the methods of using a peer-to-peer network to create what has been described as a "system for electronic transactions without relying on trust."
On Jan. 3, 2009, an anonymous developer called Satoshi Nakamoto made history when they released the Genesis Block. Genesis block is the first and original block in the Bitcoin network containing the first 50 bitcoins, which are still locked.
Nakamoto encoded a mysterious message nn the hash of the genesis block: "The Times 03/Jan/2009 Chancellor on brink of second bailout for banks".
That line comes straight from the headline of a London Times article dated Jan. 3, 2009, which detailed banks being bailed out by the British government. While Nakamoto never clearly stated the meaning of the message, many have interpreted it as a reference to why Nakamoto developed Bitcoin: to cut out the banks and middlemen that he saw as corrupt and unreliable, electing to create a more people-driven currency.
The next block, known as Block 1, wasn't mined until six days later, on Jan. 9. This is considered odd, as the average timestamp gap between blocks is 10 minutes.
The first-ever bitcoin transaction took place a few days later, on January 12, 2009, in which Satoshi Nakamoto sent 10 bitcoins to U.S. programmer Hal Finney, changing perceptions of the traditional financial system forever. Source
Cardano with the highest development activity
Despite its relatively low price performance in recent months, Cardano is still one of the most popular cryptocurrency that many expect to revolutionise in the world of cryptocurrencies.
According to data compiled by CryptoRank and Santiment, Cardano was the most developed crypto project on GitHub in 2021, with over 140,000 events.
Rounding out the top three were Kusama and Polkadot at second and third places, respectively, with roughly the same number of events over the year. Cardano beat Ethereum's development activity by a wide margin, with the latter coming in fourth place.
In a live Youtube session last week, Cardano founder Charles Hoskinson revealed that there are approximately 127 projects under development on the Cardano blockchain. In addition, Hoskinson expects the number of ADA users to grow tenfold from the existing 2 million, thanks to the growing popularity of nonfungible tokens, or NFTs. Source
Solana with technical issues
One of the most popular smartchains Solana had another technical problems. Solana reportedly went offline for four hours on Jan. 4, however Solana.Status shows there have been no issues on the network.
The Solana blockchain has suffered a third incident in just a few months that clogged the network and caused transactions to fail. The scale and nature of the incident is hard to ascertain, with Coinbase, Wu Blockchain and Redditors reporting there had been an incident causing the network to slow and transactions to fail.
According to Wu Blockchain, the Solana network went down for around four hours in the early morning of Jan. 4 UTC time as a result of an apparent DDoS attack. However Solana Labs co-founder Anatoly Yakovenko denied there had been a DDoS on this occasion.
The latest incident comes less than a month after a previous attack which saw reports the network was clogged with mass botting due to another Initial DEX offering (IDO) on Solana-based decentralized exchange platform Raydium. Source
Bitcoin ATM expansion continues
The building of crypto infrastructure that allows users to easily and securely purchase their first bitcoin is also linked to mainstream adoption and growing interest in cryptocurrencies by retail and institutional investors.
As the current demand for assets such as Bitcoin rises, the number of ATMs that offer digital currencies has also increased in 2021. According to released news, almost 20,000 new Bitcoin ATMs have been installed so far in 2021, with more than 50 ATMs being added every day.
According to data acquired by Finbold, As of January 1, 2021, there were 14,040 Bitcoin ATMs in operation; as of Tuesday, December 28, 2021, there are 33,850 ATMs in action, representing an increase of 19,810 ATMs, according to statistics provided by Coin ATM Radar.
Bearing in mind that not all Bitcoin ATMs are being tracked by CoinAtmRadar – the true number might be drastically higher.
The number of installations increased in the third quarter despite the overall decline in the value of Bitcoin. As a result, it is probable that suppliers and investors feel optimistic about the long-term prospects of the space. Source
OpenSea raises 300m capital
The nonfungible token (NFT) market is constantly gaining strength and popularity, not only thanks to digital art, but also thanks to various collectibles in blockchain games and metaverse.
According to a published report, Opensea raised $300 million million in a Series C funding led by Coatue and Paradigm. Apart from Paradigm and Coatue, OpenSea noted that there were a number of both new and existing investors who participated in the round.
OpenSea is a decentralized market for nonfungible tokens (NFT) built on the Ethereum blockchain, which was created in 2018. Opensea specializes exclusively in trading NFT, which act as a blockchain proof of ownership of certain digital assets. With the most recent investment, OpenSea's value has now surpassed $13.3 billion.
OpenSea said it will use the money to further develop its product, enhance customer service and security, invest in the wider NFT and Web3 community, and hire more employees. Source
Curiosity : Eminem and NFT
One of the most popular American rappers is entering the NFT world. On Monday, his fans and followers on social network twitter noticed that Eminem had changed his profile picture. However, the new profile picture does not show him, but a NFT ape from one of the most valuable NFT collections called "Bored Ape NFT".
Speculation and discussions about Eminem's involvement in the NFT area were indeed confirmed hours later. Eminem, whose real name is Marshall Mathers, has paid roughly $462,000 for one of the non-fungible token apes.
The NFT dubbed "EminApe", shows an ape dressed in a khaki army cap with a gold chain necklace, resembling Eminem. The digital artwork was sold by BAYC member GeeGazza, who for months tried to persuade Eminem to buy an EminApe NFT from him. Source
Start investing safely in cryptocurrencies now.
Odporúčame
More articles

with Fumbi