Bitcoin law in El Salvador come into effect – Crypto weekly update
This week, the total market capitalization exceeded 1.80 trillion EUR. Decrease at the 7-day interval is 4.25 %. Bitcoin decreased by 8.7 % during the week to a current value of over than 39 200 EUR. Bitcoin dominance is 40,8 %.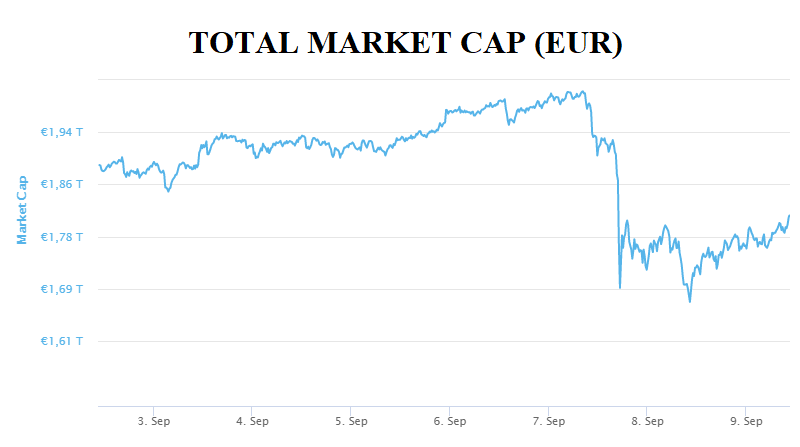 Bitcoin day in El Salvador
September 7th will be officially written into the history of El Salvador as "Bitcoin Day".
From Tuesday, bitcoin can be legally used as payment method for goods and services in the country because Bitcoin Law has officially come into effect three months after its parliament passed the historic vote. The Central American nation is now the first country to recognize Bitcoin as legal tender.
However, day one of El Salvador's Bitcoin experiment has been somewhat marred by server capacity errors suffered by the state-issued Chivo wallet. President Bukele and his team were forced to disconnect the wallet from the server for a while and increase the capacity of the servers.
In addition, President Bukele reported that El Salvador has purchased another 200 Bitcoins, increasing the country's bitcoin reserves to 400 BTC. These Bitcoins are likely to be used to support bitcoin infrastructure, as the country's parliament recently passed a $150-million (€126 million) Bitcoin fund to facilitate conversions from BTC to United States dollars.
El Salvador's Bitcoin adoption push has been met with excitement and hostility from within and outside the country. Back in August, some retirees protested the Bitcoin Law, fearful of the government paying their pensions in BTC instead of the U.S. dollar.
In addition, an estimated 70 % of the country's population opposes the official acceptance of Bitcoin as legal tender. Most of the traders would prefer to accept bitcoins on a voluntary basis. Source
Will Panama follow El Salvador?
After recognising bitcoin as a legal tender in El Salvador, more and more countries are looking to legalise cryptocurrencies.
A member of Panama's independent opposition party Gabriel Silva has introduced a pro-crypto bill to the Panamanian Congress seeking to regulate cryptocurrencies as a method of payment and make the country "compatible with the blockchain, crypto assets, and the Internet." According to his proposal, the implementation of cryptocurrencies in the country has the potential to create thousands of jobs, attract investors and make the government transparent.
According to the draft bill document shared by Silva, the new legislation would allow legal and natural persons based in Panama to freely agree on the use of crypto assets, including without limitation Bitcoin and Ethereum, as a means of payment for any civil or commercial operations.
Furthermore, the draft bill includes proposals to migrate public records to blockchains, digitize legislative and administrative acts using blockchains.
In contrast to El Salvador's legal tender law, which requires businesses to accept Bitcoin as means of payment alongside the U.S. dollar, Panama's new legislation—if enacted—won't make acceptance of cryptocurrencies obligatory. Instead, Panamanian citizens and businesses will be free to choose whether they want to accept crypto or fiat as payment. Source
Flash crash on cryptocurrency market
The cryptocurrency market has been hit by a correction phase after a multi-week bull dominance. The price of Bitcoin fell by more than $8,000 (€6,750) in two hours on Tuesday, triggering huge sell-offs of Bitcoin and Altcoins.
Cointelegraph data shows that sell-off in BTC began during the early trading hours and accelerated into midday as the price of Bitcoin fell to a local low of $42,837 (€36,212).
Bitcoin's fall below $43,000 has led to widespread liquidation of trading positions in derivatives markets as more than $3.54 billion was liquidated.
However, the value of bitcoin bounced relatively quickly into the $45,000-$47,000 price range, meaning the price slump was used by waiting investors to increase their bitcoin holdings. Naiyb Bukele, the president of El Salvador announced via his Twitter account that he had taken advantage of the slump in the price of bitcoin to buy an additional 150 BTC.
The Fear & Greed Index which is based on a multifactorial sentiment analysis, signals that the cryptocurrency market has flipped from an "extreme greed" to "neutral" in one day.
However, several leading cryptocurrency analysts think that this correction was very healthy and the cryptocurrency market needed it. Source
Twitter and Bitcoin
According to the latest information, Twitter is working hard to create new functionality that will allow its users to add bitcoin and Ethereum addresses to their user profiles.
Twitter is currently reportedly testing the integration of Bitcoin Lightning Network into its upcoming service called "Tip Jar Twitter," which was introduced in May this year. Tip Jar is a service that allows tipping for content creators in Bitcoin.
The implementation of the Lightning Network for cheap and fast bitcoin transactions was also confirmed by Twitter developer Kayvon Beykpour, who hinted that the service would be available "soon."
Twitter CEO Jack Dorsey hinted in July that bitcoin's implementation on Twitter is a part of the company's broader plans. However, this statement is no surprise to the Bitcoin community, as Dorsey is well-known as a BTC maximalist and a big tech fan. Source
German giant is looking for cryptocurrencies
Union Investment, a $500 billion (€422.67 billion) asset manager, is planning to add Bitcoin (BTC) to several investment funds as part of a targeted pilot program for its institutional clients.
This novelty only confirms the fact that crypto is becoming more mainstream in Europe's largest economy.
The Frankfurt-based institution told Bloomberg on Monday that it is considering adding BTC to a small number of investment funds that will only be available to private investors.
For each fund, Bitcoin exposure will be limited to no more than 2% of total assets. Portfolio manager Daniel Bathe said the new investment strategy is likely to commence in the fourth quarter, though no fixed timetable was given.
Union Investment is the investment arm of DZ Bank Group, an institution with over 800 cooperative banks. Source
Coinbase under SEC fire
The United States Securities and Exchange Commission has reportedly threatened to sue Coinbase over a crypto yield program it deems as a security.
Coinbase CEO Brian Armstrong tweeted on Wednesday that there has been some "really sketchy behavior coming out of the SEC recently".
Armstrong explained that the crypto exchange approached the SEC earlier this year to brief the enforcement body over the up-and-coming Coinbase Lend program that intends to offer 4 % annual yield returns on deposits of the USD Coin (USDC) stablecoin.
SEC responded by telling the firm that the lending program is a security without any explanation and threatened to sue if the service was launched.
Armstrong pointed out that there are other crypto firms on the market that currently provide similar lending services to their customers and called for the SEC to provide regulatory clarity on the topic. Source
Start investing safely in cryptocurrencies now.
Odporúčame
More articles

with Fumbi