Bitcoin was best-performing asset of past decade- Crypto weekly update
This week, the total market capitalization exceeded 1.44 trillion EUR. Decrease at the 7-day interval is 0.3 %. Bitcoin decreased by 0,3 % during the week to a current value of over 46.400 EUR. Bitcoin dominance is 60.4 %.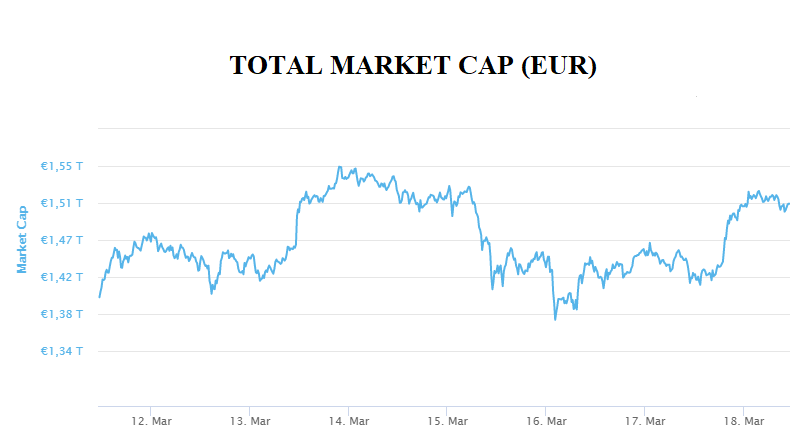 Bitcoin as a best-performing asset of past decade
Charlie Bilello, CEO of Compound Capital Advisors, has published a report stating that Bitcoin has outperformed all other types of investment assets over the past 10 years. According to data from the YCharts web portal, Bitcoin has produced an average annualized return of 230 % between years 2011 and 2021.
Year 2013 was Bitcoin's best-performing year, during which it gained 5,507 %. The data also shows that Bitcoin has only posted an annualized loss for two years of its history, with BTC falling by 58 % and 73 % during 2014 and 2018, respectively.
The Nasdaq 100 Index ranked second with an annualized return of 20 %. The data also shows that gold made a paltry annualized return of 1.5% since 2011.Since the start of 2021, Bitcoin is up 108 %, with its price hitting an all-time high of just over $61,500 (€ 51,800) on Sunday. Source
Where do Americans plan to invest their stimulus check?
After US President Joe Biden signed a $ 1,9 trillion (€ 1,6 trillion) stimulus package last week, many Americans are considering where to invest their $1,400 (€ 1,175) direct payments, which are part of a rescue package for residents. New polling suggests that much of these funds could end up in the crypto market.
A survey released by Mizuho Securities estimates that about 10% of the roughly $ 400 billion that will be provided directly to the people of the United States could be used to purchase Bitcoins. The company subsidiary surveyed 235 people with a household income under $ 150,000. Up to 40% of respondents said they would invest the direct payments into BTC and stocks, with 61% saying they would choose Bitcoin over stocks.
Based on the answers, it can be assumed that in the near future there may be an inflow of capital into Bitcoin by retail investors and households. Source
Morgan Stanley introduces Bitcoin investing fund
The investment bank Morgan Stanley, a giant with wealth management with $ 4 trillion in client assets (€ 3,35 trillion, approximately 4x Bitcoin's market capitalization) told its financial advisors Wednesday in an internal memo that it is launching access to three funds that enable ownership of Bitcoin. The introduction of Bitcoin funds into the product portfolio represents a rational step forward from the bank. because the bank has been registering increased demand for Bitcoin from its clients for a long time.
Clients must also carry accredited investor status, hold capital at Morgan Stanley valuing $2 million (€ 1,67 million) or more, and maintain a certain account history. That minimum raises to $5 million (€ 4,19 million) for investment firm clientele. At the same time, for each investor, if they decide to invest in this fund, they will be able to invest in Bitcoin funds a maximum of 2.5% of the total value of assets that Morgan Stanley manages for them. Source
EIP 3368 as a compromise in the Ethereum network?
In the previous crypto weekly update we informed you about a dispute between Ethereum developers and miners in the Ethereum network, which was caused by a proposal to overhaul the Ethereum protocol. This overhaul of the protocol will reduce miners' incomes. The miners in the network dislike this proposal, so they decided to organize an initiative to delegate a huge amount of hashrate to the largest Ethereum pool Bitfly on April 1, which could cause instability and violate the security of the Ethereum network.
In a reaction to this initiative, Ethereum founder Vitalik Buterin suggested that the transfer to Ethereum 2.0 Beacon chain and the Proof-of-Stake algorithm could occur much sooner than many people expect. Shortly after this announcement, a "miners counter-proposal" Ethereum Improvement Proposal 3368 (EIP-3368) appeared on eips.ethereum.org to ensure "harmony" between developers and miners.
It is essentially a proposal for a solution that will temporarily compensate miners for losses related to the future implementation of EIP – 1559. The purpose of this proposal is to increase the block reward to 3 ETH (out of the current 2 ETH), which would be reduced by 0.25 ETH every quarter for the next two years. Enforcement of this proposal could permanently settle the dispute between miners and developers. However, the negative impact of this agreement would be a temporary increase of inflation rate. Source
Grayscale offers new trusts to invest
Grayscale Investments, the world's largest digital asset manager, announced the adaptation of new cryptocurrencies from decentralized finance (DeFi). Grayscale is adding a total of five new cryptocurrencies to its investment Trust:
Grayscale Basic Attention Token Trust (BAT)
Grayscale Chainlink Trust (LINK)
Grayscale Decentraland Trust (MANA)
Grayscale Filecoin Trust (FIL)
Grayscale Livepeer Trust (LPT)
We may soon see trusts for Aave, Cosmos, Polkadot, Monero and Cardano if other filings are followed through. Source
Start investing safely in cryptocurrencies now.
Odporúčame
More articles

with Fumbi