Bitcoin's Rarity Is Skyrocketing – Crypto Weekly Update
This week, the total market capitalization exceeded €1.05 trillion. The increase at the 7-day interval is 1.94%. Bitcoin decreased by 2.52% during the week to a current value of over €22,450. Bitcoin dominance is 41%.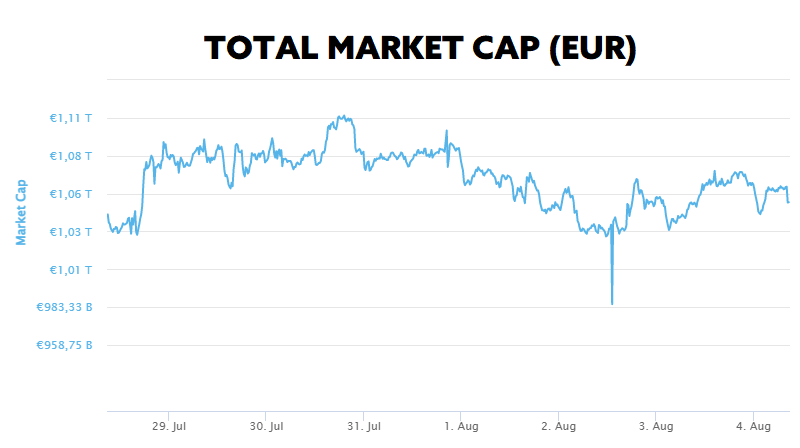 Bitcoin's Rarity Is Skyrocketing
What is limited is scarce. This phrase can be perfectly applied to the most popular cryptocurrency, Bitcoin. On Tuesday, bitcoin with the sequence number 19,110,000 was mined, which means that 91% of the total bitcoin supply is already in circulation.
The Bitcoin Magazine news channel reported on the social network Twitter that miners only have the last 9% of the total supply left to be mined, which will be mined over the next 118 years. This will leave only 1,890,000 new bitcoins in circulation over the next few decades, with the last bitcoin expected to be mined sometime around the year 2140.
Currently, the block reward for mining a Bitcoin block is 6.25 BTC. The next Bitcoin Halving is expected in May 2024, after which the block reward will be reduced from 6.25 BTC to 3.125 BTC per block. This reward will be halved every four years.
However, the current circulating supply of Bitcoin is significantly lower. It is estimated that 10-15% of the total bitcoin supply is already lost forever, either due to the loss of private keys or erroneous transfers to addresses that no one has access to. This number is expected to grow over time.
In the long term, Bitcoin is a scarce asset with a perfectly set monetary policy that cannot be changed by any individual or central authority. Therefore, it can be assumed that Bitcoin's scarcity will continue to rise with constant or increasing demand. Source
July Was the Best Month of This Year
The largest cryptocurrency, Bitcoin, rose more than 19% over the past month to post its best month during the calendar year 2022. Although Bitcoin has fallen more than 65% since its all-time high, there are several indicators that predict Bitcoin's potential growth in the future.
A major on-chain metrics revealed that the number of bitcoins on cryptocurrency exchanges continued to decline during July. According to analytics platform Glassnode, only about 12.6% of the total bitcoin supply is currently on exchanges. The decline in bitcoins on exchanges signals a transfer of users' funds to private wallets for long-term holding.
Additionally, crypto funds saw their fifth consecutive week of capital inflows, according to a Monday report from CoinShares. In the past seven days alone, $81 million has flowed into crypto funds, with investors pouring a total of $474 million into crypto funds in July, signaling investors' renewed appetite for investing in cryptocurrencies.
July was a great month for other cryptocurrencies as well. Ethereum notched up a 55% increase over the past month, while cryptocurrencies Solana and Cardano rose 15% and 11%, respectively. Source
Another Hack in the Crypto World
After a few quiet months, another hack has emerged in the crypto world with losses in the hundreds of millions of dollars.
Nomad, a cryptocurrency bridge that allows users to exchange tokens between multiple blockchains, is the latest to be hit after a frenzied attack on Monday, which left almost $190 million of its funds drained.
The hack was confirmed on Monday, August 1, by the official Twitter account of the Nomad project but was initially labeled as an "incident" that is under investigation. In another statement released early Tuesday morning, Nomad said its team is "working around the clock to address the situation" and has also notified law enforcement.
A researcher from investment firm Paradigm explained on Twitter that the exploit was made possible by a misconfiguration of the project's main smart contract that allowed anyone with a basic understanding of the code to authorize withdrawals to themselves.
The identity of the individuals who took funds from Nomad Bridge is largely unknown. However, some of them were drained by "White Hat Hackers", who have preemptively pulled out part of the funds from the protocol and plan to return them.
Cryptocurrency blockchain bridges have recently been the target of frequent attacks by hackers, mainly due to the high value of the assets that reside on them, as well as the complexity (and thus potential vulnerability) of the smart contracts they run on. Source
Glassnode: $20 000 as an Important Support Level
In the latest The Week OnChain report published on Monday, Glassnode pointed to "extreme demand" around the $20,000 price level, noting that each psychological price level ($40,000, $30,000, and $20,000) creates a new group of Short-Term Holders (STHs).
One of Glassnode's analysts noted in a report that much of the supply bought by new Short-Term Holders (STH) during the declines in recent weeks still hasn't been sold, although prices are already significantly lower. This may be due to the fact that buyers around the $40,000 and $30,000 levels are less price sensitive and care more about bitcoin fundamentals than investment gains. These investors view bitcoin more as a long-term asset with high growth potential.
Another point of note in the report is that "unprecedented forced selling" from crypto companies amid mass liquidations and bankruptcies created conditions ripe for a relief pump. The report concludes by stating that while "the worst of the capitulation may be over," Bitcoin may remain at current price levels for some time to come. Source
Cardano Again Postpones Vasil Hard Fork
Kevin Hammon, technical manager at Cardano Input Output Global, said in a Thursday interview that the long-awaited update, called Vasil, will likely be delayed for additional testing and to ensure a "smooth process." He added that it could be "a few more weeks" until the update is ready to go live.
Hardfork was originally due to go live on 29 June, but Input Output moved the target date to the last week of July. However, the update still hasn't been rolled out, and it will most likely take a few more weeks for Cardano cryptocurrency enthusiasts to see it go live.
The update promises to significantly increase Cardano's scaling capabilities. In addition to the technical complexity of the code itself, the update requires significant coordination among Cardano ecosystem stakeholders to ensure a smooth transition. Source
Interesting Fact: Solana Opens Its First Physical Store
Solana Spaces announced last week the grand opening of its first physical store, located at 20 Hudson Yards in New York City. The store, which was co-developed by the Solana Foundation and several ecosystem partners, will be open Monday through Saturday from 10:00 a.m. to 8:00 p.m. and Sunday from 11:00 a.m. to 7:00 p.m.
The store, which is aimed at blockchain beginners, claims to be "the world's first retail and educational space dedicated to Web3." Visitors will have access to tutorials, coding services, and experiences with Solana. Furthermore, visitors will have the opportunity to earn "unique rewards" for participating in a variety of physical store activities. Source
Start investing safely in cryptocurrencies now.
INVEST WITH FUMBI
Odporúčame
More articles

with Fumbi