Canada launches first spot Bitcoin ETF – Crypto weekly update
This week, the total market capitalization exceeded 2.31 trillion EUR. Decrease at the 7-day interval is 0.43 %. Bitcoin decreased by 1.99 % during the week to a current value of over than 50,350 EUR. Bitcoin dominance is 41.1 %.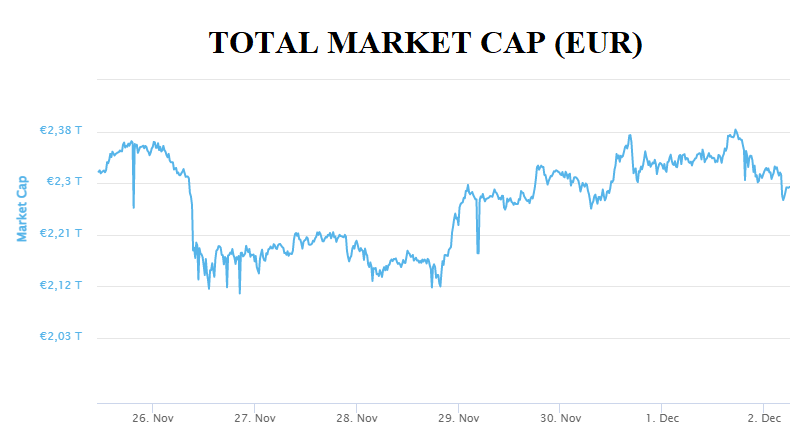 The first spot bitcoin ETF in Canada
Fidelity Investments, one of the world's largest asset managers that currently manages around $4.2 trillion (€3.71 trillion) in assets, has decided to launch Canada's first bitcoin spot ETF.
According to available news, Fidelity Investments has no intention of waiting for the US Securities and Exchange Commission (SEC) to make up its mind on whether or not to allow a spot Bitcoin ETF in United States.
Instead, the company decided to launch its first spot Bitcoin ETF in Canada. A product called Fidelity Advantage Bitcoin ETF (FBTC) will directly make purchases of Bitcoins as an underlying asset instead of getting exposed through a derivative instrument.
According to the reports, Fidelity is calling the shots because of serious client demand and chose Canada because the US authorities fail to provide any further clarity on the matter.
The move also comes days after Fidelity received Canada's regulatory approval to launch the country's first BTC institutional solution.
Canada is not the only country to have recently approved a spot ETF fund. At the end of November, Singapore joined the list, where Fintonia Group officially launched the first spot bitcoin ETF after obtaining approval from the Monetary Authority of Singapore (MAS). Source
NFT is the word of the year
As 2021 slowly but surely nears its end, many companies are gradually publishing various statistical data and awarding prizes for leading placements in different specific categories. Last week the firm Harpercollins, the publisher behind the printed and online Collins English Dictionary, has revealed "The Collins Word of the Year." According to Harpercollins, the word of the year is the abbreviation for non-fungible token, otherwise known as "NFT."
On an annual basis, Collins likes to give a specific term the Word of the Year award, and this year the word "NFT" is the grand champion. "'NFT', the abbreviation of 'non-fungible token', the unique digital identifier that records ownership of a digital asset. According to the available data, "NFT" has witnessed huge rise in popularity this year, growing 11,000% in usage in 2021.
Other words that were popular this year include words such as "metaverse" and "crypto." The meaning of the word metaverse is "a proposed version of the internet comprising of three-dimensional virtual environments." Collins English Dictionary says that the term "crypto" is an informal noun that is short for the word cryptocurrency, "a digital currency used for online purchases." Source
Jack Dorsey leaves Twitter
Co-founder and globally popular Bitcoin maximalist Jack Dorsey is stepping down from his position as CEO of Twitter after more than six years.
Dorsey announced his decision via Twitter, tweeting to his 5.9 million followers that he was stepping down as CEO of the company. In the meantime, the company's board of directors has appointed Twitter chief technology officer and board member Parag Agrawal to replace Dorsey.
Many experts believe Dorsey's decision may be directly related with his "deep dive" into crypto and it is a bullish sign for cryptocurrencies. Less than two weeks ago, Dorsey released a Whitepaper of its upcoming Bitcoin-focused DEX. The whitepaper noted that tbDEX will not work like most decentralized exchanges available in the market today, because the platform will not have its native governance token.
tbDEX will aims to offer users a direct way to easily convert their rapidly depreciating FIAT currencies into bitcoin in a free market, without going through multiple platforms. Source
Microstrategy again bullish
Michael Saylor, CEO of enterprise data analytics company MicroStrategy, announced Monday via a Twitter post and company filing that the firm purchased an additional 7,002 BTC, worth approximately $414.4 million (€365.49 million), at an average price of $59,187 (€52,200) per coin.
MicroStrategy sold 571,001 shares of company stock between Oct. 1 and Nov. 29 at $732.16 (€645.74) apiece, raising a total of $414.4 million in cash
As of Monday, the company now owns 121,044 BTC, worth up to $3.57 billion (€3.14 billion). It was acquired at an average price of $29,534 (€26,045) per coin and included capital appreciation from previous coins.
Phong Le, president and chief financial officer of MicroStrategy, said that the company's Bitcoin holdings are classified as "indefinite-lived intangible assets under applicable accounting rules."
This means that at any time subsequent to its acquisition, if the fair value, or market value, of the Bitcoin dips below its book value, the company will need to recognize impairment charges. These impairment charges can then be used to legally offset its corporate income tax liability. Source
Bitcoin transaction fees dropped
Bitcoin has seen a massive drop in fees during 2021.
According to YCharts data, the average transaction fee of Bitcoin (BTC) has dropped from $4.40 (€3.88) to $1.80 (€1.59) this year, a decrease of 57.97%. This rise may be attributed to a variety of factors.
One of the main factors that directly influenced the decrease in transaction fees is the fast expansion of the Bitcoin Lightning Network. Lightning Network is a second-layer technology, in which transactions are off the blockchain. This layer consists of a peer-to-peer network of two-way payment channels that network participants can create directly with each other.
Transactions are entered only within these channels, with only the final channel balance entered in the Bitcoin blockchain at the moment the participants decide to close the channel. This technology is very cheap and quick.
The drop in costs may be attributed to Bitcoin miners becoming less skeptical and not losing interest in processing transactions. However, the contrast with the current situation may be the situation in April, when outages of Chinese miners caused the average transaction fee in the bitcoin network reached an all-time high of $62.8 (€55) per transaction.
Another possible reason for the declining transaction cost is the decongestion of the mempool, which is the collection of all pending transactions before being confirmed. When a transaction is sent to the Bitcoin network, it remains in the mempool until it receives confirmation. Because each BTC block has a certain size of 1MB, a large mempool may encourage miners to favor more lucrative transactions.
During these instances, customers begin paying more in order for their transactions to not get stuck in the mempool. This raises the overall transaction cost on the Bitcoin network. The size of the Bitcoin mempool is currently below its maximum capacity, what is a good signal.
Moreover, The average transaction count has also dropped significantly in recent months. On an average per day, there were more than 350,000 transactions at the start of 2021, but that number has now fallen to between 250,000 and 213,000 transactions per day. This is probably related to the fact that bitcoin owners currently prefer to hold bitcoins over carrying out transactions. This may signal that investors expect the higher prices. Source
Curiosity: Grayscale and Solana
Solana, whose price has risen by more than 13,000% this year, is now available to institutional investors as a part of Grayscale's new "Grayscale Solana Trust".
Grayscale's decision to add Solana into its service portfolio promised to make SOL visible across more high-net-worth and institutional investors.
Solana is a L1 protocol that is currently one of Ethereum's strongest competitors. Currently, Solana's ecosystem attracted over 500 projects spread across decentralized finance (DeFi), nonfungible tokens (NFT), Web 3.0, and other sectors, with 1.2 million active users on the network. Source
Start investing safely in cryptocurrencies now.
Odporúčame
More articles

with Fumbi