Chainlink Partners With SWIFT – Crypto Weekly Update
This week, the total market capitalization exceeded €977 billion. The increase at the 7-day interval is 0.92%. Bitcoin increased by 2% during the week to a current value of over €20,400. Bitcoin dominance is 40.1%.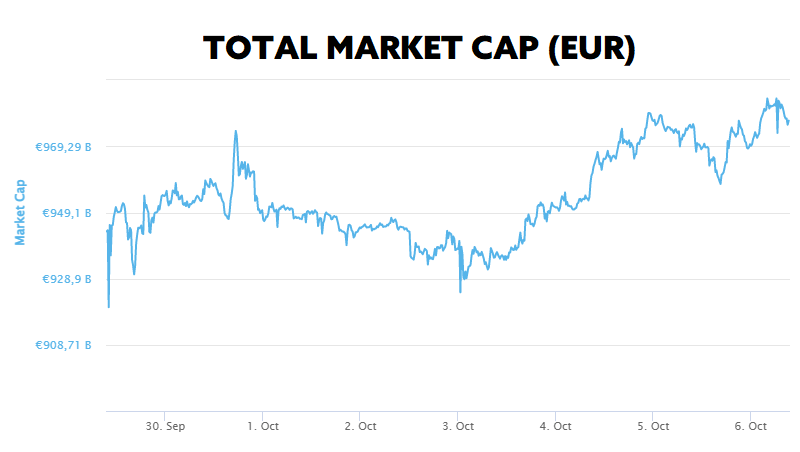 Chainlink Partners With SWIFT
SWIFT, an organization focused on worldwide interbank financial telecommunications, has joined forces with blockchain project Chainlink. SWIFT and Chainlink will work together on a proof-of-concept (PoC) project that should allow traditional institutions to transact across blockchain networks.
Chainlink is a decentralized blockchain network that, in a way, creates a bridge between Oracles, which provide blockchain-authenticated and secure inputs from the real world, and smart contracts, which operate on individual blockchain networks. An oracle is a software or tool that acts as an "intermediary" which is translating data from the real world to smart contracts on the blockchain and back again.
The Proof-of-Concept (PoC) will leverage Chainlink's cross-chain interoperability protocol (CCIP), utilizes Chainlink's cross-chain interoperability protocol (CCIP), allowing SWIFT messages to instruct token transfers across nearly every blockchain network, accelerating the adoption of blockchain technology in the capital and traditional financial markets, according to Chainlink co-founder Sergey Nazarov.
The SWIFT interbank messaging system is the most widely used platform for traditional cross-border fiat transactions, connecting over 11,000 banks around the world. In August, the system recorded an average of 44.8 million messages per day.
However, interbank cross-border SWIFT transactions sometimes take several days to complete. This is the reason why SWIFT is actively exploring blockchain technology, which enables significantly faster transactions. Source
The Popularity of Lightning Network Is Rapidly Growing
The Lightning Network (LN) is a Layer-2 solution built on top of Bitcoin that allows Bitcoin owners to make fast transactions with low fees. It works on the principle of payment channels between transaction participants, where only opening and closing a payment channel requires an on-chain transaction on the Bitcoin blockchain. However, other transactions within the channels take place off-chain, making it possible to make instant payments between channels with almost zero fees.
Despite the bearish sentiment in the cryptocurrency market, the popularity of Bitcoin's Lightning Network is growing rapidly. This fact is confirmed by the latest data, which confirmed that the Bitcoin Lightning Network has reached a capacity of 5,000 BTC. More and more bitcoins are entering payment channels around the world, increasing the overall capacity of the network as well as the more available liquidity.
In the last four months alone, network capacity has increased by 1,000 BTC, with the Lightning Network becoming increasingly popular in countries such as El Salvador, Gibraltar and the Isle of Man. The LN's popularity is growing mainly due to its suitability for making microtransactions such as food, coffee or lunch purchases using Bitcoin. Particularly in countries with a poor economic situation and a devalued domestic currency, Bitcoin is becoming a suitable alternative for wealth preservation, which is also increasingly used by the population for everyday purchases. Source
NYDIG Raises Capital for Its Bitcoin Fund
NYDIG (New York Digital Investment Group) has raised $720 million for a Bitcoin fund aimed at institutional investors, according to a filing with the U.S. Securities and Exchange Commission (SEC). A total of 59 unnamed institutions have reportedly invested in the Bitcoin Fund.
NYDIG has long been one of the leading players in the crypto sector, having launched its Bitcoin fund back in 2018. In October 2020, NYDIG's parent company Stone Ridge purchased 10,000 Bitcoin (worth $115 million at the time) as part of its treasury reserve strategy, choosing its own subsidiary as custody provider. That made NYDIG one of the industry's biggest crypto custodians holding over $1 billion in digital assets on behalf of its customers.
Following the resignation of CEO Robert Gutmann and company president Yan Zhao, Tejas Shah became the company's new CEO, with Nate Conrad stepping into the role of president. Shah and Conrad will reportedly aim to accelerate investment in NYDIG's Bitcoin mining franchise, as well as increase institutional Bitcoin adoption through Lightning Network technology. Source
UN Warns Fed to Cool Rate Hikes
A UN agency has urged the Federal Reserve (Fed) to slow its pace of base rate increases. In its statement, the UN refers to the fact that the current pace of rate increases could bring about a recession, with poor and developing countries in particular likely to be hit hardest in a recession scenario.
Under the leadership of Chair Jerome Powell, the United States central bank has raised interest rates five times this year, most recently in September. On that occasion, the Fed raised the federal funds rate by 75 basis points, bringing the benchmark rate to between 3% and 3.25%. For perspective, the federal funds' rates started the year at nearly 0%.
The Fed's main motive for raising rates is to tame inflation, which reached 8.3% in August. However, the UN agency argues that the Fed's actions may be too dramatic and could push the global economy into recession. Any belief that central banks will be able to lower prices by relying on higher interest rates without triggering a recession is an "imprudent gamble", according to the published report.
However, the Fed has not yet indicated any plans to change its course and plans to continue raising rates. The US economy has already plunged into a technical recession after posting negative GDP for two consecutive quarters. Slowing the pace of rate hikes or even possibly cutting them could reignite and reinvigorate financial markets, including the crypto market. Source
Kim Kardashian Has to Pay a Fine
American influencer and entrepreneur Kim Kardashian has agreed to pay a $1.26 million fine to the US Securities and Exchange Commission (SEC). Kim Kardashian had previously promoted the crypto asset EthereumMax through her Instagram account, for which she was alleged to have collected $250,000.
The SEC accused the influencer of failing to disclose that she had collected a financial reward for posting her Instagram post. In addition to paying the fine, she agreed to cooperate with the SEC's ongoing investigation. Kardashian also agreed not to promote any crypto assets for three years.
"This case is a reminder that, when celebrities or influencers endorse investment opportunities, including cryptoasset securities, it doesn't mean that those investment products are right for all investors," said SEC Chair Gary Gensler. "We encourage investors to consider an investment's potential risks and opportunities in light of their own financial goals." Source
Interesting Fact: Celsius CEO Resigns
Celsius founder Alex Mashinsky has stepped down as CEO of lending platform Celsius. Tuesday's press release published on businesswire informs that Mashinsky has resigned from his directorship with immediate effect.
Commenting on the situation, Mashinsky said that he was "very sorry" for the financial problems the company has faced in recent months. Celsius was forced to suspend withdrawals for its clients in June due to insolvency.
However, Celsius wasn't the only company to run into financial difficulties during the current crypto winter. Companies such as Voyager Digital and hedge fund Three Arrows Capital were also in a similar situation and went completely bankrupt. Source
Start investing safely in cryptocurrencies now.
START INVESTING
Odporúčame
More articles

with Fumbi