China re-introduces crypto restrictions – Crypto weekly update
This week, the total market capitalization exceeded 1.64 trillion EUR. Decrease at the 7-day interval is 2.38 %. Bitcoin decreased by 0.8 % during the week to a current value of over than 37 300 EUR. Bitcoin dominance is 42,7 %.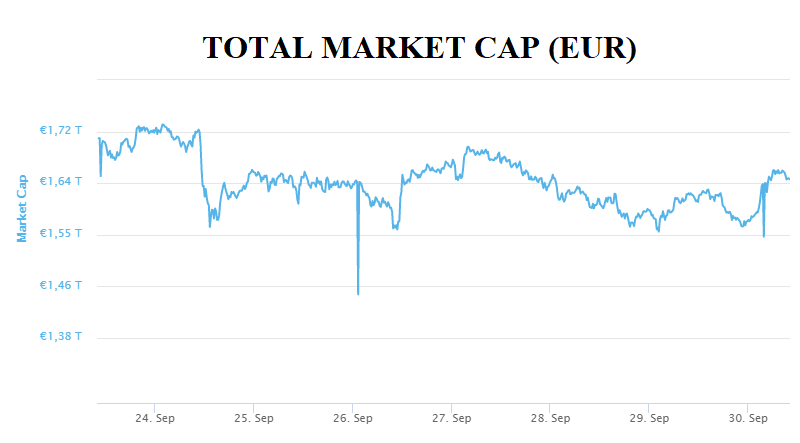 China re-introduces crypto restrictions
The People's Bank of China (PBoC) published a document reminding that digital assets are banned within the country and added that operating with exchanges will also be prohibited. As a result, BTC dumped by $3,000 (€2,550) in an hour.
China, however, has now also outlaw all cryptocurrency transactions. This may mean that the country is responding to possible concerns about capital outflows from the country in the context of the recent Evergrande crisis.
The bank promised to enhance its monitoring of all operations related to the digital asset industry. Additionally, China's central bank doubled down on its crackdown against mining, which initially started in May this year. As part of its reasoning, the PBoC claimed that these measures are meant to protect investors from the highly corrupt nature of cryptocurrencies.
China 's negative stance towards cryptocurrencies has been well known to investors for years. For the first time, China reacted negatively to cryptocurrencies back in 2009, when Bitcoin was still practically in its infancy. Already during this period, the Chinese Ministry of Commerce banned the use of "virtual currencies" for trade with goods and services.
However, the PBOC tends to remind investors of its limitations all the time. So it is no surprise that the country has done it again. Source
Morgan Stanley continues to invest in bitcoin
Major U.S. investment bank Morgan Stanley has more than doubled its shares of Grayscale Bitcoin Trust since April.
According to a report from the United States Securities and Exchange Commission, or SEC, filed Sept. 27, Morgan Stanley currently owns 58,116 shares of the Grayscale Bitcoin Trust worth more than $2.4 million (€2.06 million).
Previous filings show that Morgan Stanley has increased its shares of GBTC by more than 105% since April. Back in early June, the company owned just 28,298 GBTC worth about $1.3 million (€1.12 million).
In addition, Morgan Stanley plans to continue to invest in cryptocurrencies through alternative investment forms. For example, recently, the bank led a $48 million funding round for Securitize, a Coinbase-backed tokenization platform. Source
Ethereum 2.0 inches closer
Ethereum's long-term planned transition to its more scalable version called Ethereum 2.0 with a new consensual Proof-of-Stake algorithm is once again a little closer, as network developers have confirmed a date for the next upgrade called Altair.
The first upgrade of the Beacon Chain mainnet is scheduled for epoch 74240. According to preliminary estimates, this upgrade could take place on October 27.
Danny Ryan, Ethereum software developer, described this upgrade as an "innovation that brings light-client support for the core consensus, fixes some incentive issues for validators, and strengthens various parameters under EIP-2982."
EIP-2982 introduces so-called "punitive parameters" to ensure the economic security of the proof-of-stake protocol. Ethereum developers stated that for PoS blockchains to be economically secure, penalties are required to incentivize validator liveness as well as provide security in the event of tail-risk scenarios. The proposed penalties are "inactivity leak" and "slashing" under the Ethereum Improvement Protocol (EIP) 2982.
The expected upgrade of the Beacon Chain is another significant milestone for the Ethereum network after the EIP-1559 was implemented in early August. Proponents touted EIP-1559 as the deflationary switch because it involved burning base fees, thereby reducing the circulating supply of ETH. Source
Cardano partners with Chainlink
InputOutput (IOKH), the technology company behind the Cardano open-source blockchain project, announced in the ongoing Cardano Summit 2021 that it has partnered with decentralized blockchain oracle network Chainlink.
As per the announcement, the partnership will see Cardano integrate Chainlink's oracles to support developers as they prepare to start building smart contracts for decentralized finance (DeFi) applications.
According to Niki Ariyasinghe, head of blockchain partnerships at Chainlink Labs, the timing of this collaboration is "ideal", because smart contracts are only just coming to Cardano, while Chainlink helps facilitate the transfer of tamper-proof data from off-chain sources to on-chain smart contracts.
Recall that Cardano became compatible with smart contracts for the first time after the Alonzo network upgrade, which went live on September 12, 2021. Source
Europe as the strongest crypto economy
Central, Northern, and Western Europe (CNWE) has grown into the world's largest cryptocurrency economy since July 2020. The region experienced a massive increase in trading activity since then – particularly in the DeFi space.
Data from Chainalysis shows that CNWE received over $1 trillion in cryptocurrency over the last year alone. This represents 25% of global trading activity This makes the EU the most concentrated in the world in terms of cryptocurrency trading volume.
This is due not only to the growing mainstream adoption of cryptocurrencies, but also to the influx of institutional investors. In addition, in a way, this growth was also caused by the corona crisis and lockdowns, during which interest in cryptocurrency trading increased enormously.
Moreover, the data pointed to the fact that institutional investor transactions were mainly targeted at the decentralised finance sector, as in June, for example, up to 80 % of all institutional investors transactions were directed to the DeFi sector.
However, East Asia has seen a significant decrease in the volume of transactions recently. In early 2019 the region held over 30% of global transaction volume. This figure has since fallen sharply to about 15% – less than CNWE, North America, and even Central and Southern Asia. Source
Curiosity : Huge transaction fee in Bitfinex
One of the biggest crypto exchange, Bitfinex, has paid 7,676 eth, worth $23.5 million (€20.24 million), to transfer $100,000 USDt from Bitfinex's account to DeversiFi, a dapp by Bitfinex.
Despite the fact that it is difficult to estimate what actually happened, it is probably a failure of the human factor. It could have been that someone made a mistake and, when carrying out the transaction, has put the gwei amount same as the gas limit, so 160,000 gwei, or about 10,000x more than the usual base fee.
The miner, which successfully verified this transaction and received this fee as a reward, agreed to return the funds to Bitfinex.
DeversiFi is currently investigating the cause to determine how this occurred. No customer funds on DeversiFi are at risk and this is an internal issue for DeversiFi to resolve. Source
Start investing safely in cryptocurrencies now.
Odporúčame
More articles

with Fumbi