Chinese Miners Are Back in the Game – Crypto Weekly Update
This week, the total market capitalization exceeded 1.18 trillion EUR. The increase at the 7-day interval is 9.29%. Bitcoin increased by 4.54% during the week to a current value of over 27,800 EUR. Bitcoin dominance is 44.7%.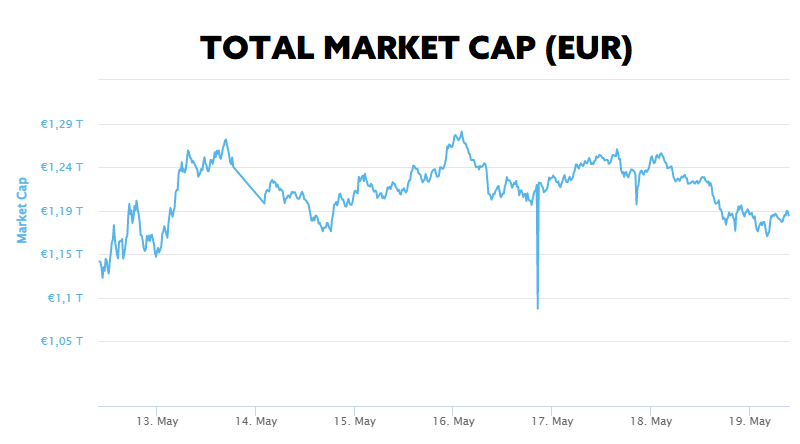 Chinese Miners Are Back in The Game
China's ban on the mining and use of cryptocurrencies is ultimately not as effective as it might first appear. The latest data from the Cambridge Bitcoin Electricity Consumption Index (CBECI) shows that China is still the second top mining hub despite the crypto ban.
According to published data, miners from China represented up to 21.1% of the total global distribution of bitcoin network computing power in January 2022. According to the statistics, this puts China in second place in the ranking of countries sorted by share of total hashrate, just behind the United States, whose share was about 37.8% as of January 2022.
China was once the world's largest Bitcoin mining country, with the local BTC hash rate power accounting for more than 75% in August 2019. However, its dominance has been declining over time, falling to 0% in July and August 2021, according to the CBECI visualization.
However, the actual data show something different. According to CBECI project leader Alexander Neumueller, despite the bans, China's share of the total hashrate has never dropped below 18%, even though the visualization on the CBECI web portal showed China's hashrate at zero for several months.
"Our data empirically confirms the claims of industry insiders that Bitcoin mining is still ongoing within the country. Although mining in China is far from its former heights, the country still seems to host about one-fifth of the total hash rate," said Neumueller.
The latest CBECI update also signals a slight drop in the hash rate share in Kazakhstan, the world's third-largest BTC mining hub. Kazakhstan's BTC hash rate share dropped from 18% in August to 13.2% in January. Russia, which fell out of the TOP 3 countries focused on bitcoin mining, also saw a significant drop in its mining power. Source
Terra Still in Troubles
Terra co-founder and its central figure Do Kwon announced on Monday a revised plan aimed to restore the Terra ecosystem after the algorithmic stablecoin UST fell victim to a well-coordinated attack that practically devalued the two main cryptocurrencies used on the network – the stablecoin UST as well as the Terra network's native token, LUNA.
More than a week after the attack, the TerraUSD (UST) stablecoin, whose value is pegged to the U.S. dollar at a 1:1 ratio, is trading for just a whopping $0.09. Similarly, the LUNA token, whose value has plummeted from the April ATH of $120 to its current value of $0.00018.
The collapse of both currencies was caused by an attack that depegged the UST stablecoin and triggered a so-called death spiral that continuously burned UST tokens and issued new LUNA tokens into circulation. In a matter of days, the supply of the LUNA token rose from 300 million to 6.9 trillion.
The LFG foundation used up to 80,000 bitcoin from its reserves to buy USTs to stabilize the price of USTs and push its price up. However, this plan did not work, and the organization lost almost all of its reserves.
Do Kwon has now come up with a new hard fork proposal that will split the network into two separate blockchains. The gist of his proposal is to split the Terra blockchain into a new, separate blockchain that will operate without the UST stablecoin. The current blockchain will change its name to Terra Classic and will have a token called LUNC, while the new blockchain will be called Terra and will have its own token called LUNA.
Kwon also outlined the redistribution of new tokens to the community and UST holders who have lost almost all of their funds.
However, his proposal was met with strong opposition from the community. According to a preliminary poll, up to 90% of the community is against his proposal, with the majority voting to keep only one chain and to start the process of burning tokens, either through buybacks or by introducing percentage tax fees on the purchase and sale of LUNA tokens.
The entire community is now waiting in suspense to see how Kwon and Terra Labs will react to the negative feedback. Source
Bitcoin Meeting in El Salvador
The Central American state of El Salvador welcomed 44 central bankers from developing countries around the world to discuss financial inclusion, SME finance and Bitcoin.
Delegates of central banks from Ghana, Burundi, Jordan, Maldives, Pakistan, Costa Rica and the other countries arrived in Salvador following an invitation from President Nayib Bukele.
Organized by the Alliance for Financial Inclusion, a global policy leadership alliance, and in partnership with El Salvador's central bank, the conference will run for three days.
"El Salvador is proud to receive representatives from 44 central banks and financial authorities to learn about the implementation of Bitcoin and policies to promote Financial Inclusion." Douglas Rodríguez, head of El Salvador's central bank, said on Twitter.
The team behind the Bitcoin Beach project is also part of the conference, which aims to educate delegates about Bitcoin and cryptocurrencies.
Although currently, only two countries in the world, El Salvador and the Central African Republic, have recognized Bitcoin as their legal tender, it can be expected that more countries will soon follow them. Source
Digital Euro a Reality by 2027
Fabio Panetta, a member of the EU Central Bank board of directors, said that the European Union could begin developing a digital euro by the end of next year. It will take approximately three years to create it. The new digital currency will likely be available for users by the start of 2027.
"At the end of 2023, we may decide to start implementing the development and testing phase of suitable technical solutions and commercial agreements necessary to enable the circulation of the digital euro. This phase can take three years," said Panetta.
Panetta expressed concern about the cryptocurrency market in its current form. He thinks that this market is an identical bubble to the one that burst in 2007 and caused the crisis. He believes that stricter regulation is needed to solve this problem. In the same breath, he added that central banks need to use modern technologies to manage payment systems quickly and prepare for the introduction of CBDC. Source
Musk Delays Twitter Acquisition
Tesla CEO Elon Musk is shelving his planned $44 billion acquisition of social network Twitter. In his words, the acquisition "cannot move forward" until Twitter is able to provide Musk with more information about how many fake accounts and bots exist on Twitter.
According to Musk, up to 20% of accounts on the social network are fake or used only for spamming purposes. However, Twitter's current CEO, Parag Agrawal, said that internal estimates based on the methodology they use to identify fake accounts are less than 5%.
During a conference in Miami on Monday, Musk said that renegotiating the acquisition of Twitter is not out of the question, adding that it is very important for him to know how many fake accounts and bots are actually on Twitter. Musk is reportedly trying to negotiate a lower price for the acquisition of the social platform.
Putting the deal on hold seemed to have a much more bearish effect on Twitter's stock price. At that time, TWTR sunk by 19% following Musk's comments. Source
Curiosity: Fear & Greed Index at Record Lows
The Cryptocurrency Fear & Greed Index, tracking the current sentiment in the cryptocurrency market, fell from 60/100 points in March to 12/100 points this Wednesday.
On Tuesday, the index even dropped to just 8/100 points, its lowest level since March 28, 2020, when the COVID-19 pandemic brought a huge wave of uncertainty to the market. Bitcoin was trading at a whopping $6,000 at this time.
Low index values can be a good indicator for buying cryptocurrencies at a discount. Historically, it has been shown many times that when the value of the index dropped to values below 10, there was a huge rebound in the market a few days to weeks later, which increased the values of many cryptocurrencies by tens to hundreds of percent. Don't miss this opportunity and buy cryptocurrencies quickly and safely with Fumbi. Source
Start investing safely in cryptocurrencies now.
START INVESTING
Odporúčame
More articles

with Fumbi