Crypto bulls are back – Crypto weekly update
This week, the total market capitalization exceeded 1.98 trillion EUR. Increase at the 7-day interval is 20.73 %. Bitcoin increased by 24.54 % during the week to a current value of over than 47 300 EUR. Bitcoin dominance is 44,7 %.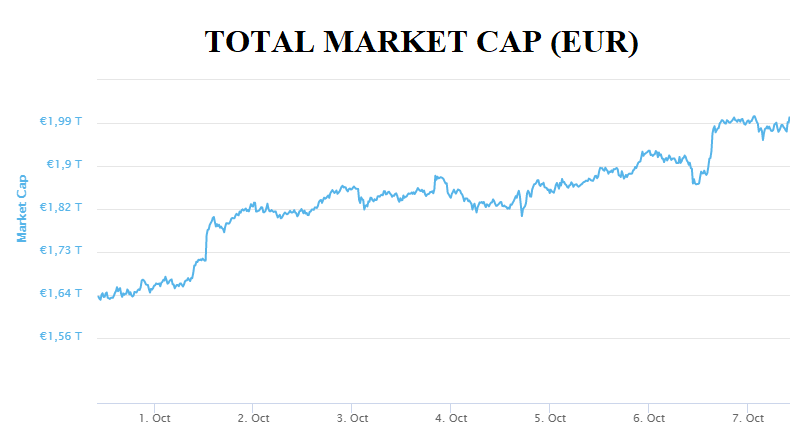 Positive sentiment in the cryptocurrency market
The whirlwind ride for bitcoin continues. The price of the world's most popular and valuable cryptocurrency Bitcoin soared above $50,000 (€42,500) on Tuesday morning after more than four weeks.
Although there was no specific catalyst driving bitcoin's recent surge, according to experts, the rise in the price of bitcoin is the result of increasing popularity and confidence in the cryptocurrency ecosystem. Firm CoinShares notes that investors have been plowing money into cryptocurrencies for the past seven weeks.
That increased confidence by investors has pushed bitcoin to rally almost 20% in the past seven days. Other popular cryptocurrencies, such as Ethereum (17 %), Solana (12 %) and Dogecoin (25 %) also achieved similarly high gains.
Bitcoin prices slumped from the peak in late spring after China announced crackdown on cryptocurrency mining. However, on-chain data now suggests bitcoin investors could see a new all-time high during the autumn months. Source
El Salvador comes up with an innovative way to mining Bitcoin
The Central American country El Salvador, which is well-known for its early adoption of Bitcoin as a legal tender, is coming up with an innovation in cryptocurrency mining.
President Bukele revealed via Twitter that the country under his leadership has entered a phase of "testing and installation", which will focus on mining Bitcoin using volcanic energy. The country had already mined 0.00599179 bitcoin during testing last week, about $269, using volcano-powered bitcoin mining.
In addition, Bukele also shared a 25-second teaser video containing footage from the preparation of an innovative volcanic experiment.
If the Central American country is, indeed, minting new coin, it will mean that Bukele has made good on a promise first announced in June, when he said that he had instructed state-owned geothermal electric company, LaGeo SA de CV to "put up a plan to offer facilities for #Bitcoin mining with very cheap, 100% clean, 100% renewable, 0 emissions energy from our volcanos". Source
Fifth-largest U.S. bank enters cryptocurrencies
U.S. Bank, the fifth-largest retail bank in the United States, announced Tuesday that it is launching a cryptocurrency custody service for institutional investors, potentially setting the stage for wider mainstream acceptance of digital assets.
According to CNBC, U.S. Bank has partnered with New York Digital Investment Group (NYDIG) to provide security services for Bitcoin, Bitcoin Cash and Litecoin.Gunjan Kedia, chief executive of the U.S. Bank's wealth and investment management division, said that support for other cryptocurrencies like Ether (ETH) will be rolled out over time.
The U.S. Bank isn't the first major financial institution to offer crypto custody services; major players such as State Street, Bank of New York Mellon and Northern Trust have also announced plans to custody cryptocurrencies. It can therefore be expected that, as the cryptocurrency ecosystem grows, institutional investors will over time show even greater interest in owning cryptocurrency assets. Source
Coinbase in troubles
Coinbase, one of the leading and most-popular cryptocurrency exchanges is actually experiencing turbulent times. According to the latest news, the exchange suffered another security breach after attackers were able to bypass the company's multi-factor authentication, or MFA, feature in a coordinated campaign earlier this year.
The attackers stole cryptocurrency from 6,000 accounts, though the monetary value of the theft wasn't disclosed, according to a report from Bleeping Computer. Earlier this week, Coinbase reportedly notified affected customers that the theft occurred between March and May.
To gain access to the accounts, the attackers must have known the affected users' email address, password and phone number. It's not clear how the attackers obtained this information, though phishing scams targeting exchange users are not uncommon. However, Coinbase did identify a vulnerability in the account SMS recovery process that the attackers exploited to gain access to the accounts. Source
Axie Infinity spúšťa stakingový program
Axie Infinity, a play-to-earn non fungible token (NFT) game based on the Ethereum blockchain, announced the launch of a staking program for its native token, Axie Infinity Shards (AXS).
AXS holders can start staking their tokens, while the rewards will be activated in 24 hours to ensure all time zones could stake beforehand, according to a Thursday announcement.
The Axie Infinity team stated that" Staking is a way for us to reward our community members for having a long-term mindset and locking up their AXS tokens".
The team plans to give voting rights and "a say over the use of the Community Treasury" by staking.
Axie Infinity is currently the largest NFT game, which also has one of the largest discord servers in the world with more than 775,000 members. In the last month, Axie Infinity NFT has traded a total of more than half a billion dollars, with more than 392,000 active traders involved in the transactions.
The most expensive NFT from Axie Infinity, called "Axie Infinity #1457," was sold a few weeks ago for more than $230,000 (€198,800).
A total of 2 million AXS tokens will be distributed during the first month of the staking program. About 58 million of the set cap of 270 million AXS tokens are in circulation, and the rest will be released through staking, gameplay rewards and ecosystem reward structures, the announcement reads.
AXS token became a part of our dynamic Fumbi Index Portfolio in early September. The price of the AXS token has risen by more than 70% during last week. We are pleased that our clients can participate in this growth through our dynamic portfolio. Source
Grayscale adds new assets to Crypto Investment Fund
Grayscale Investments, the world's largest digital currency asset manager, announced Friday the quarterly rebalancing of its two diversified portfolios: the large-cap fund and the defi (decentralized finance) fund.
For the Grayscale Digital Large Cap Fund (OTCQX: GDLC), the company sold some of the existing components and used the cash proceeds to purchase Solana and Uniswap . It is the first time Solana has become part of Grayscale's investment vehicle.
The company now offers 15 funds, two of which are diversified portfolios.
Grayscale's total assets under management (AUM) as of Oct. 1 was $41.5 billion (€35.8 billion). Source
Start investing safely in cryptocurrencies now.
Odporúčame
More articles

with Fumbi