Crypto market is waking up again – Crypto weekly update
This week, the total market capitalization exceeded 1.71 trillion EUR. Increase at the 7-day interval is 21.27 %. Bitcoin increased by 19 % during the week to a current value of over 39,100 EUR. Bitcoin dominance is 43.1 %.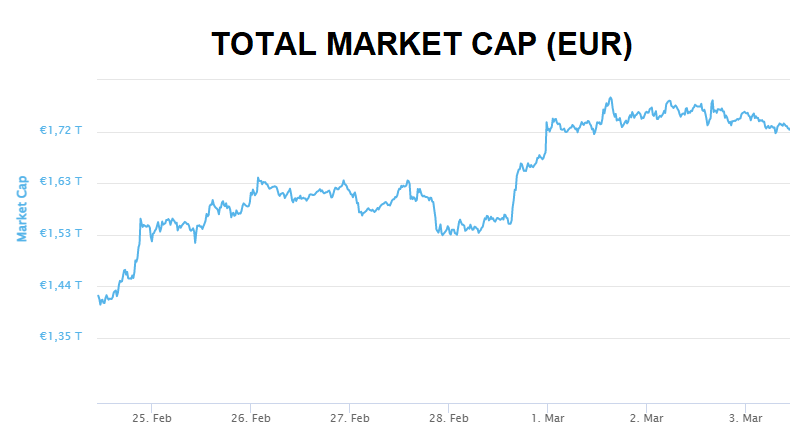 Bitcoin rises, ruble hits historic lows
The price of bitcoin, the most popular cryptocurrency, has risen by more than 25% since the Russia invaded Ukraine. Currently, bitcoin is trading at around $44,000, while one week ago was traded for $34,000.
The main driver of bitcoin rally was the decision made by European Union and Western countries to isolate Russia from the global economy as a result of its invasion of Ukraine. The measures taken have caused that the ruble plunged to a record low of less than 1 U.S. cent in value for the first time in its history.
The depreciation of the ruble has caused an capital inflows from russian investors into bitcoin. Russian investors are looking for a safe, transferable, and stable alternative of money.
According to data from Coinmarketcap, bitcoin's current market capitalization is $830 billion, surpassing the market capitalization of ruble. According to the most recent data from Central Bank of Russia, there are about 65.3 trillion rubles in circulation with a total market capitalization of $629 billion.
Since the West announced the unprecedented measures over the weekend, such as the cut from the SWIFT payment system and the freezing of 50 % of the assets of the Russian Central Bank, Russia has taken emergency precautions in efforts to save its economy. For example, Reuters reported the central bank raised its key interest rate from 9.5% to 20% on Monday.
In addition, Russian President Putin signed a decree stating that exporters will have to hold at least 80% of their income in rubles to support the Russian economy. However, even these precautions have not prevented a huge weakening of the ruble, which is currently not a safe store of wealth for the Russian people. Source
CME Group to offer micro options
The world's largest futures and options exchange by daily volume has announced its plans to offer micro Bitcoin and micro Ether options starting March 28, 2022.
According to a Tuesday press release published by CME Group, the new micro options contracts will be one-tenth of their respective underlying tokens in size and will cater to a wide range of market participants, including institutions and individual traders. The main goal of these options is attract new investors and grow the crypto ecosystem.
CME has long offered BTC futures, micro BTC Futures and diversified its offering to include ETH futures in March 2021. The new product offers a new way for traders to get exposure to the two leading crypto assets. Source
Non-zero bitcoin addresses on the rise!
It looks like the on-chain metrics in the Bitcoin network have turned 180 degrees after recent bearish signals. One of the major metrics regarding the number of non-zero addresses on the Bitcoin network started increasing again and reached a new ATH at the end of February. This comes shortly after Bitcoin saw significant capital inflows amid the ongoing war between Ukraine and Russia.
As the name suggests, non-zero addresses are wallets containing even the smallest fraction of bitcoin. A recent chart by the analytics resource Glassnode informed that such entities have begun increasing lately and charted a new all-time high after finally exceeding 40 million. The increase in non-zero addresses demonstrates the behavior of retail investors who invest their cash in Bitcoin.
In addition, addresses with a balance of at least one bitcoin, often called as "Whole Coiners", have recovered from its recent decline, and tapped a 10-month high of 800,000 addresses. The global escalation of tensions and uncertainty has prompted many investors to move their cash back into Bitcoin. Source
eBay to add crypto payment options soon
eBay, the U.S. internet company that runs the online auction and trading website eBay.com could integrate cryptocurrencies as one of the payment methods for goods and services soon.
The CEO said in an interview with The Street that the firm has been looking to integrate crypto payment options for quite some time. Iannone has not yet confirmed the integration of cryptocurrencies, but added that an official announcement could be made during the upcoming investor's day on March 10.
eBay is well-known for its positive attitude towards new technologies, including cryptocurrencies and blockchain. In addition, eBay launched NFT trading on its platform last year without making any official announcement regarding the same. Source
European Parliament postpones vote on POW cryptocurrencies
The parliament of the European Union is delaying a vote on a framework aimed at regulating cryptocurrencies amid concerns over proof-of-work mining.
In a Friday Twitter thread, European Parliament economics committee member Stefan Berger said the government body had canceled a vote on this regulation, which was scheduled to take place on Monday. Berger said parliament needed to clarify "the question of proof-of-work" in discussions with stakeholders to ensure a proper legal framework, adding that some might misinterpret the proposal as a ban on crypto.
Many lawmakers and regulators in the EU have been calling for a ban on proof-of-work mining as the crypto space grows and the impacts of climate change become more visible. However, we will have to wait a little longer for a decision in this case. Source
Curiosity : Crypto donations inflows to Ukraine
Based on data gathered by Cointelegraph, the amount of tracked crypto donations sent to the Ukrainian government, military and charities has surpassed $37 million at the time of publication. Most often, donations flow to Ukraine in Bitcoin, Ether and stablecoin Tether.
The biggest recipient of crypto donations appears to be the "Reserve fund of Ukraine," backed by the country's native cryptocurrency exchange, Kuna, which has raised approximately $13 million in crypto for Ukraine.
Other notable beneficiaries include Come Back Alive, a non-government organisation that helps armed forces in defence. So far, the organization received $7.2 million in cryptocurrencies.
Several prominent personalities and companies from the cryptocurrency ecosystem have joined the contributors to help Ukraine. Braiins, the world's oldest mining pool, with its donation of 10 BTC plus a portion of its hash rate to help Ukraine. Web3 humanitarian aid initiative RELI3F also sent, thus far, 185 ETH to three crypto funds that support Ukraine.
Gawin Wood, co-founder of Ethereum and founder of Polkadot, has also been a major contributor, sending $5 million worth of DOT tokens to Ukraine. Source
Start investing safely in cryptocurrencies now.
Odporúčame
More articles

with Fumbi