Crypto Projects With Record Fundraising in the First Half of the Year – Crypto Weekly Update
This week, the total market capitalization exceeded €1.125 trillion. The increase at the 7-day interval is 7.14%. Bitcoin increased by 5.48% during the week to a current value of over €23,800. Bitcoin dominance is 40.4%.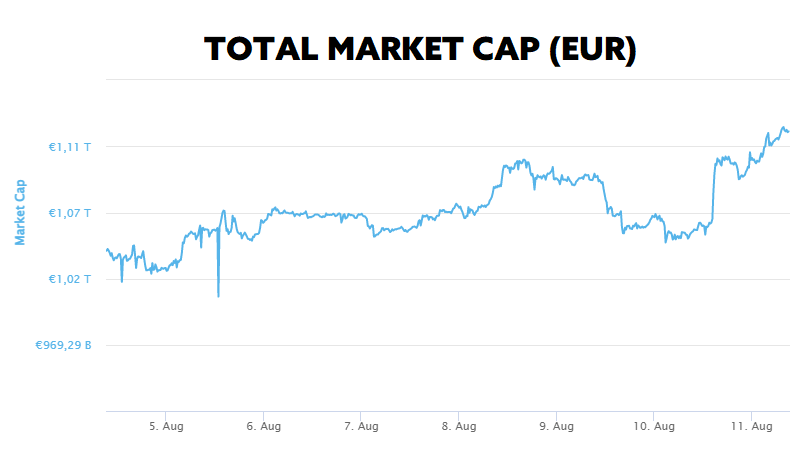 Crypto Projects With Record Fundraising in the First Half of the Year
Although crypto asset prices have been falling significantly in recent months, fundraising for cryptocurrency and blockchain technology projects has gained momentum this calendar year.
According to the latest report from analyst firms Messari and Dove Metrics, projects in centralized finance (CeFi), decentralized finance (DeFi), and NFTs have raised a total of $30.3 billion in capital for their expansion in the first half of the year.
The amount of capital raised in 1,199 funding rounds during the H1 surpassed the cumulative value of capital raised for the entire calendar year 2021 when 1,313 funding rounds raised a total of $30.1 billion. This means that investor interest in funding the development and expansion of various crypto projects is still significant.
More than 10.2 billion of the total funding in 2022 flowed into the CeFi sector, including, for example, cryptocurrency exchanges or various payment gateways. Nearly $8.6 billion has flowed into projects focused on Web3 and NFTs, with blockchain game developers such as Axie Infinity, CryptoKitties and Gods Unchained raising the largest portion of new capital.
Most of the funding going into crypto projects has come from hedge funds and venture capital firms. These companies are investing in crypto projects in order to find an "investment gem" and maximize the value of their investment.
According to another report from PWC, up to 38% of hedge funds are currently investing in digital assets and projects from the cryptocurrency sector, up from 21% in 2021. Source
Bitcoin Dominance at 6-Month Low
According to CoinMarketCap, the dominance of the largest cryptocurrency, Bitcoin, has reached its lowest level since mid-January 2021 and currently stands at 40.4%.
Several altcoins have come to the fore in recent weeks, including Ethereum, which plans to migrate to a new consensus model called Proof-of-Stake next month. This model will replace miners with so-called validators and reduce the energy consumption on the Ethereum network by 99.9%. Investors' interest is confirmed by Ethereum's dominance, which has increased from 14.3% to 19% in the last two months.
The specialized Altcoin Season Index, which measures and tracks the performance of altcoins compared to Bitcoin, has a score of 96 points out of 100. According to this indicator, the cryptocurrency market is currently in the "Alt Season" phase.
According to the index, altcoin season starts if 75% of the top 50 cryptocurrencies (excluding stablecoins) performed better than Bitcoin over the past 90 days. Currently, 47 out of 50 assets outperformed Bitcoin over the past 90 days.
Historically, when Bitcoin dominance dropped significantly, investors poured capital into Bitcoin over time. A similar situation can be expected in the future, creating a great opportunity to earn for Bitcoin bulls. With our product Fumbi Custom, everyone can invest directly in Bitcoin simply and with a few clicks. Source
Ethereum Attracts the Attention of Institutional Investors
CoinShares' traditional Monday report focusing on investment products in digital assets revealed that investors are raising interest in the cryptocurrency Ethereum with the long-awaited transition of the Ethereum network to Proof-of-Stake.
Investment products focused on digital assets saw capital inflows of just $3 million over the past week. However, in a positive sign, this is the sixth consecutive week of capital inflows, with more than half a billion dollars flowing into crypto funds over the past six weeks.
Ethereum-focused funds fared the best in the past week, with $16.3 million in capital inflows. Funds focused on Solana and Cardano also grew, with $0.6 million and $0.2 million flowing in.
On the other hand, Bitcoin-focused funds saw capital outflows of $8.5 million in the first week of August. However, since the beginning of the year, investors have poured $311.9 million into Bitcoin funds.
Geographically, the largest inflows were recorded from investors from the United States, who poured $16.8 million into the funds. Investors from Germany, Switzerland and Sweden also showed interest in crypto funds. Source
Meta Enables Instagram NFT Integration
Late last week, Mark Zuckerberg-led Meta published a post announcing its expansion of non-fungible tokens (NFTs) to 100 countries in Africa, Asia, the Middle East and America. This includes adding support for wallet connections with Coinbase Wallet and Dapper and the ability to post digital collectibles minted on the Flow blockchain. The initial rollout targets the popular social media app Instagram.
To post your NFT on Instagram, you will simply need to connect your digital wallet to Instagram. The Coinbase Wallet, Dapper Wallet, Metamask and other third-party wallet integrations will be completed in the coming days, according to the post.
Supported blockchains at this time are Ethereum, Polygon and Flow, and there will be no fees associated with posting or sharing a digital collectible on Instagram.
In response to this news, the value of the Flow cryptocurrency, which is also part of our Fumbi Index Portfolio, has risen significantly. In the last five days alone, the flow has increased by 48%, and we at Fumbi are happy that you can also benefit from this growth. Source
Voyager Digital Resumes Cash Withdrawals
In a blog post on Friday, lending company Voyager Digital said that users would soon be able to withdraw cash from the platform. This comes more than a month after Voyager suspended deposits and withdrawals on its app.
According to the blog post, investors who have U.S. dollars in their account will be able to gradually withdraw their funds up to $100,000 per day. The withdrawal option is expected to be launched from August 11, with transfers to be made within 5 to 10 business days.
The announcement of the cash withdrawal option comes in response to Thursday's court ruling in which the bankruptcy court allowed the company to use $270 million held at Metropolitan Commercial Bank in New York to compensate its customers.
Voyager Digital filed for Chapter 11 bankruptcy on July 5 in the U.S. Bankruptcy Court for the Southern District of New York, stating that the move was part of a reorganization plan that would eventually allow users access to their accounts again. Source
Interesting Fact: Iran Used Cryptocurrencies for Import Payment
Iran, which has struggled with economic sanctions for decades, made its first international order to import goods for cryptocurrencies, paying $10 million worth of digital assets.
The news that Iran used cryptocurrencies to import goods was posted on Twitter by Iran's Deputy Minister of Industry, Mining and Trade, Alireza Peyman-Pak.
"By the end of September, the use of cryptocurrencies and smart contracts will be widely used in foreign trade with target countries." said the Iranian minister on the social network Twitter.
Although it is not known exactly what cryptocurrency Iran used for the import trade or what goods were involved, it appears that Iran plans to continue financing imports through cryptocurrencies in the future. Until February 2022, Iran was the most sanctioned country in the world, but Russia now takes the top spot as the most sanctioned nation in the world following its invasion of Ukraine earlier this year. Source
Start investing safely in cryptocurrencies now.
START INVESTING
Odporúčame
More articles

with Fumbi