eBay Launches Its Own NFT Collection – Crypto Weekly Update
This week, the total market capitalization exceeded 1.17 trillion EUR. The decrease at the 7-day interval is 0.84%. Bitcoin decreased by 0.51% during the week to a current value of over 27,700 EUR. Bitcoin dominance is 45.1%.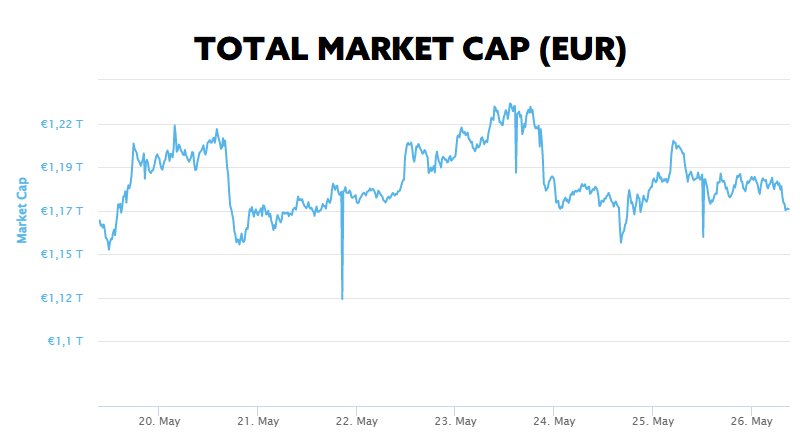 eBay Launches Its Own NFT Collection
US multinational e-commerce company eBay is the latest company to enter the NFT business. The global market leader in online marketplace sales, which connects millions of buyers and sellers worldwide, has announced the launch of a series of exclusive NFTs through a strategic partnership with OneOf, a platform that targets NFT communities in the music, sports and healthy lifestyle industries.
"Through our partnership with OneOf, eBay is now making coveted NFTs more accessible to a new generation of collectors everywhere," said Dawn Block, the Vice President of Collectibles, Electronics and Home at eBay.
The NFT collection of 13 limited-edition digital collectibles, dubbed "Genesis," will have four tiers – green, gold, platinum, and diamond. The first-ever NFT collection from eBay will feature 3D and animated visualizations of iconic athletes who have appeared on Sports Illustrated covers over the years. The first NFTs to go on sale Monday were those of legendary Canadian hockey player Wayne Gretzky.
"Forty years ago I was grateful to be on the cover of Sports Illustrated, it was a monumental moment in my life," said Wayne Gretzky. "I'm honored to bring this collectible to my hockey fans who have followed my career for decades."
eBay has thus officially joined the ever-growing number of companies that want to implement NFT in their platforms. For example, Instagram recently announced that it would begin testing NFT with select creators in the United States. Spotify is also a major player in this field, confirming last week that it is testing a new feature that will allow artists to promote their NFTs on profiles. Source
Bitcoin Extends Record Streak of Weekly Losses
The most popular cryptocurrency, Bitcoin, has set a new historical record, which, however, will go down in history as "negative". Bitcoin has already formed the eighth red weekly candle (1W Candle) in a row. This means that the price of bitcoin has closed the week at a lower level than at the beginning of the week for the eighth time in a row.
This year's negative streak began in late March at $46,900, around the time Terra announced plans to buy $10 billion in bitcoin to back its UST stablecoin. The steps taken by the Federal Reserve (Fed) to tighten monetary policy and the collapse of Terra's platform have caused bitcoin to plummet by nearly 38% since March 28. The market situation was not helped much by the quarterly reports of Block or Coinbase, which saw a significant drop in revenue during the first quarter.
Other coins have been slammed as well. Besides LUNA's collapse, Ethereum and Cardano went down by 33% and 41%, respectively.
The previous record for weekly red candles was set back in 2014 when bitcoin recorded six red weekly candles in a row. Back then, its price steadily declined from $507 on August 25 to $323 on October 6.
Market cycles are very important for investors in all financial markets. Market cycles can tell investors when to invest aggressively and when to switch to a defensive strategy. Market downturns are an ideal time for additional asset accumulation and investment portfolio expansion, as the long-term trend in financial markets has historically proven to be upward. Source
Shift in ETH 2.0 Development
Developers on the Ethereum network are close to reaching another major milestone. According to published information, the Ropsten testnet will undergo an update in the first half of June that will ensure the testnet's transition to the Proof-of-Stake (POS) consensus algorithm.
Last month, the developers working on The Merge, an upgrade to the Ethereum network to switch it from a Proof-of-Work (POW) to POS consensus model, began testing how the switch would work on a shadow fork. Two days later, things seemed less rosy as Ethereum Foundation developer Tim Beiko said on Twitter that the upgrade had been pushed to the second half of 2022.
The transition from the consensus POW algorithm to POS will mean the end of POW mining on the Ethereum network. Mining is the process through which new ETH coins are put into circulation and transactions are verified.
The new model will replace miners with so-called validators, who do not guarantee the security and uniqueness of transactions with computing power but directly with their staked ETH coins. The migration of the network to the new consensus model is expected to reduce the energy costs of running the blockchain by up to 99.9%, as well as reduce the issuance of new ETH into circulation. Source
ECB Survey Shows Interesting Results
The European Central Bank (ECB) released the results of a survey on cryptocurrencies on Tuesday in an effort to gauge the ownership sentiment among residents from six eurozone countries.
Participants were aged between 18 and 70 from the Netherlands, Spain, Italy, Germany, Belgium and France. The results show that around 10% of respondents own cryptocurrencies. Of this group, only 6% of respondents reported owning more than €30,000 worth of digital assets, while up to 37% of respondents reported owning more than €999 worth of cryptoassets.
Across all countries, investors from the TOP 20% of the income-richest population had the highest share of cryptocurrency ownership compared to other income groups.
The survey was included in a new report published by the ECB the same day regarding the growing adoption of crypto assets despite their risk factors. As cited by the ECB, 56% of respondents in a recent Fidelity survey said they had some exposure to cryptoassets, up from 45% in 2020.
Increased availability of crypto-based derivatives and securities on regulated exchanges, such as futures, exchange-traded notes, exchange-traded funds, and OTC-traded trusts, have contributed to the momentum. Source
Stablecoin USDT Passed the Audit
The most popular stablecoin on the market, USDT, has passed a successful audit. In a Thursday blog post, Tether announced that the USDT stablecoin is "fully backed" by reserves. The release of the audit results comes just as stablecoins are being targeted for criticism, in an attempt to assuage the fears of users of the USDT stablecoin, whose price briefly depegged from the value of one dollar on May 12.
According to the stablecoin issuer, its commercial paper holdings over Q1 2022 decreased 17% from roughly $24 billion to $20 billion, with an additional 20% reduction to be reflected in the firm's next quarterly report.
On the other hand, Tether increased its equity investments in money market funds and US Treasury bills by 13% in the first quarter, from roughly $34.5 billion to $39 billion.
In total, the company has reported $82 billion in reserves to cover stablecoin, with USDT's current market capitalization at $73 billion. This means that Tether has enough cash to cover every single USDT in circulation.
As part of an $18.5 million settlement with the New York Attorney General's Office in February 2021, in which authorities alleged that the firm misrepresented the extent to which its USDT stablecoins were backed by fiat collateral, Tether is required to publish reserve-related reports on a quarterly basis. Source
Interesting Fact: Bitcoin Pizza Day
The crypto community around the world celebrated one of the most important days in bitcoin history this Sunday.
May 22nd is forever etched in history as "Bitcoin Pizza Day". On this very day twelve years ago, László Hanyecz, an American programmer born in Hungary, ordered two pizzas for a whopping 10,000 bitcoins. Historically, this is the first-ever commercial transaction in which someone purchased goods using cryptocurrency.
"I'll pay 10,000 #bitcoins for a couple of pizzas.. like maybe 2 large ones so I have some leftover for the next day. If anyone is interested please let me know." Hanyecz wrote on Tuesday, May 18, on the Bitcoin.org forum.
Even so, he didn't end up getting his pizza until Saturday. By Friday, some were even led to reach out about Hanyecz's health, with user BitcoinFX asking if he was "getting hungry." The price per bitcoin at the time was $0.004
Hanyecz has stated several times that he has no regrets about exchanging pizzas for bitcoins. With his transaction, Lászlo confirmed that bitcoin has all the important characteristics of traditional currencies and can be used to easily pay for goods and services. Source
Start investing safely in cryptocurrencies now.
START INVESTING
Odporúčame
More articles

with Fumbi