Elon Musk says Tesla now accepts Bitcoin- Crypto weekly update
This week, the total market capitalization exceeded 1.40 trillion EUR. Decrease at the 7-day interval is 6,66 %. Bitcoin decreased by 9.2 % during the week to a current value of over than 44.900 EUR. Bitcoin dominance is 59.8 %.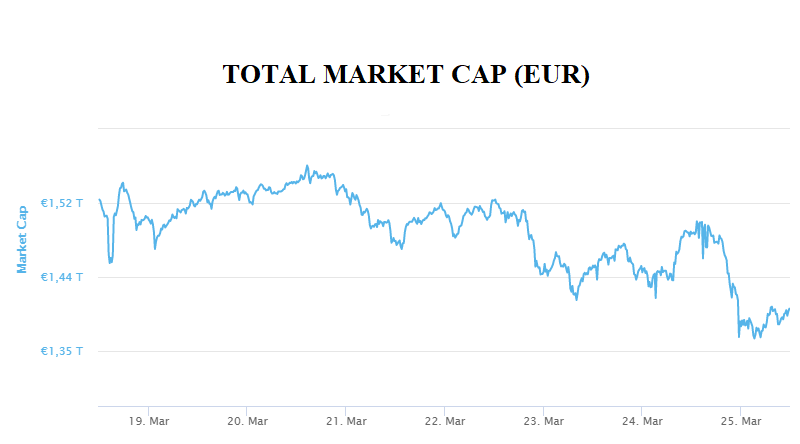 Tesla now accepts Bitcoin
Tesla CEO Elon Musk announced today via his Twitter account that Tesla cars can now be purchased using Bitcoin. So far, this news only applies to clients from America. The company will operate Bitcoin nodes directly and would hold on to the Bitcoin it accumulates without converting it to fiat. In practice, this means that it will not be necessary to use an alternative payment gateway that would convert Bitcoin into FIAT money.
The fact that Bitcoins obtained from the sale of vehicles will not be transferred to FIAT money suggests that Elon Musk does not perceive Bitcoin only as a transactional medium, but also an effective investment tool. Tesla first signaled its intention to start accepting Bitcoin for products in early February, following its purchase of $1.5 billion (€ 1.25 billion) worth of the digital asset, an SEC filing showed. Source
Demand for Bitcoin in Turkey is growing enormously
The lira's value dropped 14 % in a flash dip after Turkey's president Erdogan fired the governor of the country's central bank. Former governor Naci Agbal had been credited with pulling the lira out of historic lows, partly by raising interest rates to fight inflation. His abrupt removal was said to have shocked domestic and foreign investors, but the reaction did not take long.
Google searches for Bitcoin emanating from Turkey IP addresses exploded in the past days. According to data from Google Trends, the number of Bitcoin searches increased by up to 566 % a few hours after the governor has been fired. The uptick in the number of Bitcoin searches by Turkish citizens is an all-time high to date, representing almost double the number of searches recorded during the bull run of 2017 and 2018. Source
Litecoin on-chain activity is growing
The number of active addresses on Litecoin, the world's tenth-largest cryptocurrency by market cap, has grown by over six-fold in the past year, data from on-chain analytics service Glassnode shows. In addition, the number of addresses used every day is also increasing. David Schwartz, project director of the Litecoin Foundation, pointed out that the number of active addresses in the Litecoin network is currently more than 300,000 per day, opposite to the average of only 50,000 active addresses in March 2020.
The growth in wallet usage comes alongside growth in prices. Litecoin is currently valued at over $ 12 billion ( €10,1 billion) and traded at over $ 180 (€ 148), while a year ago, Litecoin was traded for only $ 30 ( € 25). Source
Decentralized exchanges liquidity tags new all-time high
Volumes and liquidity on decentralized exchanges are constantly growing and the amount of collateral on decentralized exchanges is nearing a milestone high of $10 billion (€ 8.4 billion), with Uniswap still sitting at the top of the heap. Uniswap has over half of the total liquidity locked up in DEXs, with a total value locked of $5.4 billion (€ 4.55 billion). Volumes on decentralized exchanges for February soared to a record $72 billion (€ 60.8 billion).
According to Dune Analytics, Uniswap's dominance over the Ethereum-powered DEX sector is growing, with the exchange hosting roughly $6.5 billion (€ 5.49 billion) worth of weekly trading. The sector's combined volume for March has already tagged $44.3 billion (€ 37.15 billion) – more than October and November 2020 combined. Source
Brazil has approved crypto ETF funds.
The Brazilian Securities and Exchange Commission approved two cryptocurrency ETFs this week — one 100% Bitcoin and the other composed of five cryptocurrencies, in addition to Bitcoin (BTC). It will be the first ever crypto ETF funds in Latin America. Both ETFs will be traded on Brazil's Stock Exchange.
According to Brazil Journal, two of the country's main banks, Itaú and BTG Pactual, have already started to offer ETFs to their customers. It is expected that ETFs consisting only of Bitcoin could start trading as early as this month, while the mixed ETF fund should start trading in the second half of 2021. Several experts see this movement as an important milestone for innovation in the Brazilian capital market. Source
Start investing safely in cryptocurrencies now.
Odporúčame
More articles

with Fumbi