Ethereum Awaits the Next Update – Cryptocurrency Market Overview (2.12 – 15.12.)
Over the past two weeks, the total market capitalisation exceeded EUR 809 billion. The decrease in market capitalisation over a 14-day period is 1.7%. The price of Bitcoin has risen by 1.34 % over the last 14 days to a current value of over €16,620. Bitcoin's dominance is currently around 39,6 %.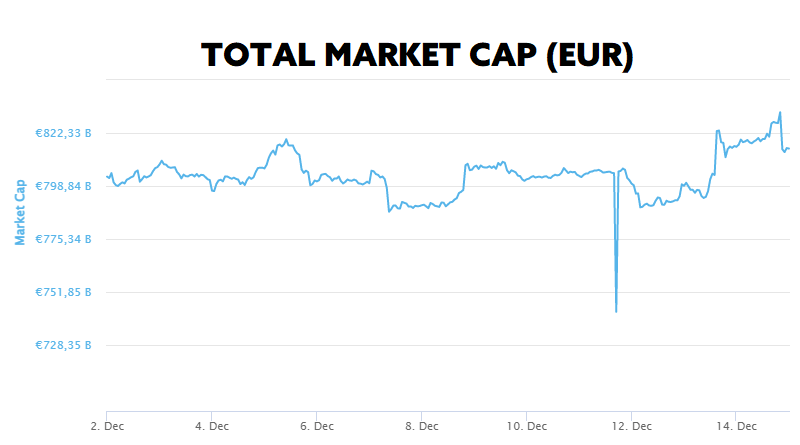 Ethereum Awaits the Next Update
According to a discussion at the 151st Ethereum Core Developers Meeting on 8 December, the programmers collectively agreed on a tentative date for the Shanghai Hard Fork upgrade, which they set for March 2023. In addition, the developers also agreed to launch the Ethereum Improvement Proposal (EIP) 4844, which will introduce proto-danksharding to the network.
Although the long-awaited proof-of-stake Merge upgrade was completed on 15 September, staked ETHs are still locked in the protocol since the launch of Beacon Chain. The upcoming Shanghai upgrade will allow users to remove their staked ETH from the protocol.
In addition to the hard fork, an upgrade EIP-4844 is scheduled for May or June, which is designed to introduce a new prototype of data blobs and transactions. Currently, second-layer technologies such as Optimistic Rollups can move Ethereum's computations as well as network storage outside of the main Ethereum network, allowing them to scale 10 to 100 times better than Ethereum. The new update is expected to introduce the creation of so-called "large portable bundles" that can contain cheaper data in Ethereum transactions and improve rollups' capacity by up to 100x. However, while the upgrade will lower the transaction fees on layer-2 solutions, it will not affect Ethereum gas fees.
Last December, Ethereum co-founder Vitalik Buterin shared that his end game was for the blockchain to act as a simple base layer, with users conveniently storing their assets in Zero-Knowledge (ZK)-Rollups that will be fully compatible with the Ethereum Virtual Machine (EVM). Source
Binance Faces Possible Charges
The United States Department of Justice (DOJ) is nearing the completion of its investigation into cryptocurrency exchange Binance, which started in 2018. A report from Reuters suggests that there is a conflict among U.S. prosecutors over whether the gathered evidence is enough to press criminal charges against the crypto exchange and its executive or not.
The 2018 investigation revolve around Binance's compliance with U.S. anti-money laundering (AML) laws. U.S. prosecutors investigated allegations related to unlicensed money transfers, possible money laundering, and criminal sanctions violations.
According to available information, Binance's defence attorneys have met with Justice Department officials in recent months to argue against any criminal proceedings. According to Binance, any criminal proceedings brought against them could wreak enormous havoc on the entire crypto industry during the current bear market. In addition, the report states that discussions between Binance's defence attorneys and State Department officials included potential plea deals.
Binance's struggle with compliance is nothing new, as the exchange has faced numerous warnings over the years from multiple jurisdictions. However, the exchange has managed to overcome the compliance issues in many of those countries barring the United States, despite its slew of hirings to strengthen its regulatory and compliance team. The Fumbi team will be actively monitoring this case. Source
Inflation in the US Is Declining
The price of Bitcoin rose by over 5% on Tuesday afternoon in response to the latest inflation data in the United States.
The Consumer Price Index (CPI) in the United States rose by 7.1% year-over-year, signalling a slowdown in the pace of inflation. The rise in inflation was even below analysts' expectations, who had predicted a 7.3% year-on-year rise.
The good news for bitcoin miners is the 1.6% drop in U.S. energy prices. The United States is now a mining powerhouse, with up to 38% of total computing power concentrated there, according to the CBECI index.
However, it is still difficult to predict whether inflation has peaked. Should this be the case, there is a possibility that the Federal Reserve will slowly reduce the pace of interest rate hikes, which, according to estimates, could come to a complete halt as early as March 2023. Experts agree that if the Fed were to back away from rate hikes and slow or completely suspend quantitative tightening, the price of BTC could shoot up and liquidate short positions in futures contracts.
The Federal Open Market Committee (FOMC) will meet on Wednesday, 13 December, to decide on an interest rate hike. The next meeting is expected to see a 0.5 p.p. rate hike. Source
Tether Is Committed to Reducing the Amount of Secured Loans
The world's largest stablecoin issuer, Tether, has pledged to eventually stop the practice of lending out funds from its reserves, saying it is "mission critical to restore faith" in the crypto market.
In a 13 December blog post, Tether addressed recent mainstream media FUD (fear, uncertainty and doubt) regarding its secured loans. In the blog post, Tether reiterated that their loans are over-collateralised and covered by "extremely liquid assets" while also adding that the firm would be eliminating these loans throughout 2023.
Tether's secured loans operate similarly to private banks lending to customers using secured collateral, the company explained. However, unlike banks that operate on fractional reserves, Tether claimed that its loans are fully backed by over 100%.
The move is likely in response to a WSJ report earlier this month that alleged these loans were risky. It claimed that the "company may not have enough liquid assets to pay redemptions in a crisis." Source

Sam Bankman-Fried Will Spend Christmas Behind Bars
The founder of the infamous FTX crypto exchange, which declared bankruptcy in November, is likely to spend this Christmas behind bars. Just one day after his arrest, he was denied bail by the Bahamas.
According to Reuters, Bahamas Chief Magistrate JoyAnn Ferguson-Pratt rejected a request by Sam Bankman-Fried's (SBF) lawyers for parole, citing the high risk of attempting to flee. As a result, SBF will spend Christmas in the Bahamas Correctional Facility on the judge's orders and remain there at least until 8 February 2023.
SBF faces a maximum sentence of up to 115 years in prison. The scope of the case is so large that it may vary depending on new evidence that comes to light against the defendant. Merrick Garland, U.S. Attorney General, said Sam Bankman-Fried conspired to defraud FTX customers and misappropriate their deposits for his personal benefit, making him liable for multiple charges, including money laundering and securities fraud.
Damian Williams, U.S. Attorney for the Southern District of New York, said that Sam Bankman-Fried donated "tens of millions of dollars in illegal campaign contributions" to both Democratic and Republican politicians with money stolen from clients. He further added that the FTX collapse was one of the biggest financial frauds in American history. The Fumbi team will be actively monitoring the whole FTX scandal and will keep you updated. Source
Ledger Unveils New Hardware Wallet
Hardware wallet maker Ledger unveiled its 7th crypto wallet in early December, which the maker of the original iPod collaborated on developing.
Tony Fadell, the inventor of the iconic iPod Classic, teamed up with Ledger to help the company design the crypto wallet device known as the Ledger Stax. The company announced the news on 6 December at a Ledger event called Ledger Op3n in Paris.
Ledger's new credit card-sized hardware wallet features a large E Ink display, touch screen, Bluetooth support or wireless charging. The device is also equipped with magnets that allow users to store multiple such devices on top of each other.
The Ledger Stax will start selling at a price of $279 and will be available in the first quarter of 2023. However, Ledger is already taking pre-orders for the hardware device. Source
Start investing safely in cryptocurrencies now.
INVEST WITH FUMBI
Odporúčame
More articles

with Fumbi