Ethereum hits new all-time high – Crypto weekly update
This week, the total market capitalization exceeded 1.96 trillion EUR. Increase at the 7-day interval is 15 %. Bitcoin increased by 5 % during the week to a current value of over than 47,400 EUR. Bitcoin dominance is 45.1 %.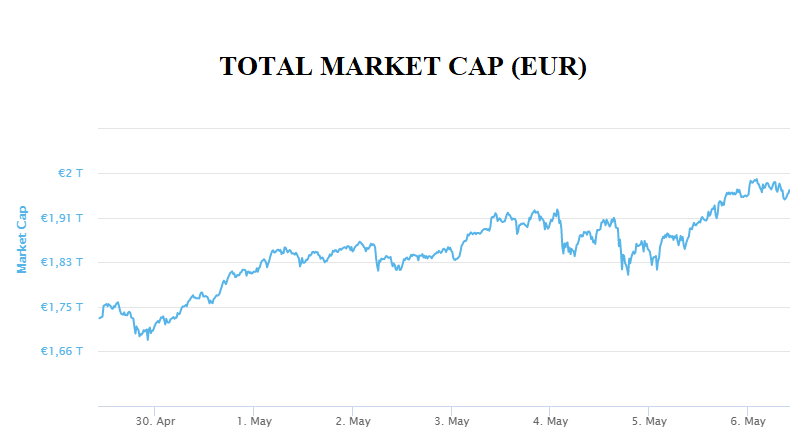 Ethereum continues its 'bull run'
Ethereum, the second most popular and powerful cryptocurrency, surpassed the psychologically significant mark of $3,000 (€2,500) for the first time in its history on Sunday. Since the beginning of calendar year 2021, Ethereum has achieved an appreciation of more than 360 %, while its price has increased by more than 1300 % in the last year.
Multiple headwinds share responsibility for Ethereum's rise:
The upcoming "London Hard Fork" – Hard fork in the Ethereum ecosystem, scheduled for 14 July 2021 will bring with it the implementation of the EIP-1559. This implementation will mainly affect the fee structure in network, as well as reduce the amount of ETH rewarded to miners. Also, EIP-1559 will completely change Ethereum's inflation policy.
Growing interest in decentralised finance – Ethereum represents the primary ecosystem of the functioning of decentralised finance system. Over the past 30 days, total value locked in the decentralized finance sector has almost doubled.
Ethereum Blockchain issuance of bonds – we informed you in last weekly update that the European Investment Bank issued two-year bonds through the Ethereum blockchain, totally worth €100 million ($120 million).
Increasing activity on the Ethereum blockchain and interest of institutional investors.
Ethereum's price increase has made its market capitalisation now higher than the market capitalisation of companies like Bank of America or PayPal. Source
Cardano IOHK expands to Africa
IOHK, the company behind Cardano's development, has announced a partnership with the Ethiopian Government to help rebuild the country's education system. The research and development arm behind Cardano is deploying its expertise to provide Ethiopian authorities with a new system for student and teacher identification, digital grade verification and the remote monitoring of school performance. The innovative blockchain solution should affect roughly 5 million students in 3,500 schools. Source
Uniswap V3 update
The decentralized platform Uniswap is about to be updated to a new V3 version. As the total lockout (TVL) in the DeFi sector continues to grow, the launch of a new Uniswap version could be the catalyst for DeFi's next big bull run.
Uniswap v3 promises advanced new features and opportunities for yield generation with its launch scheduled for May 5. In addition, the update should bring new features that should increase liquidity control and reduce business risk. Source
EBay interested in crypto
A growing number of companies have begun to accept virtual currencies as a form of payment is constantly growing. Companies such as Tesla or PayPal already allow their clients to pay for goods directly via cryptocurrencies.
In an interview with CNBC, Chief Executive Officer Jamie Iannone said that accepting virtual currency was an option the company was looking at. In his words, EBay is " open to the possibility of accepting cryptocurrency as a form of payment in the future".
The company also said that they are actually looking at ways to get non-fungible tokens (NFTs) on its platform. NFTs, a type of digital asset that exists on a blockchain, have exploded in popularity this year. Digital art or NFT collectibles are sold through blockchain for millions of dollars worldwide. It is on Ebay, where interesting collectible pieces are often sold. This is the main motivation for the company to become a part of the NFT space. Source
S&P launched cryptocurrency indexes
S&P Dow Jones Indices, a major global resource for index-based data and research, has introduced its first cryptocurrency indexes amid a renewed surge on crypto markets. The company announced on Monday that it had launched three crypto indexes tied to the performance of the two largest cryptocurrencies: Bitcoin (BTC) and Ether (ETH).
The newly introduced indexes include:
Bitcoin Index – S&P Bitcoin Index (SPBTC)
Ethereum index – S&P Ethereum Index (SPETH)
Combined Index – S&P Cryptocurrency MegaCap Index (SPCMC)
The company stressed that the new crypto indexes are designed to measure the performance of crypto assets listed on recognized, open exchanges that meet minimum liquidity and market capitalization requirements. "The indices aim to bring transparency to the emerging cryptocurrency market," the S&P Dow Jones Indices noted. Source
Galaxy Digital to acquire BitGo
Galaxy Digital, a crypto and blockchain-focused financial services and investment manager founded by Mike Novogratz, is set to acquire institutional crypto custodian service and wallet operator BitGo. Galaxy digital will pay $1.2 billion (€1 billion) to settle the deal, according to the latest news.
Under the acquisition's terms, BitGo shareholders will get 33.8 million in newly issued shares of Galaxy Digital, in addition to $265 million (€221 million) in cash. BitGo shareholders will jointly own 10% of the new company's proforma, while Galaxy expects to retain most of its current employees and BitGo management team.
BitGo presently has over $40 billion in assets under custody and provides services to over 150 exchanges, in addition to over 400 institutional clients. Each month, the company processes over 30 billion transactions and provides custody services for over 400 different digital assets. Source
Start investing safely in cryptocurrencies now.
Odporúčame
More articles

with Fumbi