Ethereum Is One Step Closer to Deploying Eth 2.0  – Crypto Weekly Update
This week, the total market capitalization exceeded 1.75 trillion EUR. The decrease at the 7-day interval is 4.89%. Bitcoin decreased by 6.78% during the week to a current value of over 37,700 EUR. Bitcoin dominance is 41.1%.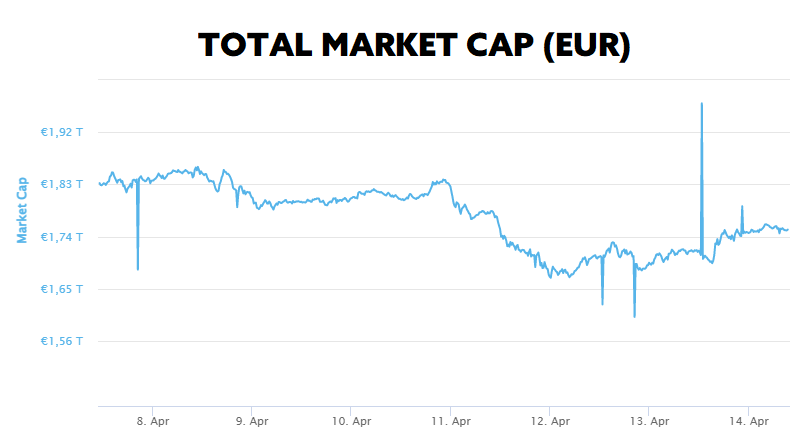 Source: Coinmarketcap
Ethereum Is One Step Closer to Deploying Eth 2.0
The long-vaunted and anticipated transition of the Ethereum network to its greener variant appears to be one step closer to reality. Indeed, one of the developers has announced another significant advancement in testing.
Over the past weekend, Ethereum DevOps engineer Parathi Jayanathi announced on social network Twitter that his team had launched a so-called shadow fork that would allow more comprehensive and extensive testing of functionalities.
A shadow fork is a way in which a stress test can be performed to validate assumptions and identify potential flaws. Shadow fork is essentially a term that refers to the copying of data from the main network, in this case, the Ethereum blockchain itself, to a test network where developers can test various features before deploying them to the main network.
Ethereum developers created a test environment that is much more similar to the main network than all previous test networks. This testnet has processed 6.7 million transactions so far. In addition, Jayanthi warned that the shadow fork would share some data with the main Ethereum network, which means that some transactions may appear in both chains.
Back in mid-March, a major milestone was reached with the merge of the Kiln test network when the PoW execution layer merged with the PoS Beacon Chain. The creation of the shadow fork, however, represents another significant milestone that lead developer Tim Beiko described as the "key to determining the date of the actual merge". Source
Shopify integrates Strike Wallet
Strike, the world's leading digital payments platform built on Bitcoin's Lightning Network, has announced its partnership with e-commerce company Shopify. US merchants on Shopify will now be able to accept payments from customers around the world via bitcoin.
"We're proud to partner with Shopify to provide merchants with a cheaper and faster way to accept US dollars using Bitcoin technology. "The Lightning Network is a global payments network that lowers costs, enhances speed, drives innovation, improves financial inclusion, and brings the power of choice to consumers and merchants," said Jack Mallers, founder and CEO of Strike.
Designed primarily with ease-of-use in mind, Shopify's merchant integration will allow merchants to quickly and easily accept bitcoin payments in the same way they have been accepting payments in US dollars.
With the Strike integration, Shopify merchants can accept payments globally, reducing the costs associated with cash-final settlement. In addition, the Strike integration will allow Shopify merchants to diversify their existing payment methods and expand into other and previously untapped global markets. Additionally, the collaboration will allow Shopify merchants to generate savings through low-cost payment processing. Source
Financial Advisors Want Spot ETF
A recent survey conducted by Nasdaq among financial advisors in the United States found that up to 72% of advisors would invest the capital raised from clients in cryptocurrencies if they had access to a bitcoin spot ETF.
However, only 38% of those surveyed think the US Securities and Exchange Commission will approve a spot ETF within this calendar year. 31% of those surveyed believe it is highly unlikely the SEC will approve a spot ETF this year.
"The vast majority of advisors we surveyed plan to begin allocating to crypto or increase their existing allocation to crypto," said Jake Rapaport, head of digital asset research at Nasdaq. As the demand for crypto assets continues to grow, advisors will likely be forced to look for institutional solutions to offer cryptocurrencies.
The survey was conducted on a sample of 500 financial advisors surveyed last month by 8 Acre Perspective on behalf of Nasdaq. The sample surveyed collectively manages $26 trillion for their clients. Source
Blockstream and Block Inc. Will Build Solar Mining Facilities
Last Friday, Blockstream and Block Inc. (formerly known as Square) announced the construction of a solar-powered bitcoin farm to mine bitcoins in Texas. Blockstream and Block began collaborating on the project last June, with Block promising to invest $5 million for its construction. According to Blockstream, the carbon-neutral solar array slated for mining will use 3.8 MegaWatts of electrical capacity using Tesla's Solar photovoltaic cell array and 12 MWh Tesla Megapack battery.
The Tesla Megapack is a large-scale rechargeable lithium-ion battery stationary energy storage product intended for use at battery storage power stations, manufactured by Tesla Energy, the clean energy subsidiary of Tesla, Inc.
In addition to its physical construction, these two companies will build a publicly accessible dashboard to keep the public updated on the latest news and the project's economics. This will allow the public to track a number of key metrics, including mining output, the number of bitcoins mined, power output, total uptime, or return on investment. This dashboard will be accessible 24/7 to anyone, anywhere in the world. Source
Us Inflation at a Record High
According to Tuesday's data, the annual CPI inflation rate in the US reached a 41-year high of 8.5%, raising concerns over a potentially impending global recession and belt-tightening.
The Fed is signaling resolve about tightening policy to curb the worst inflation in four decades, even at the expense of economic growth. The Fed raised interest rates for the first time in three years last month and signaled plans to raise rates potentially seven more times.
In addition, the Fed could begin aggressively unwinding its balance sheet by selling bonds and mortgage-backed securities back into the open markets. This process, known as quantitative tightening, aims to shrink the circulating money supply within the economy to curtail consumer demand and consequently contain the accelerating inflation. Source
Interesting Fact: Vitalik Buterin Supported Ukraine
Last week, Canadian-Russian programmer and Ethereum founder Vitalik Buterin donated $5 million in ETH tokens to Ukrainian charities.
Buterin donated $2.5 million to Aid for Ukraine and Unchain Fund each. Transaction records show that Buterin sent the donations in three transactions of 750 ETH, 250 ETH, and 500 ETH from his address, vitalik.eth.
On Feb. 24, Buterin made other comments on the war between Russia and Ukraine, calling the conflict a "crime against the Ukrainian and Russian people."
Interestingly, Buterin himself did not announce the aid to the charities or inform anyone about it. The fact that he had donated funds to charities was only noticed by the charities themselves, which subsequently informed the public about it. Source
Start investing safely in cryptocurrencies now.
START INVESTING
Odporúčame
More articles

with Fumbi