Fumbi is celebrating its 2nd anniversary! What we have achieved?
It has been two years since Fumbi was launched as the first startup in Slovakia to create a platform for safe and intelligent investing in cryptocurrencies. We are happy you have been with us and we really appreciate it.
For some people, it may seem that 2 years is a very short time, but statistics show that every third startup usually does not survive the first two years.
For Fumbi, as a Slovak startup in the field of cryptocurrencies, this period has been interesting and challenging at the same time. Let's take a look at what we have managed to achieve over these two years.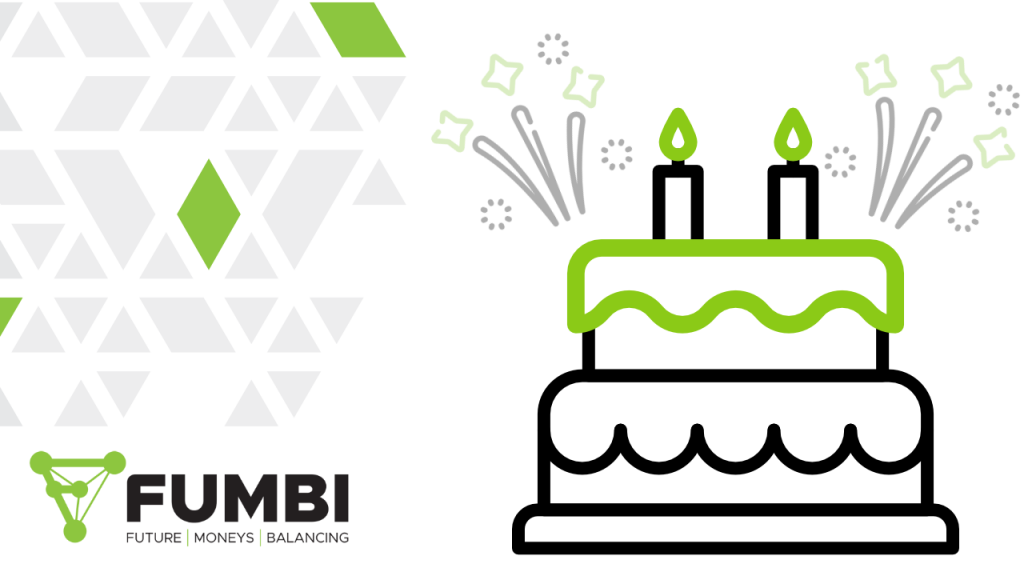 Beginnings of Fumbi
During the big cryptocurrency bubble in 2017, many companies emerged that had offered us various ways to buy and trade cryptocurrencies. Those companies were mostly foreign and very complicated for people with no or minimum experience with cryptocurrencies. Fumbi was thus created as a response to the growing and more difficult transparent cryptocurrency market. In the beginning, it was intended exclusively for the Slovak market.
"We have seen interest in our product right from the beginning and it wasn't just down to the fact, that we offered this service, but also the fact we are a Slovak company, which arouses more trust among investors, "Juraj Forgács, the founder of Fumbi.
Our uniqueness was and still is, in the Fumbi Algorithm, which creates a dynamic portfolio from the investment. The portfolio consists of more than 25 top cryptocurrencies. Thanks to dynamic and regular recalculations, we can copy the movements of the entire market, not just the movements of individual cryptocurrencies.
Year 2019
The fact that there is interest in our services on the Slovak market was confirmed by more than 1000 registrations in the first 5 months. We followed up on that with a series of successful workshops and lectures at Campus Cowork or HubHub in Bratislava.
In 2019, we were also the first cryptocurrency investment company to receive a certificate from an international company called SGS, which performed an independent audit of our crypto wallets.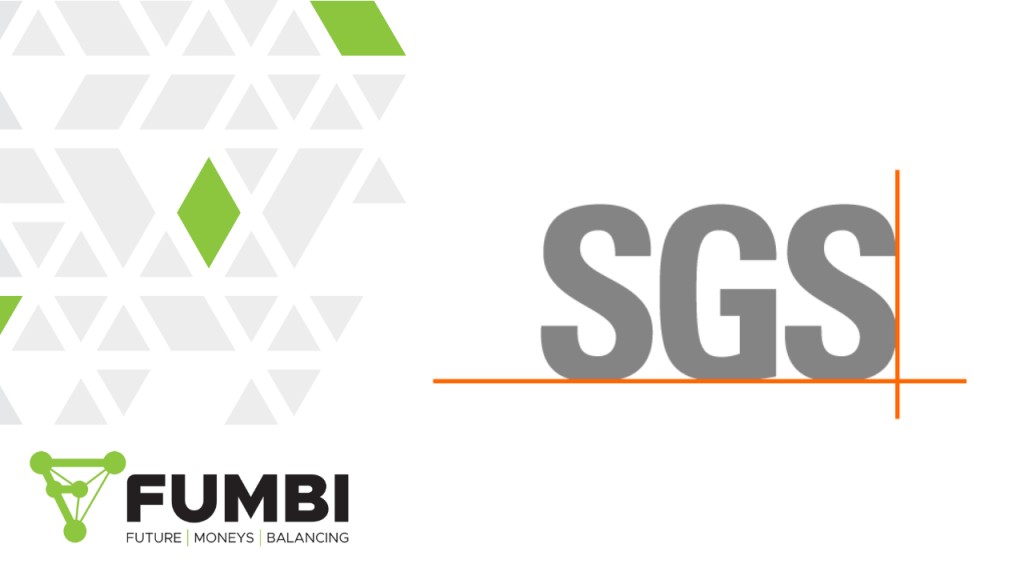 Our priority in 2019 was the Slovak market, as we were familiar with it. Slovakia served as a so-called Petri dish, where we wanted to test our product and service, which is based on the Fumbi Algorithm and that can intelligently redistribute the investment into a dynamic portfolio.
At that time, the market was in the biggest decline since 2017 and Bitcoin cost only € 3,200. Fortunately, it was a year when the market slowly turned upwards, with 52% year-to-year growth in the cryptocurrency market.
By the end of the year, we had over 6,500 registrations along with 5,200 deposits in the total amount of more than € 1,350,000. During 2019, we processed 440 withdrawals in the amount of over € 330,000. At the end of the year, we also participated in the international competition CESA 2019 (Central European Startup Awards), in which we reached the finals. We ended the year by participating in the Future Now competition, where we ranked in the top 25 best startups in CEE out of 150 applicants.
Year 2020
In 2020, Fumbi began to move forward in several directions. At the beginning of the year, we expanded our team with new team members, and at the same time, we had already reached another milestone of 10,000 registered users in April. A month later, our Swiss investor BaseTech Ventures supported us with another investment for the expansion of Fumbi to the Czech and Polish markets.
When it comes to developing new products, we have brought new technologies for better security and storage of cryptocurrencies called Ledger Vault. Our year-long effort and hard work have paid off and we ranked 2nd place in the competition for the prize of the Slovak Minister of Economy "Innovative Act of the Year 2019".
At the end of the year, we also offered the option for a quick deposit of funds for the Slovak market, where we committed to credit the funds to the account within a few minutes. We also improved our website, in addition to improvement, we also added new information about Vision, Algorithm, Security, and Performance. We also improved the profile several times during the year.
We ended 2020 with 296 percent year-to-year growth of the cryptocurrency market and over 23,700 registrations (a year-to-year increase of 264%). We also recorded a significant increase in deposits, which totaled 22,420 in the total amount of € 6,237,000. Last year, our clients withdrew an amount of over € 4,000,000 from us in the number of 4,981 withdrawals.
"When we launched Fumbi, we didn't know how customers would react to such a service, especially when the cryptocurrency market was in decline at that time. It was a very pleasant surprise that we exceeded 6,500 users in 2019, and that pushed us forward and gave us the strength to continue. With more than 23,000 new users in 2020, we know we're heading in the right direction. " – Boris Haško, Director of Communications.
Bank accounts challenges
However, the year 2020 was not only a fairytale and we had to face some real challenges. One of them was a bank account.
As pioneers in Slovakia, who bring such complex solutions in the field of cryptocurrencies and investments, we also had to deal with the unpreparedness of Slovak banks to open an account of a crypto company such as Fumbi.
"Slovak banks are not yet able to cooperate with crypto companies. The reason is a lack of knowledge of the cryptocurrency sector, the result of which is, according to a study by the National Bank of Slovakia, a flat-rate blocking of the entire industry. It is therefore difficult for us to open a bank account in Slovakia and use it for a long time and without complications," adds Juraj Forgács, the founder of Fumbi.
We currently use a bank account in Globitex. It is a Lithuanian financial institution founded in 2017, which operates in more than 20 countries. It currently has more than 300 corporate clients focusing on crypto projects around the world.
Evolution of the Fumbi website
Phase 1
Phase 2
Phase 3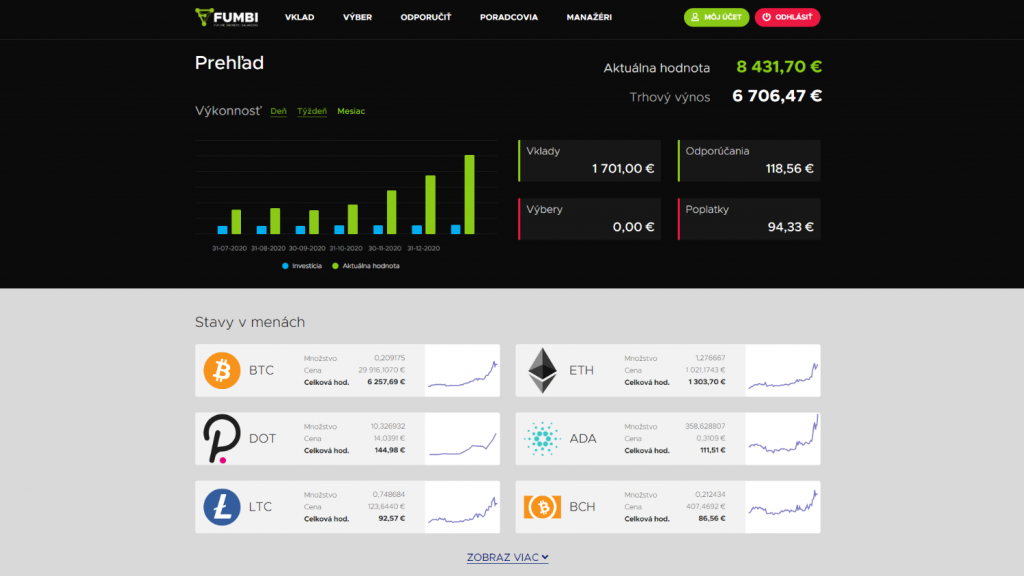 The newest version
What is next?
We bring you a completely new user interface that will offer an even better overview of your investments. We are also preparing new products and services, including the long-awaited partial withdrawal. At the end of the month, we will bring new results of our regular audit.
Thank you for your continued trust over the past 2 years and we are glad that you are standing by us!
We believe you will invest with us this year as well.
Team Fumbi
Odporúčame
More articles

with Fumbi