Fumbi Passed Security Testing
We tested our website's security. You can always rely on us to keep safe the data and information you share with us.
Certified cybersecurity experts Citadelo prepared simulated hacker attacks and tested the security of our systems. Citatelo was founded by a group of ethical hackers who expanded their team with experienced IT experts. Currently, there are over 30 them, and they operate in Slovakia, the Czech Republic, and Switzerland.
The Citadelo experts hit our systems with various penetration tests. The goal was to try various hacker attacks and look for ways for potential attackers to get sensitive information or prevent the proper functioning of Fumbi. We successfully passed all tests, and what's more, we further improved our security by adding new innovative security solutions.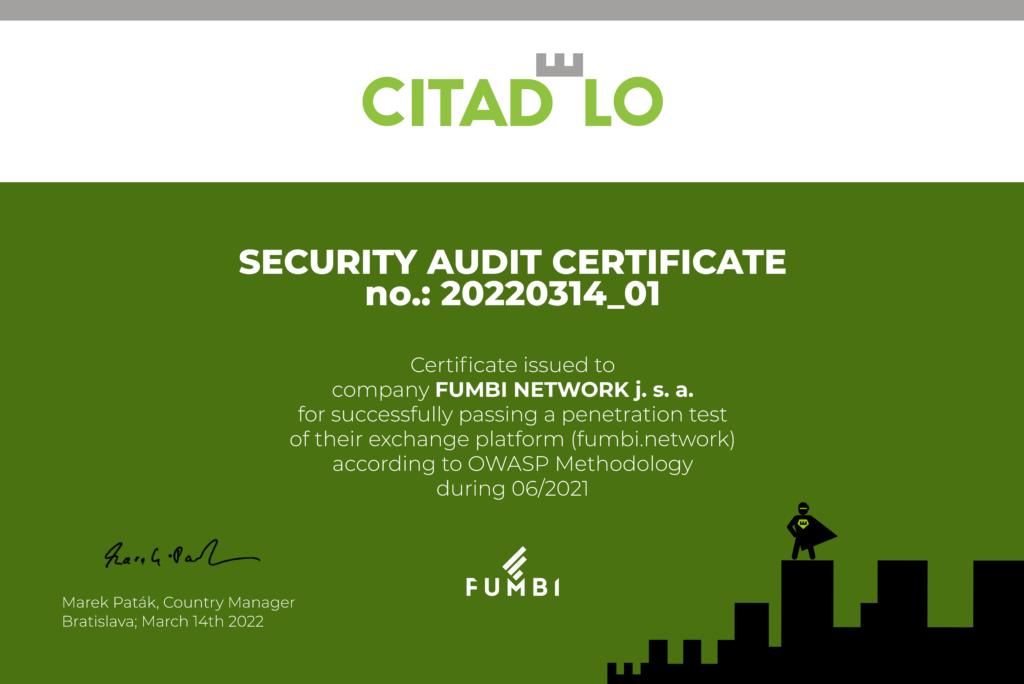 We also performed an independent security audit of AWS security in May 2022 after the successful migration of our website to verify that the current version also meets all security criteria.
At Fumbi, security is a priority. It's not just about our website but also the storage of your cryptocurrencies. All cryptocurrencies that you purchase through Fumbi are in your direct possession and are safely stored.
Furthermore, we perform regular audits by the SGS Slovakia to show that the values we show in our user profiles match the values stored in wallets.
If you're not investing in cryptocurrencies yet, then do it safely, simply, and efficiently with Fumbi. You can start from €50.
EASY REGISTRATION
Odporúčame
More articles

with Fumbi