Kazakhstan has temporarily halted bitcoin mining – Crypto weekly update
This week, the total market capitalization exceeded 1.45 trillion EUR. Decrease at the 7-day interval is 16.66 %. Bitcoin decreased by 15.17 % during the week to a current value of over than 32,300 EUR. Bitcoin dominance is 42 %.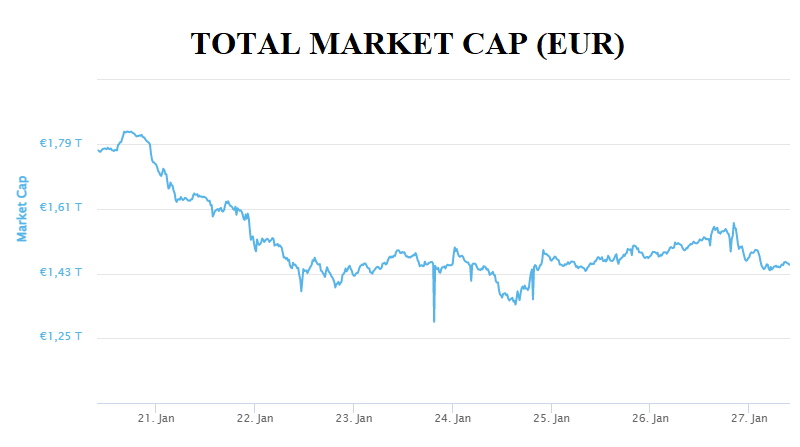 Kazakhstan has temporarily halted crypto mining
Kazakhstan, which last year became the world's second-largest bitcoin mining center just behind the United States, has turned to cutting off crypto miners from its electricity grid for a while.
Kazakhstan's government has barred cryptocurrency miners from using the nation's energy from Jan. 24 to Jan. 31. A spokeswoman for Kegoc, the state-run power grid operator, confirmed that companies that mine cryptocurrencies in Kazakhstan, have to temporarily suspend their activities.
Kazakhstan's power infrastructure has been strained for months now, facing rolling blackouts this winter—a problem that Bitcoin mining's substantial energy requirements have made worse. The nation's struggles have prompted Kegoc to limit the amount of power it provides to mining facilities.
The move was later followed by Tuesday blackouts affecting Uzbekistan, Kazakhstan, and Kyrgyzstan, which were caused by the disconnection of one of Kazakhstan's major power lines. The central Asian region's power grid is interconnected, and millions have lost electricity or water.
Kazakhstan's moves to temporarily limit the energy-intensive mining comes amidst concerns from various other nations. For example, the European Securities and Markets Authority (ESMA) for the outright banning of Proof-of-Work mining. A similar statement came from Russia's central bank, by proposing a total ban on all cryptocurrency-related activities. Source
Cryptocurrencies in correction
Sell-off in the cryptocurrency market, which began last Friday, have left a significant mark on investors. Coinmarketcap data showed that the price of bitcoin fell to its six-month low of $33,184 on Monday night, falling as much as -23 % in four days. Bitcoin has fallen more than 50% from its all-time high and after more than six months bitcoin fallen below the $38,000.
The correction in the cryptocurrency market was in strong correlation with sell-off on riskier assets on the stock market, such as technology stocks. Global stock markets have seen their biggest fall in the past year, with several fast-growing companies buoyed by a growing trend during bull market dominance experiencing intense price corrections in the last week.
Though the current plunge might be jarring, this volatility isn't unusual for the cryptocurrency market.
"Long downturns like this are normal with crypto," Tyrone Ross, CEO of Onramp Invest, which provides crypto asset management technology for financial advisors, tells CNBC. "During times like these, don't watch every tick of the price. Zoom out and look at how crypto has performed the last year or two." Ross says.
Though cryptocurrency is deemed to be a risky and speculative investment, experts agree that a buy and hold strategy is usually the best practice. Rather than attempting to trade in the short-term, this strategy promotes holding an asset long-term and riding out the highs and lows. Source
Russian finance ministry official calls for crypto regulation
One of the drivers of the sell-offs in the cryptocurrency market was the Russian Central Bank, which last Thursday proposed a ban on the use and mining of cryptocurrencies on Russian territory, citing threats to financial stability and the sovereignty of its monetary policy.
In a published report, the Bank stated that speculative demand for cryptocurrencies was the primary factor for their rapid growth and that cryptocurrencies bear the hallmarks of the financial pyramid, which create a market bubble and threaten the financial stability of the system.
Surprising was Tuesday's statement by Ivan Chebeskov, director for financial policy in Russia, who has come out in support of regulating crypto rather than banning it.
According to Chebeskov, banning cryptocurrency operations and mining will lead to the country lagging behind the worldwide tech industry. The minister instead suggested that cryptocurrencies should be regulated.
Chebeskov shared his opinion on the current situation during the RBC crypto conference on Tuesday. In addition, Chebeskov said that the Russian ministry has prepared a proposal for the regulation of digital assets and is waiting to hear the government's position on the matter. Source
Institutional inflows in green numbers
Digital asset investment products saw inflows totalling $14.4 million last week, breaking the prior 5 week run of outflows. The inflows came later in the week during a period of significant price weakness, suggesting investors, at current price levels, are seeing this as a buying opportunity.
Bitcoin saw capital inflows totalling $14 million last week, having suffered outflows of up to $317 million in the past five weeks, representing nearly 1 % of total assets under management.
Ethereum continues to see outflows, with $16m of outflows last week. The current 7 week run of outflows now total $245m, or2% of AuM, highlighting much of the recent bearishness amongst investors has been focussed on Ethereum rather than Bitcoin. Of the Altcoins, Cardano, Polkadot and Solana saw inflows totalling $1.5 million, $1.5 million and $1.4 million respectively.
Total assets under management (AuM) are now $51 billion, the lowest since early August 2021. The statistics of the inflows and outflows from cryptocurrency funds are regularly published by Coinshares, which tracks its two own funds (Coinshares XBT and Coinshares Physical) and Grayscale, 3iQ, 21Shares, Purpose, ProShares and ETC Group funds. Source
Ethereum 2.0 rebrand to "Consensus Layer"
The Ethereum Foundation has removed all references to "Eth1" and "Eth2" in favor of calling the original blockchain the "execution layer" and the upgraded proof-of-stake (PoS) chain the "consensus layer."
With this change, the Ethereum Foundation responds to various inconsistencies and problematic understandings, especially for new Ethereum users.
"One major problem with the Eth2 branding is that it creates a broken mental model for new users of Ethereum. They intuitively think that Eth1 comes first and Eth2 comes after. Or that Eth1 ceases to exist once Eth2 exists." Ethereum Foundation shared in the blog post.
Under the new terminology, the combination of the execution layer (Eth1) and the consensus layer (Eth2) will be labeled as Ethereum, while individual features such as the Beacon Chain, merge and sharded chains are now referred to as "upgrades."
The foundation also stated that its rebranding of Eth2 would help "bring clarity to eliminate" scams, in which malicious actors dupe victims — unaware that their Ether (ETH) will automatically switch to Eth2 following the merge — into swapping ETH for fake "ETH2" tokens.
Following the merge and transition to PoS scheduled for later this year, the remaining milestone of Ethereum's current roadmap is the shard chains upgrade that is set to come into effect in late 2022 or early 2023. The introduction of shard chains will see Ethereum's network load spread across 64 new chains in order to enhance its scalability and capacity. Source
Interesting : Polkadot sponsored by FC Barcelona?
The players of the legendary Football Club Barcelona currently wear the Rakuten logo on their jersey as the Japanese e-commerce firm is the official sponsor of the club. However, the partnership between the two entities is due in July this year, the soccer team is seeking to ink a deal with a new organization.
According to a recent announcement posted on FCBN, one of the potential sponsors is Polkadot– a popular blockchain network which is among the TOP 10 cryptocurrencies on the market. FC Barcelona described the protocol as a platform that allows "a high number of transactions per second."
The reason why the blockchain protocol received a great deal of attention is because of its innovative parachain approach. Simply put, this feature allows the connection of different blockchains to each other. It also enables users to build a blockchain with their Substrate framework and bridges Polkadot's network with other projects such as Ethereum and Bitcoin.
FC Barcelona is not a newbie in the digital asset industry. A few months ago, the team signed a global partnership with the NFT marketplace Ownix to release a non-fungible collection for its fans. Shortly after, though, the club canceled the agreement as Moshe Hogeg (who is related to Ownix) was arrested for several offenses such as fraud and sexual assault. Hogeg has denied all these allegations. Source
Start investing safely in cryptocurrencies now.
Odporúčame
More articles

with Fumbi