Microstrategy applied a new innovative approach – weekly market overview
This week, the total market capitalization exceeded 1.87 trillion EUR. Increase at the 7-day interval is 17 %. Bitcoin increased by 10.1 % during the week to a current value of over 54,200 EUR. Bitcoin dominance is 52,8 %.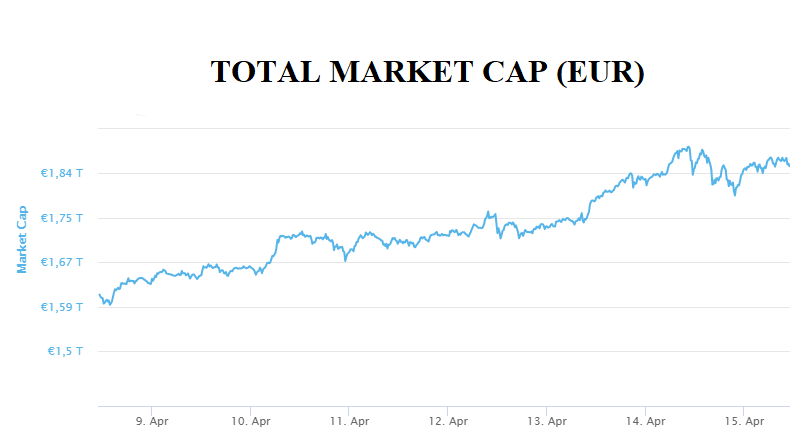 MicroStrategy announces Bitcoin bonuses for board of directors instead of cash
Microstrategy, well-known for its huge investments in Bitcoin, has taken another significant step forward leading to the implementation of cryptocurrencies in the real world. Michael Saylor, CEO of the company, announced via the social network Twitter that its board of directors will now receive bonuses in Bitcoin instead of cash.
The company has already announced this decision to the US Securities and Exchange Commission (SEC). This huge step forward only confirms the fact that the company believes that Bitcoin is a more stable and reliable store of value than the US dollar. Microstrategy bought another 250 BTC for $15 million (€ 12,6 million) last week, and currently owns more than 91,500 BTC. Source
European Central Bank releases results of digital euro consultation
The European Central Bank (ECB) has published the results of a public consultation on the development and implementation of the digital euro in practice. According to a Wednesday announcement, the ECB received more than 8,200 responses to its public digital euro consultation — a personal record for the bank regarding participation in a public consultation.
The majority of respondents said that privacy was the most desired feature for a potential upcoming digital euro, accounting for 43% of all citizens and professionals taking part in the consultation.
From the consultation, respondents noted security and the ability to pay across the eurozone as top priorities at 18% and 11%, respectively. Another 8% emphasized the need for offline usability of a digital euro.
This survey was launched in October 2020 and is considered by the ECB to be an important tool for the Bank's decision-making instruments. According to ECB President Christine Lagarde, the whole process of adopting the digital euro could take up to four years should the ECB's governing council and the European parliament decide to move forward with the initiative. Source
Coinbase stocks listing on NASDAQ
One of the largest cryptocurrency exchanges, Coinbase, is going public via a direct listing (DPO) on NASDAQ. Coinbase shares will be traded under the ticker "#COIN". Stock has received a reference price at $250 from NASDAQ ahead of the much-anticipated direct listing. The reference price is not a direct indicator of the company's market cap. It simply implies a valuation of $65 billion, which is below other estimates ranging between $68 billion and $120 billion.
Please note that the reference price is NOT an offering price and nobody has purchased or sold shares at that price. The opening public price will be determined based on buy and sell orders in the opening auction on Nasdaq. Source
Ethereum awaiting Berlin Hard Fork
The price of the cryptocurrency Ethereum has reached its new all-time high of $2480 (€2070) in recent days. The new all-time high was reached just a few hours before the expected Berlin hard fork in Ethereum mainnet. This hard fork includes some changes that will allow the blockchain to work better and also reduce transaction fees in the network. Berlin Hard Fork will go live on the Ethereum mainnet with Block 12,244,000. You can read more about Berlin Hard Fork in this article.
Galaxy Digital submits Bitcoin ETF application with SEC
Galaxy Digital has submitted a Bitcoin (BTC) exchange-traded fund filing with the United States Securities and Exchange Commission. According to the report published by the SEC on Monday, the Galaxy Bitcoin ETF — if approved — will trade on the NYSE Arca exchange, with the Bloomberg Galaxy Bitcoin index tapped as the pricing mechanism. Galaxy Digital via its financial services subsidiary, launched a Bitcoin ETF product in the Canadian market back in March. Source
European Investment Bank reportedly to issue bonds with blockchain tech
The European Investment Bank, an international financial institution owned by European Union member states, is reportedly exploring blockchain technology for issuing digital bonds. According to a tuesday Bloomberg report, the EIB has hired major global banks such as Goldman Sachs, Banco Santander and Société Générale to look at a potential deal involving a euro-denominated bond issued on a blockchain.
However, blockchain, which is used and connected mainly with cryptocurrencies, offering a much wider range of uses. According to HSBC, blockchain presents cost savings opportunities of "more than 10x" for the bond market, reducing the need for intermediaries and enabling issuance by smaller projects. Source
Start investing safely in cryptocurrencies now.
Odporúčame
More articles

with Fumbi