Microstrategy Continues Its Bitcoin Policy – Crypto Weekly Update
This week, the total market capitalisation exceeded €997 billion. The decrease at the 7-day interval is 1.28%. Bitcoin increased by 2.94% during the week to a current value of over €20,210. Bitcoin dominance is 39.1%.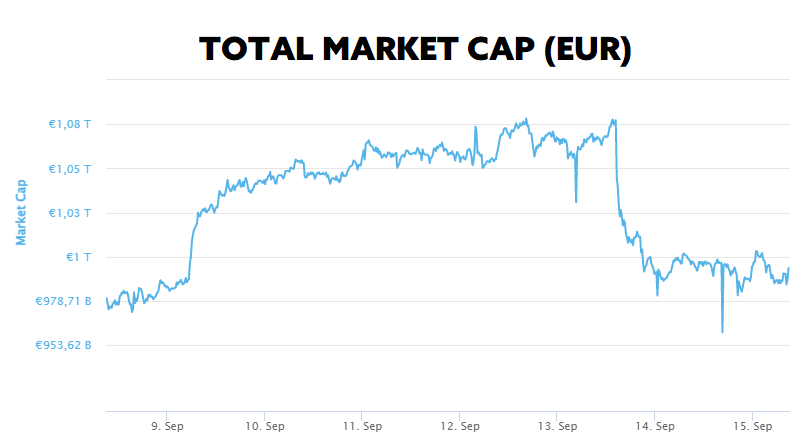 Microstrategy Continues Its Bitcoin Policy
Microstrategy, the largest Bitcoin institutional investor, has entered an agreement with investment banks Cowen and Company and BTIG to sell its aggregated class A common stock worth $500,000,000, reveals United States Securities and Exchange Commission (SEC) filing.
Despite the uncertainty in the market, the software firm plans to continue its bitcoin policy to raise as much BTC as possible by selling shares of the company. The company's continued bitcoin policy is confirmed by a filing with the U.S. Securities and Exchange Commission, which states the following:
"We intend to use the net proceeds from the sale of any class A common stock offered under this prospectus for general corporate purposes, including the acquisition of bitcoin, unless otherwise indicated in the applicable prospectus supplement."
Buying the dip is very important to the company. Microstrategy owns a total of 129,699 BTC, which it purchased at an average price of $30,650 per BTC. Since Bitcoin is currently trading at approximately $20,000, the company's unrealised loss on its BTC investment is more than $1 billion. Thus, by buying more bitcoins in the dip, the company can reduce its average purchase price per BTC. Source
News in the Tornado Cash Case
The U.S. Treasury Department has broken its month-long silence on the case of the ban on using of a crypto tool for anonymising transactions on the Ethereum network called Tornado Cash. The U.S. Treasury Department on Tuesday announced a way for users who used the app prior to its ban to get their funds back. However, it also addressed other aspects related to the tool.
According to the news, individuals who deposited funds into Tornado Cash before 8 August – the date the Treasury Department banned U.S. citizens from interacting with the tool – will be able to apply to OFAC (the Treasury Department's Office of Foreign Assets Control) for a special license that, if granted, will allow them to access and withdraw funds.
The Treasury Department also responded to the redistribution of small amounts from the Tornado Cash application after 8 August to thousands of users, including, for example, various celebrities such as Logan Paul and Jimmy Fallon. However, according to the latest information, individuals who received small amounts of Tornado-cash-affiliated funds without consent will not face criminal prosecution.
The Department also stated that although it is now illegal for a U.S. citizen to conduct any transaction with Tornado Cash, it is legal to disseminate information about the tool itself, including the distribution of its open-source source code. However, the source code of Tornado Cash has been preemptively removed from the software development application Github.
The Tornado Cash app has been considered illegal in the United States since 8 August, and users can face hefty fines and even jail time for using it. Source
Ethereum Merge May Increase Investor Interest
Researchers at Bank of America, the second-largest U.S. bank, think the long-awaited Ethereum upgrade, which is highly likely to take place this Thursday, may eventually lead to mass institutional adoption. According to the bank, behind this argument is the fact that the ability to stake ETH coins (i.e. lock them in a contract and earn rewards) could increase the interest of large investors in Ethereum.
The second-largest cryptocurrency on the market will transition from the consensus Proof-of-Work algorithm used so far to the new Proof-of-Stake model. In the new model, miners will be replaced by so-called validators, who will deposit their ETH coins to maintain the security and operation of the network. In addition, the network upgrade should ensure that the network's energy consumption will be reduced by up to 99.9%. And researchers for Bank of America say this may also drive interest from institutions. Source
Polygon Has Entered Into a Partnership With Starbucks
Starbucks, one of the world's best-known coffee house chains, is taking its first steps into the world of NFTs and Web 3.0. In partnership with Polygon, the company is building a blockchain-based loyalty program called Starbucks Odyssey, allowing members to purchase non-fungible tokens (NFTs) representing digital collectable stamps.
Each of Starbucks' NFT stamps will include a point value representing their rarity and can be bought/sold by members within a specialised marketplace. Each comes with artwork created by both Starbucks partners and outside parties.
In its announcement, Starbucks noted that it deliberately chose to use Polygon due to its alignment with the company's sustainability commitments. Polygon uses a proof-of-stake consensus mechanism that does not need mining facilities to operate. Source
Celsius Plans Restructuring
Cryptocurrency lending platform Celsius, which went into bankruptcy proceedings in the current bear market due to poor risk and liquidity management, is reportedly planning to go through a restructuring process to become a cryptocurrency custody platform.
According to a Tuesday report from the New York Times, Celsius CEO Alex Mashinsky and head of innovation and chief compliance officer Oren Blonstein aimed to revive the company using a project named Kelvin, which will focus on user cryptocurrency custody. Mashinsky reportedly made the announcement at the 8 September meeting for employees, at which the company discussed possible scenarios for its future.
Mashinsky compared the company's possible comeback to Apple and Delta Airlines – companies that have nearly gone bankrupt in the past but are now giants in their industries.
Even as Celsius tries to recover and rebuild its business, the company's reputation has been severely tarnished by its collapse. At the most recent trial on 7 September, regulators levelled allegations against Celsius, alleging that the company intentionally misled state regulators about the firm's financial health and its compliance with securities laws. Source
Inflation in the U.S. Is Not Going as Planned
The cryptocurrency and stock markets plunged into the red on Tuesday afternoon after August inflation data in the United States did not perform as expected.
Even with gas prices falling to multi-month lows and a cooling housing market, core inflation saw a 0.6% month-over-month increase.
The consumer price index, which tracks a broad swath of goods and services, increased 0.1% for the month and 8.3% over the past year. According to Dow Jones estimates, economists had been expecting headline inflation to fall 0.1% and core to increase 0.3%.
The Dow Jones fell 2.6% in response to the news, while the S&P 500 and Nasdaq fell 2.9% and 3.6%, respectively. The price of bitcoin reacted with a drop of up to 9% to a $20,350 price level. The cryptocurrency Ethereum reacted similarly, falling by almost 7%. Source
Start investing safely in cryptocurrencies now.
START INVESTING
Odporúčame
More articles

with Fumbi