Paraguay plans to follow El Salvador – Crypto weekly update
This week, the total market capitalization exceeded 1.12 trillion EUR. Decrease at the 7-day interval is 18.2 %. Bitcoin decreased by 15.7 % during the week to a current value of over than 27,700 EUR. Bitcoin dominance is 46.2 %.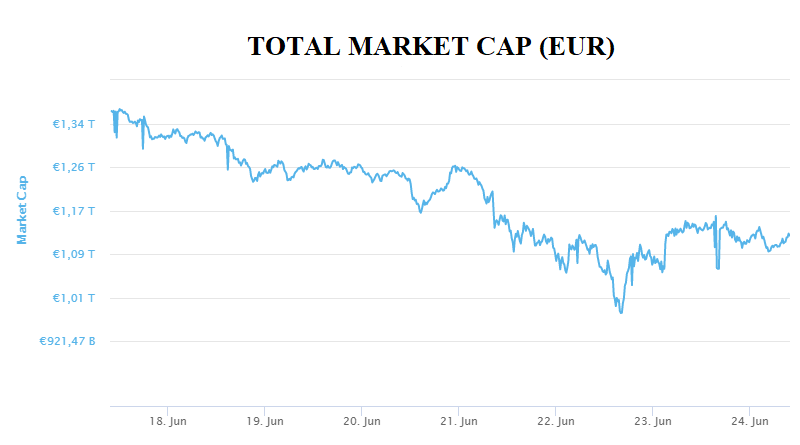 Paraguay plans to introduce legislation on Bitcoin
Carlitos Antonio Rejala Helman, a Deputy of the Nation and Member of Congress in Paraguay, plans to present a Bitcoin bill next month.
Helman stated on social network Twitter that he plans to introduce new Bitcoin and cryptocurrency legislation within the next month. In addition, he indicated that the new cryptocurrency legislative framework would include cooperation with PayPal.
More and more countries all around the world are interested in legalizing Bitcoin as a legal tender. This type of legislation could make Bitcoin transactions more commonplace between individuals and in commerce.
In addition, Grupo Cinco, one of Paraguay's largest entertainment companies, announced just a few days ago that it would soon be accepting cryptocurrencies as a payment method. Source
Chinese miners' migration continues
The mining industry is finally moving out of China. Chinese bitcoin mining firms BIT Mining and Fenghua International are leaving China and relocating to the U.S. and Kazakhstan. The firms are reacting to pressure from the Chinese government, which has restricted mining activities in the Sichuan province, citing environmental concerns.
BIT Mining, which actually controls about 10 % of the total BTC hashrate, announced yesterday that they successfully shipped its first batch of 320 machines to a new facility in Kazakhstan. The company plans to ship an additional 2,600 mining machines before the start of July.
However, despite a massive decrease in the hash rate and price of Bitcoin, there are positive indicators also.
The Bitcoin mempool, a waiting room for transactions yet to be processed, has remained stable. As hash rate decreases, fewer transactions can be processed, putting pressure on existing miners. A stable mempool size indicates that the total mining power comfortably.
While the short-term effects are negative, the network is witnessing decentralization of the mining industry, which is certainly a positive phenomenon in the long-term period. Source
Kusama welcomes the first parachain
The decentralized finance network called Karura became the winner of the first parachain slot on the Kusama network.
According to an announcement issued on Tuesday, Karura pulled support from over 15,000 entities who staked $KSM tokens in favor of adding the decentralized finance hub as the first Kusama parachain. In total, Karura managed to lock up more than 500,000 Kusama tokens currently valued at more than $100 million (€84 million).
Karura is the Polkadot implementation of the Acala protocol — a decentralized finance hub that aims to be the de facto DeFi ecosystem for the Polkadot chain.
Based on Kusama's schedule, four other parachain auctions will take place over the next four weeks. After the first five slot auctions, an audit will take place to examine the performance of the network during the process before kickstarting another round spread across five more weeks. Source
Microstrategy now owns more than 100,000 bitcoins
Despite the current turbulent season in the cryptocurrency market, Microstrategy has once again decided to expand its bitcoin holdings.
According to Monday's announcement by Microstrategy CEO Michael Saylor, the business intelligence firm bought an additional 13,005 BTC worth a total of $489 million (€409 million) at an average price of $37,617/BTC (€31,500/BTC).
Microstrategy currently owns 105,085 BTC at a purchase value of $2.74 billion (€2.29 billion) at an average purchase price of $26,080/BTC (€21,750/BTC). The market value of the currently held bitcoin is more than $3.58 billion (€3.01 billion).
MicroStrategy holds more than twice the Bitcoin held by Elon Musk's Tesla. Source
Survey : Britons prefer cryptocurrencies over stocks and shares
Cryptocurrencies in the UK are more popular than stocks and shares, according to the latest survey.
AJ Bell's research suggests that 5% of Britons invested in a stocks and shares ISA (a tax-free savings account) in 2019/2020. By contrast, 7% snapped up digital assets.
Those buying the likes of Bitcoin are predominantly male and under the age of 35. Of those who bought cryptocurrencies, 71 % said they had made a profit. On the other hand, 12 % of crypto investors ended up making a loss and 17 % of crypto investors don't know if they're in the black or the red with their crypto purchase.
However, cryptocurrency education is still a challenge. The same poll indicates that 81 % of British consumers still don't understand how cryptocurrencies work. Source
Ethereum London Hard Fork to go live on testnets
The long-awaited hard fork called "London" on the Ethereum network enters the testing phase.
In a blog post on the Ethereum Foundation's website, Ethereum core developer Tim Beiko wrote that three testnets called "Ropsten, Goerli and Rinkeby" will be launched soon. The Ropsten testnet is expected to be the first to be launched, with other two testnets following it at weekly intervals. The Ropsten testnet is expected to launch on June 24.
The London hard fork upgrade includes five Ethereum Improvement Proposal (EIP) upgrades, but the star of the show is EIP-1559, which is tasked to overhaul the Ethereum existing fee structure.
A release schedule for the all-important mainnet upgrade is still being determined, however. Source
Start investing safely in cryptocurrencies now.
Odporúčame
More articles

with Fumbi