SEC has a new chairman – Crypto weekly update
This week, the total market capitalization exceeded 1.66 trillion EUR. Decrease at the 7-day interval is 11.2 %. Bitcoin decreased by 14 % during the week to a current value of over than 44,700 EUR. Bitcoin dominance is 50.2 %.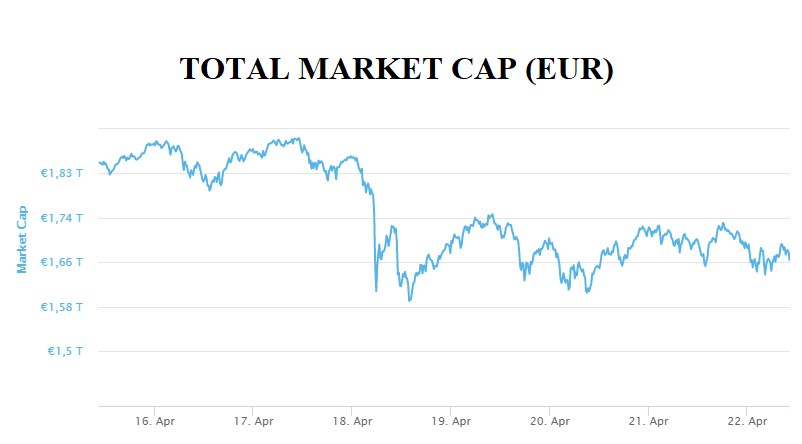 SEC has a new chairman
The Senate approved President Joe Biden's pick to take the helm of the U.S. Securities and Exchange Commission on Wednesday. He was confirmed by a vote of 53 to 45. Gary Gensler, an American academic and the former chairman of the Commodity Futures Trading Commission (CFTC), has become the new SEC chairman. Despite the fact that he is an Democratic candidate, several Republicans voted in favor of his election.
During a hearing on candidates on March 2, Gensler promised to promote innovation while ensuring investors protection in cryptocurrency market. Gensler has taught a course on blockchain and cryptocurrencies at the prestigious MIT University in the past and is widely known for his positive attitudes towards cryptocurrencies. Source
Flash crash in cryptocurrency market
On Sunday morning, Bitcoin and the cryptocurrency market plunged into correction. Within an hour Bitcoin fell by almost $ 8,000 (€ 6,700) and liquidated almost $ 10 billion (€ 3.3 billion) in derivative markets. But what caused such a significant drop?
The main factor that is probably behind the significant drop in the market is the massive reduction in the computing power (hashrate) in Bitcoin network. According to available information, this slump caused a blackout in China, specifically in the Xinjiang area. The power outages occurring to facilitate safety inspections in response to a recent flooding accident at a local coal mine that saw 21 miners temporarily trapped underground after power and communications went down.
According to the Cambridge Bitcoin Energy Consumption Index, or CBECI, Xinjiang represents nearly one-quarter of the global hash rate. During this outage, the hashrate decreased from 172 million TH / s to 143 million TH / s. It is known from the past that the hashrate and the price of Bitcoin have always correlated together.
Popular crypto market analyst Willy Woo pointed to the transfer of 9,000 BTCs, which were transferred to the Binance on Friday, speculating the funds were likely sent by a "whale with closer knowledge to happenings in China.". This fact could also cause panic in the market and a subsequent drop in prices. Source
Turkey to BAN cryptocurrency payments
The Turkish central bank has banned payment service providers from offering their clients fiat-to-crypto onramps for cryptocurrency exchanges. A new ban in Turkey will prohibit crypto holders from using their digital assets for payments in addition to preventing payments providers from providing fiat onramps for crypto exchanges.
According to an official announcement by the Central Bank of Turkey, will come into effect on April 30, rendering any crypto payments solutions and partnerships illegal. While banks are excluded from the regulation, which means users can still deposit Turkish lira on crypto exchanges using wire transfers from their bank accounts, payment providers will be unable to provide deposit or withdrawal services for crypto exchanges. Source
Cardano and Polkadot extend staked capitalization dominance
According to the latest data from StakingRewards, two cryptocurrencies, which are also part of our Fumbi Index portfolio dominates in terms of staked value- Cardano and Polkadot.
Cardano is currently the top blockchain in terms of staked value, with roughly $26.4 billion worth of Cardano (ADA) allocated to securing the network. With Cardano's entire capitalization tagging $36.6 billion, 73% of circulating ADA are being staked. StakingRewards estimates Cardano stakers are earning an annual reward of 7.22 %.
The second-largest crypto asset by staked value is Polkadot with $22.7 billion worth of DOT locked — representing 64% of its circulating supply. Average annual staking rewards for DOT are estimated at more than 13 %. They are followed by Solana ($ 9.36 billion), Ethereum 2.0 ($ 8.06 billion) and Avalanche ($ 7.34 billion). Source
Diem aims to launch its own stablecoin
The Facebook-backed Diem project (formerly Libra) could launch a digital currency stablecoin pilot in 2021, according to reports. The company would like to create a stablecoin pegged to the US dollar in a 1: 1 ratio. According to CNBC, It will be based largely on payments between individual consumers, potentially with the option for users to buy goods and services. The Diem project is currently in talks with Swiss regulators to secure a payment license. Source
TIME continues crypto expansion
The American weekly magazine TIME, which is one of the most famous magazines in the world, has gone the way of Tesla. After announcing investment in Bitcoin, the American news outlet has started accepting crypto for subscription payments. TIME magazine has joined forces in this area with Crypto.com to let users start paying for their subscriptions in crypto. The service is currently available in the US and Canada. Source
Start investing safely in cryptocurrencies now.
Odporúčame
More articles

with Fumbi